U.S. stocks rebound on first trading day of 2018
Video PlayerClose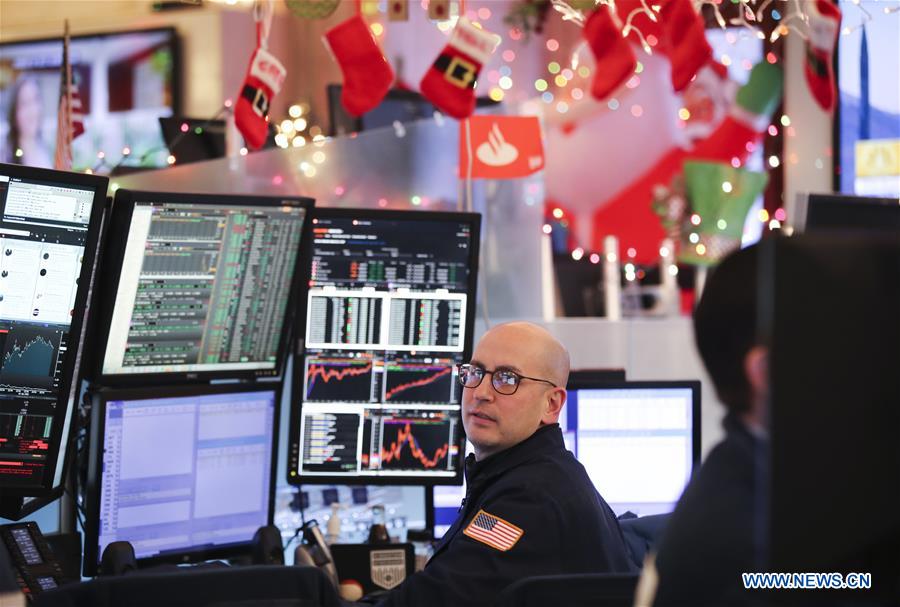 A trader works at the New York Stock Exchange in New York, the United States, on Jan. 2, 2018. U.S. stocks rallied Tuesday, with the Nasdaq Composite Index closing above the big round number of 7,000 points for the first time ever, as Wall Street kicked off 2018 on a high note. The Dow Jones Industrial Average rose 104.79 points, or 0.42 percent, to 24,824.01. The S&P 500 added 22.18 points, or 0.83 percent, to 2,695.79. The Nasdaq Composite Index jumped 103.51 points, or 1.50 percent, to 7,006.90. (Xinhua/Wang Ying)
NEW YORK, Jan. 2 (Xinhua) -- U.S. stocks rallied Tuesday, with the Nasdaq Composite Index closing above the big round number of 7000 points for the first time ever, as Wall Street kicked off 2018 on a high note.
The Dow Jones Industrial Average rose 104.79 points, or 0.42 percent, to 24,824.01. The S&P 500 added 22.18 points, or 0.83 percent, to 2,695.79. The Nasdaq Composite Index jumped 103.51 points, or 1.50 percent, to 7,006.90.
Investor sentiment was boosted by the prospect of the U.S. tax reform. The tax bill, which was signed into law by U.S. President Donald Trump later last month, cut the corporate income tax rate to 21 percent from 35 percent and lowered individual income rates. It became effective from January 2018.
Analysts said optimism over U.S. markets has been rising despite valuations that are seen as stretched by many measures.
On the economic front, the seasonally adjusted IHS Markit final U.S. Manufacturing Purchasing Managers' Index (PMI) registered 55.1 in December, up from 53.9 in November and notching the highest level since March 2015.
U.S. stock markets were closed Monday for the New Year's Day.
U.S. stocks had a banner year in 2017, with the Dow, the S&P 500 and the Nasdaq surging 19.4 percent, 25.1 percent and 28.2 percent, respectively. All three major indices witnessed their best annual gains since 2013.
1 2 3 4 5 6 7 Next 1 2 3 4 5 6 7 Next