Iran's rial slopes downward as U.S. sanctions loom
Video PlayerClose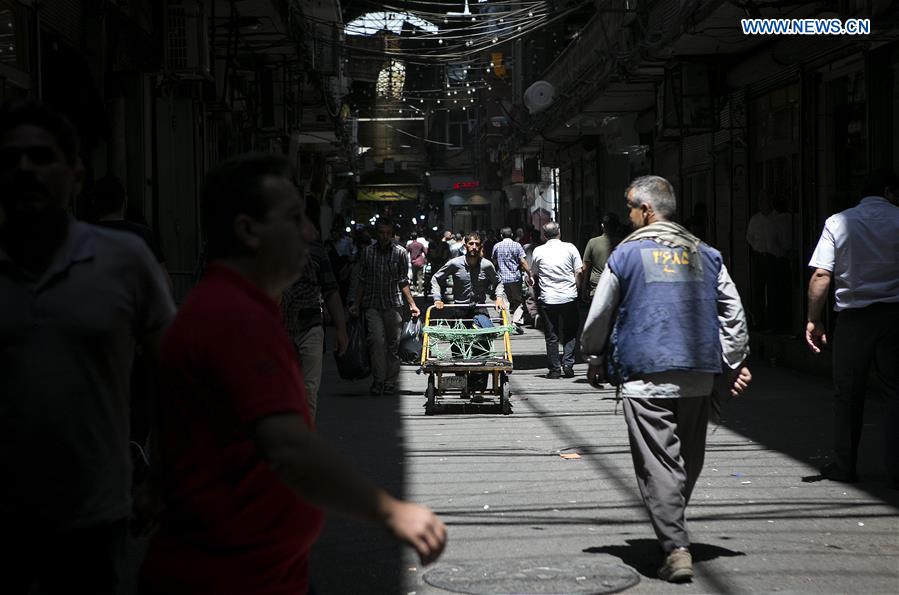 聽
Photo taken on July 30 2018 shows a labour at the Grand Bazaar, the trade center in Tehran, Iran. The exchange rate of Iran's rial against foreign currencies in the unofficial market remains tense on Monday, a day after rial hit a record low against the U.S. dollar, where one dollar was traded for 115,000 rials.聽
TEHRAN, July 30 (Xinhua) -- The exchange rate of Iran's rial against foreign currencies in the unofficial market remains tense on Monday, a day after rial hit a record low against the U.S. dollar, where one dollar was traded for 115,000 rials.
The continuing deterioration in currency came as a sign of doubt to the appointment of Abdolreza Hemmati as the new governor of the Central Bank of Iran (CBI).
Last Wednesday, the cabinet of President Hassan Rouhani gave Hemmati vote of confidence to replace the former CBI chief Valiollah Seif, who had been stormed by critics over the depreciation of Iran's currency.
The rial has lost more than half its value against the dollar in just four months.
In April, the government attempted to fix the rate at 42,000 rials, saying the move would crack down on black market traders.
However, the currency collapse intensified after the U.S. announced on May 8 that it was pulling out of the 2015 nuclear deal, which lifted part of sanctions on Iran in exchange for a halt to its nuclear program.
U.S. sanctions on Iran will snap back in August and November.
The first part of the sanctions will return on Aug. 6, which targets Iran's automotive sector and trade in key metals including gold.
The remaining will come into effect on Nov. 4, targeting Iran's energy sector including petroleum-related transactions, and financial deals by the CBI.
Washington's withdrawal from the landmark Iranian nuclear deal is criticized across the world, as some of its major European allies have been working to prevent the 2015 deal from falling apart.
Iran urges European countries to offer a package at the soonest to protect Iran's interests as per the 2015 deal.
1 2 3 Next 1 2 3 Next