上财2017年一季度中国宏观经济形势分析与预测报告发布
东方网记者姜文然4月21日报道:今天上午,上海财经大学高等研究院"中国宏观经济形势分析与预测"课题组在沪发布《2017年第一季度中国宏观经济形势分析与预测报告》。报告指出,第一季度中国经济按可比价格计算同比增长6.9%,好于市场预期,民企和社会信心提振,民间投资回升明显,助推实体经济有所好转。
Shanghai, April 21- China's Q1 GDP grows 6.9 percent, which is better than market expectations. Corporation and social confidence is boosted, while private investment rebounds significantly, improving the real economy, according to China's Macro Economic Situation Analysis & Forecast Report of Q1 2017 released by Institute for Advanced Research of SUFE this morning.
"2017年中国经济稳中求进的总基调得到了一定的贯彻,"上海财经大学高等研究院副院长林立国在研讨会上表示,这与近一个时期以来政府实施积极财政政策、加大财政支持力度来为增长托底的大背景有关。
The current trend keeps consistent with the keynote of "making progress while maintaining stability", which is due to the recent active fiscal policies, said the institute's vice president Lin Liguo at the seminar.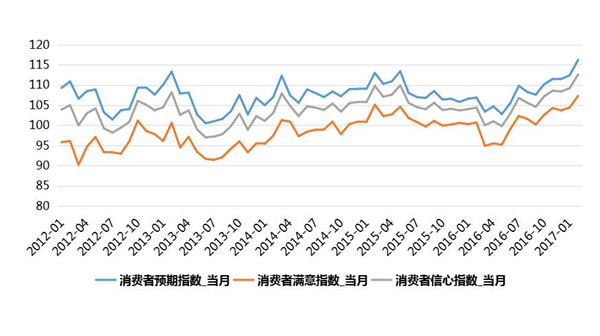 数据来源:国家统计局

报告显示,消费信心上升,增速基本平稳。从数据上看,2017年一季度消费名义累计同比增速10%,尽管较2016年同期下降0.3个百分点,不过,3月份的社会消费品零售总额冲高到10.9%;进一步,消费者信心、满意和预期指数自2017年年初均有所上升,特别地2月份有明显上升,显示消费下行压力有所缓解,整体上仍算增长平稳。
According to the report, consumer confidence rises, with a basically stable growth. The cumulative year-on-year growth of China's nominal consumption for the first quarter of 2017 reaches 10 percent. Consumer confidence, satisfaction and expectations index since early 2017 has increased.
其次,投资名义增速回升,民间投资回暖。2017年一季度全社会固定资产投资累计同比增长9.2%,比2016年全年累计增速8.1%提高了1.1个百分点。投资价格随PPI上涨而大幅上涨是名义增速增长的主要原因,剔除价格因素后,一季度全社会固定资产投资实际增长4.5%,比2016年全年下滑4.3个百分点。
Furthermore, China's nominal investment growth and nongovernmental investment picks up. The cumulative year-on-year growth of Total Investment in Fixed Assets for the first quarter of 2017 reaches 9.2 percent.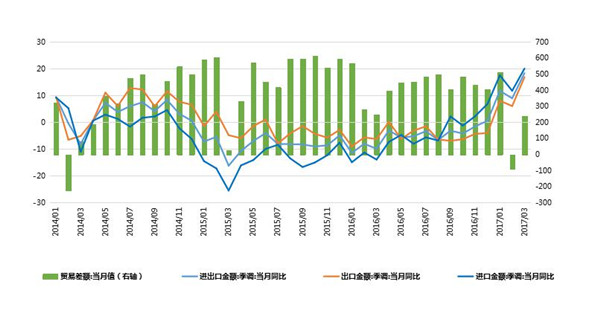 数据来源:海关总署

此外,进出口贸易增速大幅提高,贸易顺差较2016年同期有所减小。剔除季节性因素,2017年一季度进出口增速相比2016年大幅增长。其中,进口增速显著快于出口增速,贸易差额相比2016年一季度下降438亿美元。出口需求显著回升,导致出口价格和出口数量均有所增长。
Besides, the import and export trade growth is greatly increased, and the trade surplus becomes less than the same period in 2016. The growth rate of import is significantly faster than that that of export. Export demand picks up, which increases the export prices and amount.
同时,报告也指出,当前中国经济面临的风险因素依然很多,其中相对比较突出的风险集中在房地产市场风险、人民币中长期走势仍承压、政府债务还息负担增加等方面。报告认为,接下来的三个季度,中国经济机遇与挑战并存。
At the same time, the report also pointed out that the current Chinese economy is still faced up with a lot of risk factors, including the real estate market risk, the medium and long term trends of RMB and the increased government debt interest burden.
课题组认为,中国经济要延续稳中求进、稳中向好的发展态势,需要处理好短期宏观经济政策与中长期改革之间的辩证关系。短期政策可提振中国经济于一时,但长久发展之计还在于改革。供给侧结构性改革到位了,才能不断提高资源配置效率。
China's economy faces both opportunities and challenges, according to the report, the dialectical relationship between short-term macroeconomic policies and medium and long-term reforms which can ultimately and continuously improve the efficiency of resource allocation.