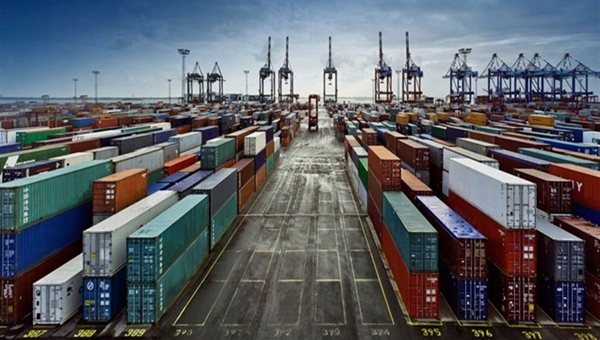 China's foreign trade was better than expected last month, with firm global demand and domestic recovery leading to the best first six months in more than five years.

However, the customs said headwinds remain in the second half amid an uncertain outlook for commodity prices and international trade protectionism.
Exports in yuan terms rose 17.3 percent year on year to 1.35 trillion yuan (US$199 billion) in June, compared with May's 15.1 percent increase, data from the General Administration of Customs revealed.
Imports surged 23.1 percent to 1.05 trillion yuan last month.
The volume of foreign trade in the first six months grew 19.6 percent from a year earlier — the quickest growth since the second half of 2011 — to 13.14 trillion yuan.
Exports rose 15 percent while imports increased 25.7 percent. That led to a trade surplus of 1.28 trillion yuan in the first half, down 17.7 percent year on year.
In a note, Morgan Stanley said both exports and imports grew faster than the market expected, suggesting a continued exports recovery and resilient domestic demand.
"While stronger external demand has boosted processing imports, domestic demand has likely held steady, reflected by stronger ordinary goods import growth," it said. "The stronger external demand could boost domestic private manufacturing capital expenditure and cushion the impact of a declining credit impulse."
Australia and New Zealand Banking Group said the export figures bode well for manufacturing, while the persistent trade surplus, together with investment inflow, could help relieve the pressure from capital outflow.
The customs' data showed that during the first six months, trade with the European Union jumped 17.4 percent year on year. The EU is China's biggest trade partner, accounting for 14.8 percent of the country's foreign trade.
Trade with the United States and ASEAN went up by 21.3 percent and 21.9 percent, respectively.
Private business played an outstanding role in foreign trade, with export and import value up 20.6 percent to 5.02 trillion yuan in the first half.
Most of China's exports were machinery, electronics and labor-intensive products, with their export value accounting for 57.2 percent of the total.
Huang Songping, a customs spokesman, attributed the trade growth to a lower comparative basis, government support and improving global demand.
But he said foreign trade could face tough conditions in the second half due to a higher comparative basis, stronger international competition, uncertainties in the global environment and deep-seated problems in the domestic economy.
Uncertainties weigh on the global market as major economies practice divergent monetary policies. Commodity prices and trade protectionism also add unpredictability.
As developed economies shore up advanced manufacturing and emerging economies strengthened on low production costs, China's exports should face more fierce competition in the global market.
Import growth is also likely to moderate along with export growth. The cooling property market is likely to lead to slower domestic investment growth, which may also weigh on import growth, Huang added.
But he reaffirmed the view that the strong fundamentals of China's foreign trade have not changed, and will continue to have good momentum.
China's economy grew 6.9 percent in the first quarter of the year, up from 6.8 percent in the previous quarter.
On trade with North Korea, Huang said growth in the first half was driven by exports of labor-intensive products not on the United Nations' embargo list.
He said China's imports from North Korea had fallen substantially for four straight months since March.