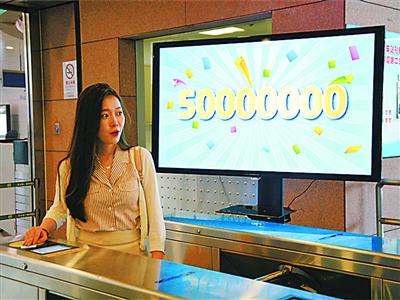 Shanghai, September 7- When Ms Hu checked in the gate of the Maglev Pudong Airport Station at 10 o'clock on September 5, she was welcomed by the staff with flowers and media.

She was lucky to become the 50,000,000th passenger since the opening of Shanghai Maglev Line.
Shanghai Maglev Train, the world's first and only high-speed maglev commercial operation line has been operated for 15 years, with a total of 50 million passengers and a safe operation of 16.88 million kilometers.
"I am very happy to be the 50,000,000th passenger of Shanghai Maglev. Thanks every staff member for providing us with a fast, safe and convenient travel experience," said Ms Hu.
She was then awarded by the GM of Shanghai Maglev Company Wan Jianjun with a special travel card of honor.
Statistics show that the Shanghai Maglev Train has experienced rainstorm, typhoon, high temperature, heavy snow and other inclement weather and successfully keep a punctuality rate above 99.8%.