Video PlayerClose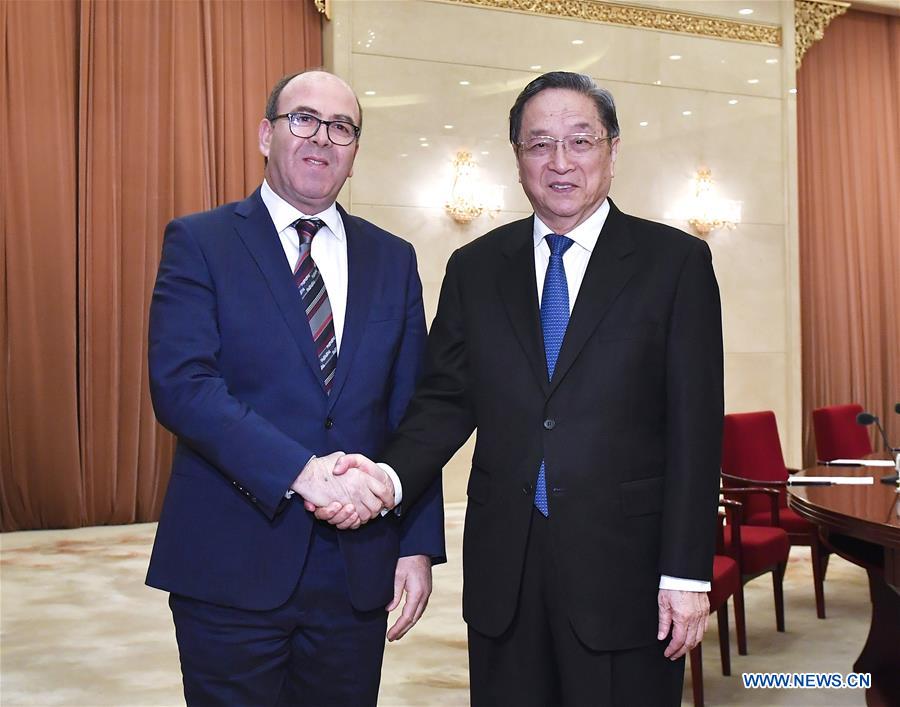 Yu Zhengsheng (R), chairman of the National Committee of the Chinese People's Political Consultative Conference (CPPCC), meets with Hakim Benchamach, speaker of Morocco's House of Advisors, in Beijing, capital of China, Dec. 19, 2017. (Xinhua/Yan Yan)
BEIJING, Dec. 19 (Xinhua) -- China's top political advisor Yu Zhengsheng held talks with Hakim Benchamach, speaker of Morocco's House of Advisors, the upper house of the Moroccan parliament, on Tuesday.
Noting Morocco was among the first African and Arab countries to establish diplomatic relations with China, Yu said the two countries have been trustworthy friends and partners, respected and treated each other on an equal footing.
The two heads of state agreed to upgrade bilateral relations to strategic partnership last year, heralding a new phase for bilateral ties, said Yu, chairman of the National Committee of the Chinese People's Political Consultative Conference (CPPCC).
To implement the consensus reached between the two heads of state, Yu proposed both countries deepen political mutual trust, tap the potential for practical cooperation, enrich cultural exchanges and work to protect world peace and stability.
Yu said the 19th National Congress of the Communist Party of China will bring new opportunities not only to China's future development but also to the growth of bilateral strategic partnership.
"The CPPCC National Committee looks forward to strengthening exchanges with Morocco's House of Advisors to share experiences in national governance and political participation," said Yu.
Congratulating the success of the 19th CPC National Congress, Benchamach said Morocco prioritizes its relations with China and is satisfied with bilateral cooperation in various areas.
Morocco's House of Advisors will continue to increase exchanges with the CPPCC National Committee to contribute to the development of bilateral relations, Benchamach said.