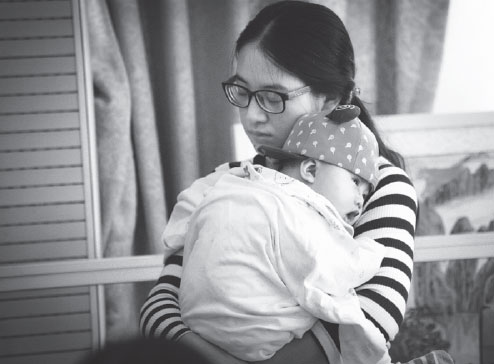 Bills for the treatment of rare diseases, which amount to millions of yuan a year and are unaffordable for many, should be shouldered by society instead of the patients and their families, according to medical experts.
"Patients don't become sick because they have done something wrong, so they should not have to foot heavy bills to treat their illness, and society should avoid making treatment inaccessible," said Xiong Hui, a member of the standing committee of the rare disease branch of the Beijing Medical Association and deputy director of pediatrics at Peking University First Hospital.
Kevin Huang Rufang, founder and director of the Chinese Organization for Rare Disorders, said that although worldwide there are therapies for 6 percent of rare diseases, more than 90 percent of Chinese patients do not use them because of rocketing prices.
"Some patients from wealthy families pay hundreds of thousands of yuan for just a little medication when their lives are at risk," he said.
"Many individuals and organizations may be willing to give 200,000 yuan ($29,200) for a child to have an artificial cochlea (a device fitted to the hearing nerve), which can be life-changing with a one-time investment. But such donations for rare disease patients, who have to pay super-high bills each year, are unsustainable," Huang said.
Apart from some areas, such as Zhejiang province and Qingdao, Shandong province, which have included the largest number of high bills for rare disease treatment in medical insurance coverage, patients elsewhere have difficulty accessing effective treatment, he added.
Ding Jie, vice-chairwoman of the Expert Committee of Diagnosis, Treatment and Security of Rare Diseases with the National Health Commission, said she expects a plan to be drawn up to help provinces and cities to include rare disease expenses in the national medical insurance system. This would be based on the different incidence rate for the diseases and local economic levels to guarantee long-term and standard medication is provided.
Huang said it will be meaningless if reimbursement for rare disease bills is low, as such charges are sky-high, adding that it is also unacceptable to ask patients to pay the bills before applying for reimbursement.
Xiong said the research and development of rare disease therapies is a difficult process, so the high cost of treatment is justified. She added that enterprises may lose the initiative if they come under pressure to reduce prices.