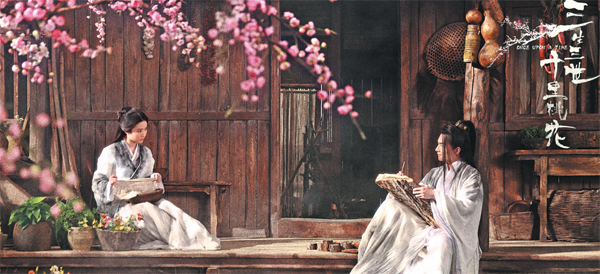 A poster of the movieTen Miles of Peach Blossoms, an adaption of an online story. [Photo provided to China Daily]
A vast array of online literary genres has revolutionized the entertainment industry in China and triggered a new wave of TV dramas, movies, animations and gaming titles.
Stories and plots from aspiring authors are now read by millions of internet readers across the country before being turned into films, television series or cartoons.
Smash-hit dramas such as Nothing Gold Can Stay and Ten Miles of Peach Blossoms were spectacular adaptations from popular online stories, highlighting this booming new business.
"Online literature will become the mainstream in the future," said Dong Qianqiu, general manager of the literary division at iQiyi.com, at an entertainment conference earlier this year.
A report released by the China Internet Network Information Center, or CNNIC, showed a growing number of people are reading e-books on mobile devices rather than PCs.
About 353 million Chinese users are hooked on online stories, with 327 million reading e-books on smartphones.
Figures from the CNNIC have backed up this internet boom. Among the 751 million netizens, 96.3 percent were mobile phone users, providing a massive base for the online book business.
As for age groups, millennials have become big fans of online literary works and the spinoff movies, TV series and games.
High-definition smartphones, and innovative mobile internet technology and software have made on-screen reading and video-watching cool again.
So cool, in fact, that consumers are willing to pay for it.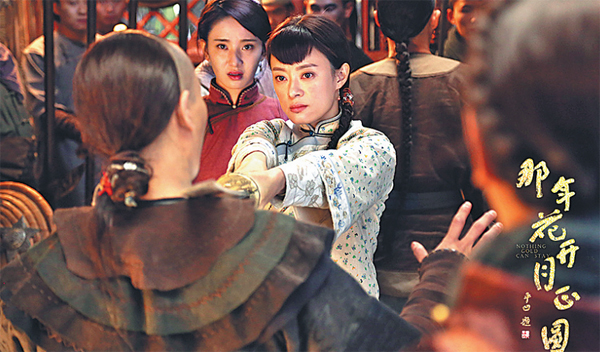 A poster of the TV series Nothing Gold Can Stay, adapted from an online story. [Photo provided to China Daily]
"Before, the majority of internet users preferred to pay for real items," said Xue Yongfeng, an analyst at internet consultancy Analysys in Beijing.
"But with an increase in average incomes, more Chinese are willing to pay for content, such as reading online novels, watching online videos or listening to online music," he added.
Naturally, this has attracted the attention of the three major internet players, Baidu Inc, Alibaba Group Holding Ltd and Tencent Holdings Ltd, or BAT. The trio have invested heavily in entertainment, betting big on China's booming markets.
Already e-commerce giant Tencent has spun off its online literary arm, China Literature Ltd.
It listed the e-book publisher on the Hong Kong Stock Exchange in November, with its share price jumping more than 86 percent to HK$102($13) on its debut.
This was the largest global first-day gain for an initial public offering this year.
"Supported by the mobile internet and a number of digital technologies, reading is no longer confined by the limits of time and space," said Zhu Jing, vice-president of e-book publisher China Literature. "We are now entering a brand new age that embraces the online reading trend."
Founded in 2015, the online publishing subsidiary has 6.4 million writers on its books and 9.6 million literary works by the end of June.
China Literature also has 191.8 million monthly active users across its platforms and channels.
Last year, the company announced that revenue reached 2.6 billion yuan ($378 million), up 59.1 percent from the previous year.
It also saw a significant jump in gross profit to 1.1 billion yuan during the same period, an 81.7 percent year-on-year increase.
"We are building an international open platform aimed at offering better user experiences as we seek new momentum in key markets," Zhu said.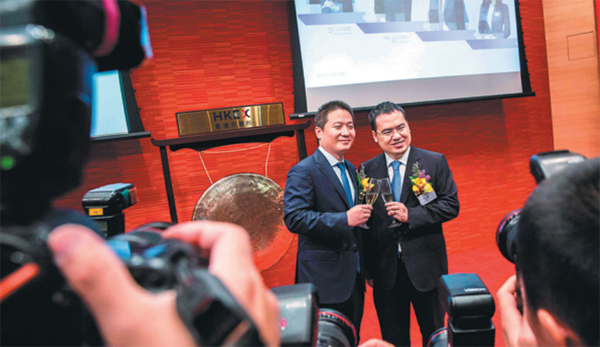 China Literature co-CEOs Liang Xiaodong (center left) and Wu Wenhui (center right) pose for photos at the company's initial public offering on the Hong Kong Stock Exchange on Nov 8. [Photo/Agencies]
China Literature's open platform enables developers to include its content on their apps, which will create new revenue streams. So far, it has partnerships with nearly 50 e-book platforms, including Baidu and JD.com.
The company has also launched a multi-language site to translate some of the most successful online novels in China for overseas readers. It aims to take its multibillion-yuan business globally.
As the online entertainment ecosystem continues to mature, there are huge possibilities out there in cyberspace.
During the past two years, China Literature has sold the rights of authorized online novels to companies that are part of its 100-strong client base. Many have been made into movies, TV dramas and online games.
This synergy across different entertaining platforms has prompted Baidu and Alibaba to expand into the online literary business, as they try to catch up with rival Tencent.
The plan is to share online content and develop quality IPs or copyrighted material.
"The internet not only works simply as a medium but also appears fashionable and trendy," said Dong of the literary division at iQiyi.
"With more than 300 million users who love reading digital literature, the market is worth 10 billion yuan in China and will boost more pan-entertainment industries," Dong added.