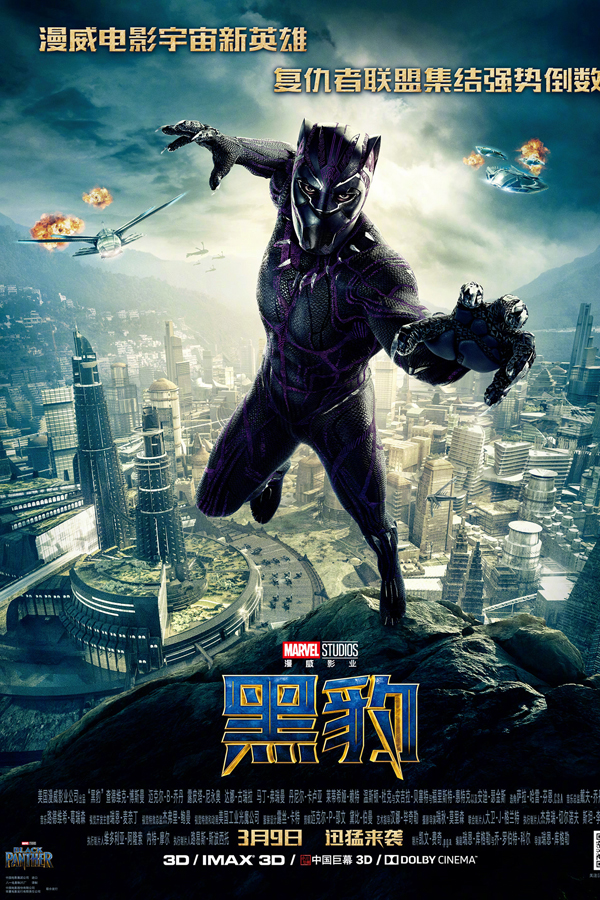 After a sales surge in February, the Chinese box office is expected to continue its momentum in March, boosted by the release of multiple high-quality imported films.
One of the most anticipated blockbusters is Black Panther, Marvel Studios' latest superhero film. Directed by Ryan Coogler, the film stars Chadwick Boseman as T'Challa/Black Panther who returns home as king of Wakanda but finds his sovereignty challenged by a long-time adversary in a conflict with global consequences.
Black Panther will be shown on the Chinese mainland starting March 9. On Maoyan, a popular film database in China, more than 200,000 users have expressed their desire to see the 18th film in the Marvel Cinematic Universe.
Marvel's last film, Thor: Ragnarok grossed more than 700 million yuan (about $110 million) on the mainland.
Pacific Rim: Uprising will hit the screens on the mainland on March 23. Hoping to ride the momentum of the 2013 film Pacific Rim, which raked in nearly 700 million yuan on the mainland, the sequel features Chinese actress Jing Tian in a leading role. Several other Chinese faces can be also seen in the sci-fi blockbuster.
"Tom Raider," the new Lara Croft film will arrive in Chinese cinemas on March 16. Despite its brand recognition, the film may not have as large a fanbase as Marvel and the Pacific Rim series do in China. However, Chinese-American film star Daniel Wu's participation may help boost its popularity in China.
While Hollywood big-budget action films may continue to accelerate the box office boom in China, Chinese moviegoers will also have a chance to see some of this year's Oscar contenders.
The Shape of Water will be shown on Chinese screens starting March 16. The fantasy film has garnered a total of 13 Oscar nominations, topping the prediction lists of many media organizations.