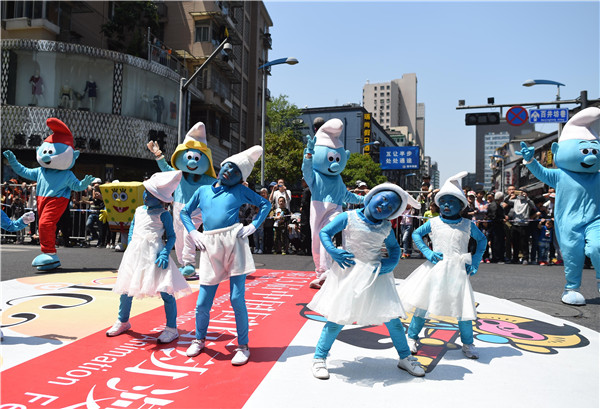 Hangzhou will soon host this year's China International Cartoon and Animation Festival, an annual event that has become the largest of its kind in the country.
With rapeseed flowers blooming in vast fields and mountains covered by lush trees, the village of Xiajiang in East China's Zhejiang province looks like an exquisite scroll eulogizing the beauty of spring in the eyes of cartoonist Murong Yindao.
But the artist, who shot to fame with his iconic comic puppet Daodao (knife), met with a pleasant surprise during his visit there on March 24.
A young girl from a local elementary school cautiously presented him with a cup of green tea, a traditional ceremony in China to establish a master-apprentice relationship.
Two other top Chinese cartoonists joined the ceremony to accept two other apprentices, which acted as a warm-up event to promote the upcoming 14th China International Cartoon and Animation Festival.
The ceremony also marked the launch of a government-backed project to promote cartoon and animation culture in the province's rural areas.
As a frequent participant in the festival, the leading one of its kind in China, Murong says he has seen it change quite substantially over the past decade.
"The festival is becoming more relevant to local people. I always believe the best comic works come from life and should return to life," he says.