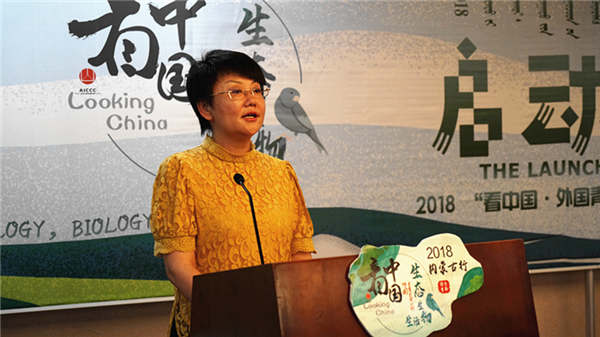 A ceremony was held in Kangbashi district, Ordos, Inner Mongolia autonomous region on July 1, to mark the start of the 2018 Looking China International Youth Film Project, which has been held in the city for three consecutive years.
The project aims to display Chinese life through the eyes of foreign filmmakers. This year's program was organized by Ordos New Media Center with the support of Huilin Culture Fund of Beijing Normal University (BNU) and the university's Institute for International Communication of Chinese Culture.
Su Cuifang, director of the publicity department of Ordos; Gao Feng, executive dean of the BNU's Institute for International Communication of Chinese Culture; Zhou Mingfu, director of the film and television center of the Grand National Theater; Geoff Poister, professor of the School of Media Communications at Boston University, as well as around 10 young filmmakers from the United States, Denmark and France, attended the ceremony.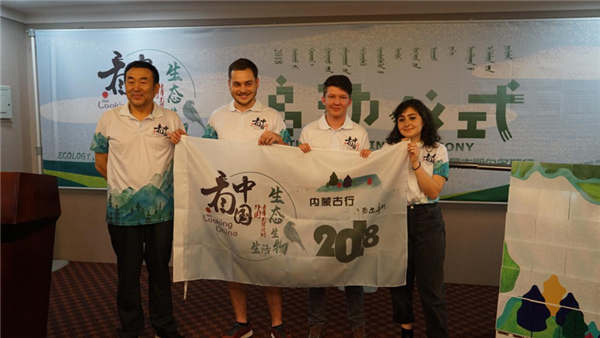 Gao Feng (L), executive dean of Beijing Normal University's Institute for International Communication of Chinese Culture, presents the banner to three representatives of the film project. [Photo provided to chinadaily.com.cn]
In both Chinese and English, Su delivered a welcome speech, in which she extoled the deep ties between Ordos and the program.
As the city has developed we have worked hard to maintain the pristine natural environment of Ordos, she said.
She also expressed her wish that young filmmakers will feel the history, culture and unique customs of Ordos while shooting their films, and called for more foreigners to come and experience the charms of Ordos.
Gao also urged the participants in the program to cherish the opportunity to experience authentic Chinese culture and accomplish shooting their films with the help of volunteers.
Before the announcement of the program, Daleng Bayaer, an expert on ethnic culture in Ordos, was invited to discuss the city's geographical features, ecological environment and Mongolian culture to both the Chinese and foreign attendees at the ceremony.