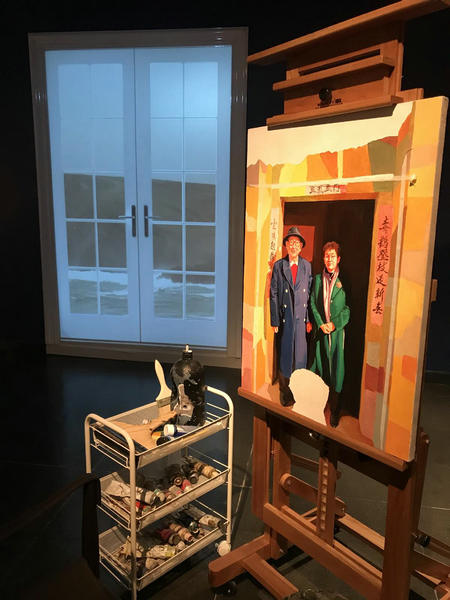 Art is increasingly being integrated into people's daily life these days. And purchasing artworks is no longer the monopoly of those who can spend at galleries and auctions. It is also common among the middle class as moderately-priced works by promising artists are found in houses and offices.
While the decision to buy may be relatively quick, where to hang the artwork is where much time and effort is spent.
Now, teachers and students from the Central Academy of Fine Arts' design department have transformed an exhibition hall at the National Centre for the Performing Arts into "demonstration rooms", providing display tips for different environments.
Titled Art Living, the exhibition, which runs through July 8, showcases works by artists and designers who teach or studied at CAFA, as well as copies of classic works by renowned artists.
The works are carefully categorized and placed in a specific environment, such as a living room, a children's bedroom or a conference room inside an office building, offering an immersive experience.
For example, landscape oil paintings are matched with modern, Western-style furniture, while Chinese ink paintings are placed with wooden desks and chairs made in classic Chinese style.
Among the works on show, Shuai Mei has two ink flower-and-bird paintings, which are done in the classic Song Dynasty (960-1279) style, and exude elegance and tranquility.
"A painting free of vivid colors and complex compositions can also arouse the imagination," she says. "And hopefully, such a classic style will enrich modern life."
Works using digital technology are also on display, indicating the future trend of growing interaction between people and the objects they use on a daily basis.
One such example is Jun Xing Shi, a digital installation by Liu Tao, who graduated from CAFA's digital media major in June.
Liu says his work is based on the studies of a lacquer plate inscribed with "jun xing shi (food for enjoyment)" and other artifacts found in the Mawangdui Tombs of the Western Han Dynasty (202 BC-AD 8).
For his work, Liu collected elegant patterns and images from the Mawangdui objects and incorporated them in a computer program.
At the exhibition, Liu uses the program to project colorful patterns from the Mawangdui artifacts onto plates and cups.
Some of the works on display not only offer visual pleasure, but also inspire people to think about their relationships with big cities, such as the photo series Manhattan by Hou Shui, a graduate of the CAFA's photography major this year.
Two photos from the series are put in an environment imitating a conference room where a long table and several chairs are placed. The photos depict a view of high-rise buildings seen from the window of a skyscraper.
The exhibition is supported by the Beijing Jin Shangyi Art Foundation, which was set up by Jin Shangyi, a prominent Chinese oil painter and former headmaster of CAFA.
Jin, 84, says the foundation has also recently sponsored many projects involving design, besides oil and classic Chinese paintings, with the aim of promoting the role of design and designers as the country increasingly promotes creativity.