影城外厅运营新亮点:缓压区将全线登陆万达影城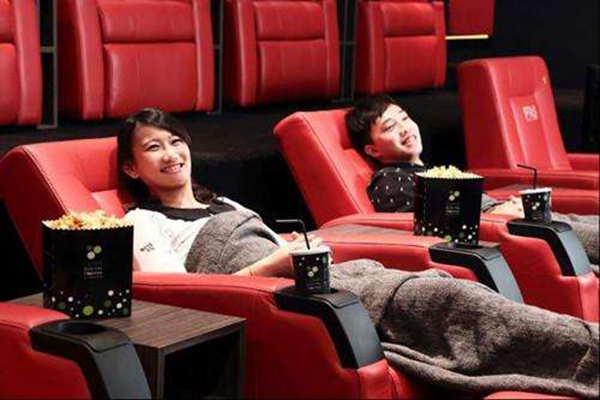 东方网记者姜文然3月27日报道:如今,人们去影院不仅能观看影片,还可以在候影空挡抓个"娃娃"、吃个冰淇淋……甚至可以做个全身舒展缓压按摩。
Shanghai, March 27- Nowadays, many people go to cinema not only for a movie, but a way to relax.
没错,近期最吸引人气的业态之一"摩摩哒缓压候影区"已成为影城标配新玩法。记者获悉,该缓压候影区未来将全线登陆万达影城。
Momoda, a massage armchair supplier, recently announced its cooperation with Wanda Media, providing a choice for relaxation before or even during a movie.
中产阶级消费兴起加速娱乐文化渗透,休闲健康模式在供需两端变革的共振效应下表现出巨大的增长弹性。稍息网络CEO曹发多次提及"碎片化时间",他希望"用互联网思维,链接用户的等候时间。"
The rise of the middle class has accelerated the domestic consumption upgrade. More and more people are seeking a way to relax after work, which brings Momoda's CEO Cao Fa a huge business opportunity.
于是,他想到,将按摩椅放进6-20分钟的等候场景中,一方面,可以舒缓快节奏生活给人们带来的疲劳,另一方面,还可以将影院文娱空间与健康生活模式相融合,升级健康娱乐消费新模式。
He decided to put massage chairs in a waiting scenario of around 6-20 minutes to provide a choice for relaxation on the one hand and to meet the increasing demand for healthy entertainment consumption on the other hand.
这一点打动了希望将场景休闲与电影做更多强内容与体验关联的万达传媒COO王宇新,"通过例如摩摩哒缓压区这样的互动增值区来打通线上传播与线下体验,可以提供更多强互动的可能性。"
Wanda Media's COO Wang Yuxin was fascinated by Cao's view, "such a leasure zone can get through online promotion and offline experience, which can help strengthen the interaction with consumers."
王宇新表示,未来将着重在休闲空间方面进行升级。"将来的万达影城将是包含游戏、VR、缓压区等的强社交场所,在面向观影人群提供更优质体验的同时,提升影院的盈利空间。该模式还将随万达影城向全球拓展。"
Wang also noted that the recreational space will be upgraded in the coming future. "Wanda Cinema will include games, VR, leisure zone and other interactive elements to provide more high-quality experience and improve profit space at the same time."