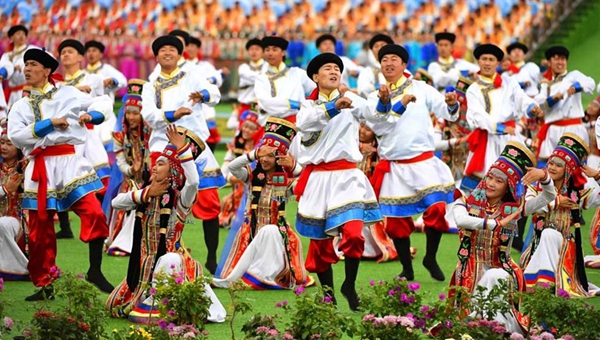 Dancers perform during celebrations to mark the 70th anniversary of the Inner Mongolia Autonomous Region in Hohhot, its capital. China's top political adviser Yu Zhengsheng attended the celebrations and lauded the region's achievements. — Xinhua

CELEBRATIONS are under way to mark the 70th anniversary of the Inner Mongolia Autonomous Region, the first provincial-level ethnic autonomous region in China.
Events include evening galas, exhibitions and the Nadam Festival, a traditional event with horse racing and Mongolian wrestling.
China's top political adviser Yu Zhengsheng yesterday lauded the region's achievements and expressed the hope that improving ethnic autonomy would bring a better life for its residents.
Yu, chairman of the National Committee of the Chinese People's Political Consultative Conference, was speaking at a gathering to celebrate the anniversary, while leading a 63-person delegation from the central authorities.
Yu reiterated the importance of adherence to the leadership of the Communist Party which he said was the solid core to unite and lead people from all ethnic groups, and firmly sticking to socialism with Chinese characteristics.
The Inner Mongolia Autonomous Region was established on May 1, 1947.
The first session of the National People's Congress, the country's top legislature, included the system of regional autonomy for ethnic minorities in the constitution in 1954.
Covering an area of 1.18 million square kilometers, Inner Mongolia accounts for about 12 percent of the country's land area.
It is one of the country's five autonomous regions, the others being Xinjiang, Tibet, Ningxia and Guangxi.
Ethnic autonomy in China's regions, prefectures and counties was introduced to create equality, solidarity and common prosperity for all ethnic groups.
Respect for history
"The regional ethnic autonomy is a great and creative achievement of the Party," said Muren, a professor of ethnology at Inner Mongolia Normal University. "The system shows respect for history and is based on reality."
Over the past 70 years, the region's economy has expanded from 537 million yuan (US$80 million) to 1.86 trillion yuan.
Local residents have also seen great improvements in their livelihood. The average life expectancy has grown from less than 35 years to 75.8 years over the past seven decades.
Herdsman Bayinbat's family of five lives on over 200 hectares of contracted grassland in Otog Banner with an annual income exceeding 200,000 yuan.
"The yearly income of many of the herder households nearby exceeds 100,000 yuan. Our life is getting better," Bayinbat said.
Herder Siqin in Xilin Gol League said that every year when there is a shortage of fodder in late winter and early spring, she buys it on credit from her Han neighbors.
"They are so helpful for sharing their experience in growing crops," she said.
The region, which boasts China's largest natural pasture area of about 79 million hectares, is committed to environmental protection while pursuing economic growth.
A number of projects have been carried out in the region, including sand control, returning farmland to forests, and pasture to grassland.
Local herders are banned from grazing on severely damaged grassland and can receive subsidies to cover losses.
Ethnic culture in the region is developing and evolving. Ethnic minorities make up 20 percent of the population of 25 million, with 4.6 million ethnic Mongolians.
A young man named Baoyinbaadarah recently organized a Mongolian language summer camp where children from herder families can learn about advanced technology such as 3D printing, laser cutting machines and micro robots.
Baoyinbaadarah grew up receiving bilingual education.
"The Mongolian language is part of my identity, while Mandarin opened my eyes wider to the outside world. It is important for us from the Mongolian ethnicity to have a command of both," he said.
In November, a regional ethnic education regulation was enacted, which emphasized the importance of ethnic languages and culture.
Mutual respect between different ethnic groups and protection of local ethnic culture creates a foundation for the prosperity of Inner Mongolia, said Hao Shiyuan, a researcher with the Chinese Academy of Social Sciences.