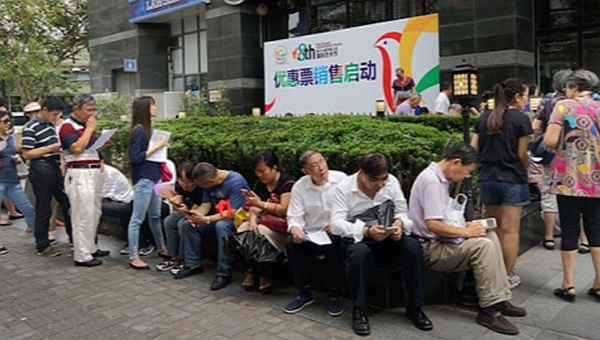 The first round of cheap tickets for the 19th Shanghai International Arts Festival will go on sale on Tuesday and Wednesday, covering all programs in the festival and the "Art Space" and "the Rising Artists' Works (R.A.W.!)" series.

Tickets will be on sale at 20 counters — those downtown will open at 9am and those in the suburbs will open at 1:30pm. Most of the tickets will be on sale at the Shanghai Art Theater.
Customers are limited to two tickets per program and a maximum of six for all performances. The tickets are half price or less and cover about 10 percent of seats. The cheapest tickets are just 10 yuan (US$1.51). A valid ID must be produced.

After the first round of sales, the festival committee will arrange a second round at the Experimental Theater of Shanghai Academy of Theater on October 16 and the Shanghai Tianchan Yifu Theater on October 17, from 9:30am to noon.

From Thursday, tickets will be on sale daily at the booking office at the Shanghai Art Theater.
Free festival handbooks will be handed out at major railway stations, such as People's Square and Jing'an Temple from 8am on Tuesday and next Tuesday.
The free handbooks will also be available at some performing arts venues and community culture activity centers. Call 62720455 for information.