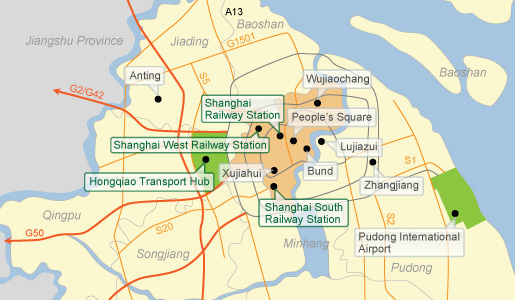 Importance of Railways in Shanghai

Apart from planes, another major transportation in and out of Shanghai is by rail. Taking trains to nearby cities such as Suzhou, Nanjing and Hangzhou is a popular, fast and convenient way.

Travelling to most other cities in China can be done by rail too. There are trains daily from Shanghai to several hundreds of cities in China. Some of which includes popular destinations such as Beijing, Tianjin, Qingdao, Xi'an, Chengdu, Chongqing, Kunming, Guilin, Xiamen, Sanya, Guangzhou, and even Hong Kong (see Shanghai Railway Station).

The duration of travelling by train might be much longer than taking flights. But, if you got the time to spare, the prices are usually cheaper and there is also no luggage limit.

People squeezing in train during peak season. Even standing tickets can be sold out.

However, trains can sometimes be very crowded and the cleanliness can be an issue. This is especially so during peak seasons such as the Spring Festival, Labour Day and National Day Holidays. It is very hard to get tickets during these seasons as well.

Language can pose as another major issue for travelling by train as well. Important information such as the train tickets, information on train schedules and signboards for departure gates, are usually presented in Mandarin only. Train service officials might also know little or no English at all, which means communication can be hard sometimes.

Locations of the 4 Railway Stations in Shanghai

There are four major railway stations in Shanghai, Namely the Shanghai Hongqiao Railway Station, Shanghai Railway Station, Shanghai South Railway Station and Shanghai West Railway Station.

Picture shows how the 4 railway stations are connected by metro.

Shanghai Hongqiao Railway Station

Hongqiao Railway Station is located at a transport hub (Hongqiao Traffic Transit Hub) in the western part of the city together with the airport, long-distance bus station and subways. The transport hub is about 15km from the People's Square at the city's center place and about 57 km from Pudong International Airport. It consists of high-speed train, flight, subway, city-bus, coach and taxi. Currently, it mainly serves the newly opened Shanghai-Nanjing High-Speed Railway.

The waiting lobby of Shanghai Hongqiao Railway Station

The station is the city's key terminal for high-speed railway lines to Hangzhou, Nanjing and Suzhou. It can be reached by Metro Line 2, linking several major locations such as Jing'an Temple, People's Square, The Bund, Lujiazui Financial Center, and Pudong International Airport. Metro Line 10 also this station as well.

Remember to check the gate number as there are different gates for different trains.

About 50 to 60 trains from 6am to 9pm depart from Shanghai to Hangzhou every day. Most trains depart from Shanghai Hongqiao Railway Station, all of which are "G" and "D" trains ("D" trains stand for second-level high speed trains). Meanwhile, there are still several trains departing from Shanghai South Railway Station or Shanghai Railway Station.

Shanghai Railway Station

Also known as New Railway Station, Shanghai Railway Station is divided into the North Square and South Square. It is located at No. 303 of Moling Road in Zhabei District. Metro Line 1 reaches the south square whereas Metro Line 3 and 4 reaches the north square. Transfer between the two different metro line at Shanghai Railway station requires an exit (which is free only with shanghai metro card) follow by a 5-minutes' walk.

It serves as the largest passenger railway station in the city with at least 80 pairs of trains run between Shanghai and other cities all over the country daily, including Beijing, Xian, Qingdao, Harbin, Chengdu, Kowloon etc. Additionally it has bullet trains to Beijing, Nanjing, Suzhou, Wuxi, Changzhou, and Changsha.

North Square of Shanghai Railway Station. the ticketing booth is the building behind the clock as seen in this picture.

This railway station has trains to most of the cities in China, even as far as Urumqi and Tibet. There is also an international train to Hong Kong, T99, which departs daily from this station at 6.20pm.

There is a separate queuing section for passengers going towards Hong Kong.

Passengers are required to go through custom procedures before boarding this train. The entrance for boarding this train is located at the South Square and it closes 15 minutes before the train departs.

Shanghai South Railway Station

Shanghai South Railway Station is uniquely design to be round. Nevertheless, it still consists of the North Square and South Square which might be confusing. Located at No. 289 of Old Humin Road in the south Xuhui District, it provides daily train services between Shanghai and cities to its south such as Hangzhou, Jiashan, and Ningbo. There are also bullet trains to Hangzhou and Nanchang. Similar to Shanghai Railway Station, Metro Line 1, 3 and 4 reaches the station, but the good thing is that, there is less hassle for transfer between the two lines as no exit is required.

The South Square of Shanghai South Railway Station

Most of the trains from this station head towards cities South and South-west of Shanghai. High speed trains beginning with "G" and "D" are also not available at this station.

Shanghai West Railway Station

Shanghai West Railway Station is located at Putuo District. It's relatively small as compared to the previous 3 mentioned, with little human traffic and only 5 trains leaving towards Suzhou and Nanjing each day. Travelling by this station might be a good choice if you want to avoid the crowd, provided that the train schedule suits you.

There are several pairs of trains serving routes between Shanghai and other cities such as Yantai, Zaozhuang, Hengyang, Ganzhou, Nanjing, Hangzhou, and Ningbo. Tickets usually go on sale one day before the departure day at the ticket office at No. 22 of Taopu Road.

Bus Routes: 1, 106, 129, 319, 516, 551, 742, 768, 807, 944, 966

Information Line: 021-62549500, 021-56241022

Shanghai West Railway Station. The ticketing booth is on the left side of this picture.

This station is conveniently served by Metro Line 11. Three stop south from this Metro Station is Jiangsu Road Station, where passengers can take Metro Line 2 either west towards Zhongshan Park and Hongqiao Hub, or east to go to the city centre and Pudong Airport.

Purchase of Train Tickets

Online tickets for trains departing from Shanghai go on sale twelve days (including the day of purchase) before the departure day. Tickets can also be purchased via telephone booking which usually go on sale 10 days before departure and the order may take 4 to 12 days to process. Online booking and telephone-booking of tickets are available within the time frame of 7:00am to 11:00pm.

Travellers need to register and login with their real identification i.e name and other particulars onto the train ticket booking system at the official website: http://www.12306.cn/mormhweb/ (only Chinese version available at present) and submit the request. Reply will be in approximately one hour.

When the booking procedure finishes, the customer service staff will phone the buyer to confirm the reservation and the time and address for ticket delivery. Payment for the ticket and the handling fee can be made when the booker receive the ticket. Please note that one can only book twice through the internet with a maximum of 20 tickets.

You can also go directly to the ticket office on the first floor of the Complex Ticket Building of Shanghai Railway Station to buy tickets.

Tickets booked before 12:00pm may be reserved till 12:00am of the same day while tickets booked after 12:00pm will be reserved till 12:00pm of the next day.

For more additional information you can call the Information Line at 021-12306 or the Ticket Booking Line at 021-95105105.

Train tickets are also sold at many other booking offices in the city. Ticket Offices at No. 230 of East Beijing Road, No. 1738 of West Beijing Road, and No. 431 of Changyang Road are the main locations. Train tickets can be purchased directly at a ticket office, or through an agency.