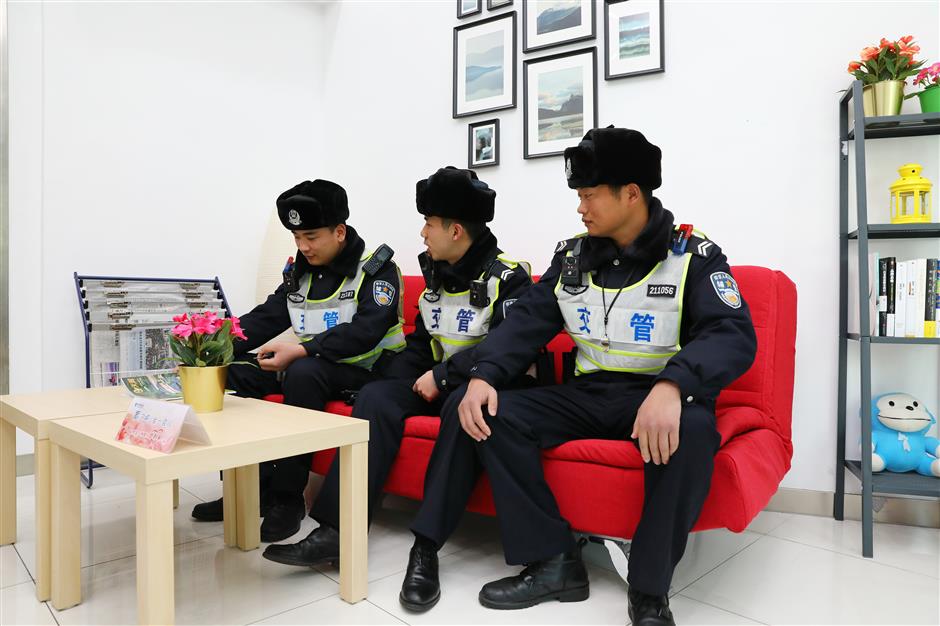 Assistant traffic police officers have a rest at one of the resting places at a branch of China Telecom on Caoxi Road N. in Xuhui District on Monday.
The Shanghai Federation of Trade Unions has established 600 resting places for outdoor workers and men in uniform to take a break, drink warm water and heat their meals. The resting areas will have heaters in winter and air-conditioners during summer.
It is part of a citywide project that followed the success of the 5,000 resting places for sanitation workers that was initiated in 2013 by the Shanghai Greenery and Public Sanitation Bureau.
The resting places can now be used by food deliverymen, taxi drivers and assistant traffic police officers. Banks, telecom branches, supermarkets, pharmacies and community service centers have provided most of the spaces. China Telecom has offered its space to more than 300 resting places. They are equipped with microwave ovens, sockets and refrigerators. Some of the venues even boast wireless Internet, computers and first-aid kits. At a Huashi Pharmacy branch, users can test their blood pressure.
"We have to stand on the road for a long time every day. It is not always easy to find places to sit for a while, drink warm water or use the toilet," said Xu Feng, an assistant traffic police officer. "With these places it has become more convenient now."
He Huijuan, a federation official, said local companies were very enthusiastic in helping to set up the resting rooms for workers.
"We plan to set up 1,000 such facilities this year and our goal was to have 600 ready by the first half of the year itself," she said.
"But thanks to the enthusiasm of the enterprises, we achieved that target in the first two months itself."