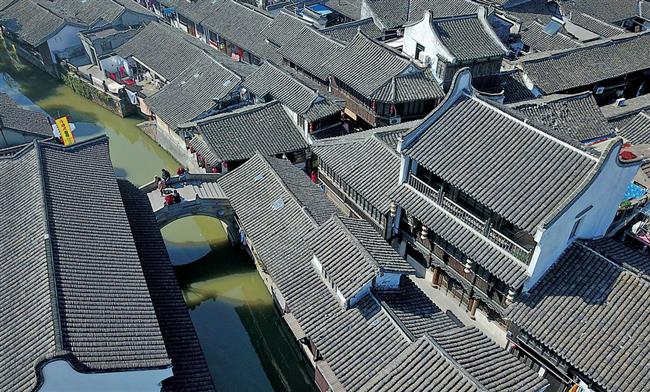 A bird's-eye view of Xinchang watertown and the canal that runs through it.
ANCIENT watertowns are picturesque and favorite destinations for day trips. They are also prey to commercial tourism, which in some cases overwhelms their simple charm.
Xinchang Town, a watertown located in the Pudong New Area, is trying to find a balance between retaining the captivating elements of the past and sharing them with visitors.
The town traces its origins to the early Northern Song Dynasty (960-1127), when it mined salt from the nearby sea flats. Now, after more than 1,000 years, Xinchang has the best-preserved group of historical buildings in Pudong, with some 30 percent of the district's cultural protected relics located here.
That's pretty impressive, considering how small the town is. Xinchang Street, a 2-kilometer cobblestone road, runs through the old town from north to south, and a canal cuts through it from east to west. Old buildings and alleyways lie along the road and waterway.
Watertowns are natural magnets for artists, and that's one activity the town is trying to cultivate.
Yu Jianrong moved his paper-art studio to a courtyard house a few weeks back. He is an artisan of some renown. He said he chose Xinchang as his new workshop site because he found the town calming when he needed quiet moments.
"The town is not too commercialized, nor is it so otherworldly that you feel like a hermit," he said in an alley studio that backs onto a small river.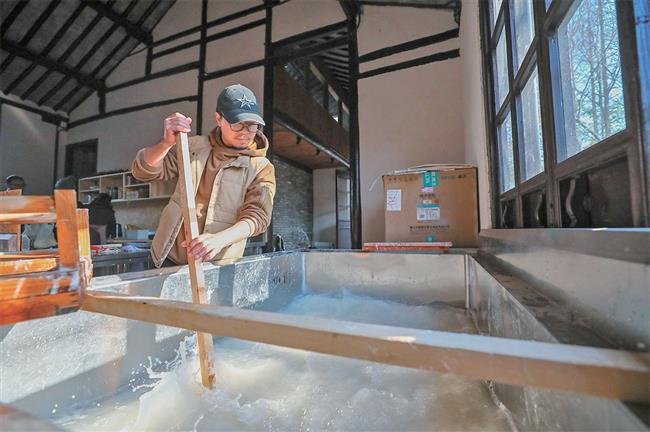 Jiang Xiaowei / SHINE
Yu Jianrong stirs paper pulp. Yu, who moved his paper-art studio to a courtyard house in Xinchang, says he finds the town calming.
Printmaking artist Cheng Liang and his wife Zhang Wenxiu came to Xinchang in 2009. Cheng said the couple was impressed by the authentic look of the southern Yangtze-style town.
"I used to enjoy walking on the cobblestone streets at dusk when I first came here," said Cheng. "It brought me a sense of joy to see the local lifestyle."
Yu's and Cheng's studios will open to the public on March 23.
Town officials couldn't be more pleased.
"We plan to invite more artists to open workshops here," said Miao Fan, head of the Xinchang's development and managing company. "Some of them are involved in cultural heritage projects."
Miao said the idea is to attract tourists and still retain the slow tempo of the town.
"Paper art and printmaking aren't traditional arts here, but they give the town diversity," said Miao.
Xinchang does have a tradition rooted here — Yueju Opera, the second popular opera form among more than 300 genres in China.
A Yueju Opera Festival was held recently. The opera actors took to the stage in an historical courtyard complex built in early 20th century right beside the studios. The audience was dominated by locals who spent most of their lives in the town.
Wang Feimiao, 80, a retired knitter, said local residents sometimes organize their own opera parties at a teahouse near the canal. Many scenes from director Ang Lee's 2007 masterwork "Lust, Caution" were filmed there. It is said the teahouse once had another entrance that allowed people to enter directly from a boat on the canal.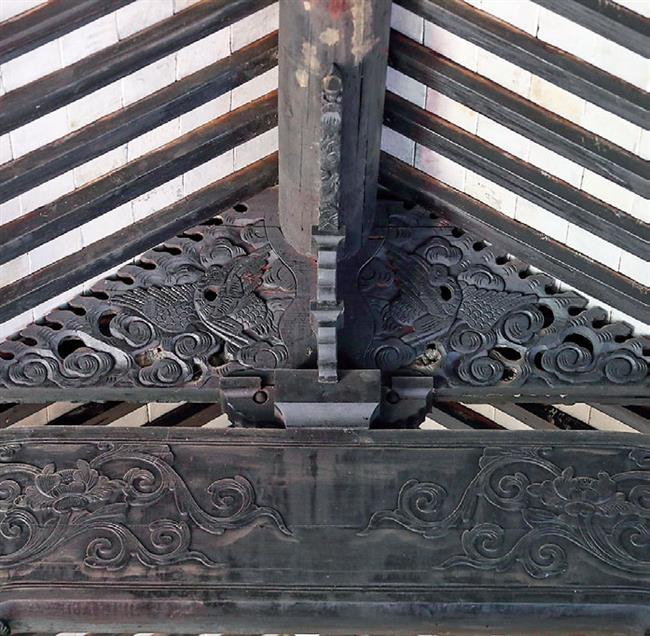 Jiang Xiaowei / SHINE
Traditional Chinese-style carved beams are seen in one of the historical buildings in Xinchang.
"The town survived even though many of its beautiful sites were destroyed by war," said Wang.
The town used to have nine stone bridges, but most of them were demolished during World War II. Located in the center of town is Xinchang's cultural museum, which used to be a silk shop owned by Zhang Yudao.
Members of the Zhang family were committed communists during the war, and the silk shop was used for secret partisan meetings and for storage of munitions and medicines.
"It's a miracle that the town is so well preserved after the war," said Miao. "That's thanks to those who dedicated, even gave their lives to defend it. We have renovated more than 40 houses in the town."
It has taken Xinchang five years to repair buildings, with some renovations still under way.
Urban heritage protection expert Ruan Yisan said Xinchang is an excellent example of how Shanghai progressed into the modern age.
The Xi Changsheng family compound sits on one side of the canal. Its architecture blends traditional Chinese carved beams and Western art-deco columns.
The patriarch was once a wealthy businessman who owned an herbal medicine shop. An old man walking past told Shanghai Daily that Xi's herbs won a gold medal at the World's Fair in Philadelphia in 1926.
Whether the story is true or not cannot be verified, but the architecture of the ancestral home suggests that Xi absorbed much from Western culture.
After retiring several years ago, Yu Guangping rented a flat in Xi's compound. She doesn't live there all the time but rather uses the flat as a bolthole to escape from the hubbub of Shanghai now and then.
"Living in the concrete jungle, you sometimes need a change of vibes," said Yu.
She has been renting the flat for two years and has become familiar with most of her neighbors. By contrast, Yu said she doesn't know the name of the family living next door to her apartment in Shanghai, even though she has been there more than 12 years.
Liu Mingfei, a local grocer in Xinchang, said most visitors are from Shanghai. The town, he said, is small and wants to keep its tranquil lifestyle.
On a Friday just past noon, I went to a restaurant famous for its tofu jelly. The owner told me all the jelly had been sold out.
"I know it's a bit early," said the owner, who is surnamed Zhang, "but I don't want to sacrifice quality for quantity."
He said his family has been making tofu jelly for three generations.
"Only on weekends will I ask for help from neighbors to make more," he said.
Two older Japanese tourists, Atsuko Nishiyama and Jun Iwabuchi, stopped at Liu's grocery to buy 14 containers of Pechoin hand cream.
The two older ladies said they had a free day from their organized tour and decided to embark on a small adventure.
Despite the fact that they know little English, let alone Chinese, they said they found the town on Google.
"It is a total surprise that we stumbled onto this water town," said Nishiyama.
"As a tourist site, Xinchang is still emerging," said Miao. "We will do our best to keep it as authentic as we can."