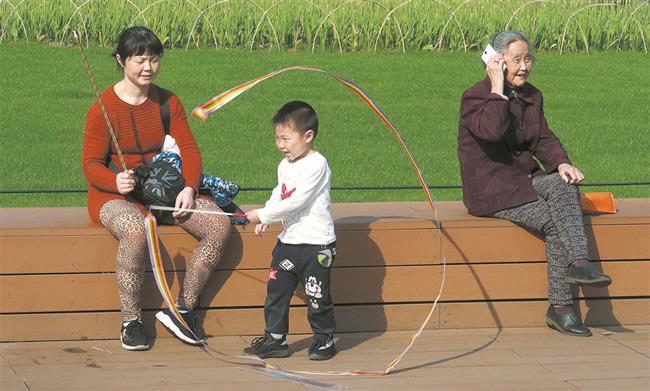 A boy enjoys a day out as his mother watches at Jing'an Sculpture Park yesterday.
IT will be cold today but warm spring conditions will return after tomorrow.
Weather forecasters said it will be sunny and cloudy today, but morning temperatures will hover around 10 degrees Celsius in downtown areas and even lower in suburban areas. The high temperature will be around 18 degrees.
Tomorrow will be cloudy with temperature ranging between 11 and 20 degrees.
But high pressure will dominate the city from Wednesday, bringing with it sunny and warm days, according to Shanghai Meteorological Bureau.
The high for Wednesday will be 22 degrees Celsius and 23 degrees on Thursday and Friday.
Rains lashed the city last Friday, followed by thunderstorms on Saturday, leading to a cold front and substantial drop in temperature to around 12 degrees on Saturday. But the sun was back yesterday to ensure a dry F1 Chinese Grand Prix in Shanghai.