Shanghai Party Secretary Li Qiang met Jean-Pail Agon, chairman and CEO of L'Oreal, and his fellow board of directors on June 7.
Li said as China's biggest economic center, Shanghai is making all-out efforts to build its "Shanghai Shopping" brand, build itself into an international consumer city, accelerate the integration process of online shopping and real economy, and develop the new retail models.
This November, Shanghai will host the China International Import Expo, which is a major step to further open up and connect its markets to the outside world. The city is glad to have L'Oreal as one of the first participating companies and to bring more its latest products and technologies.
Shanghai will keep providing better markets, market environment, and quality services to domestic and foreign companies, Li added.
Agon said it has been 20 years since L'Oreal branched into Shanghai and it has witnessed the city's changes and development. Benefited from Shanghai's good business environment, L'Oreal has cultivated rather large markets in China.
The company is willing to support Shanghai's future development strategies and play an active and supporting role in the upcoming CIIE and its future urban development, Agon added.
Zhuge Yujie, secretary-general of the CPC Shanghai Committee, also attended the meeting.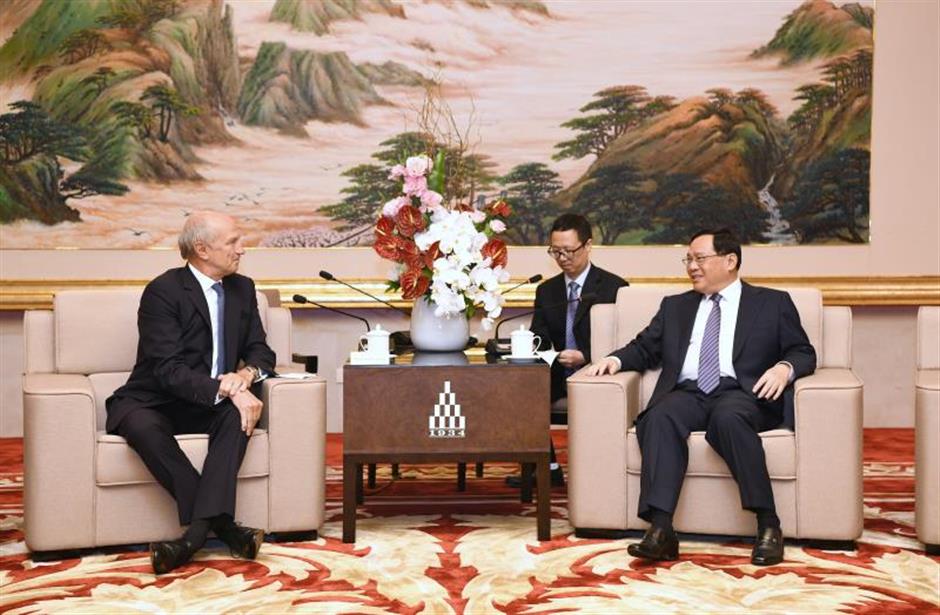 Shanghai Party Secretary Li Qiang meets Jean-Pail Agon, chairman and CEO of L'Oreal.