Shanghai Party Secretary Li Qiang met Elon Musk, chairman and CEO of Tesla Inc, on Tuesday.
Li congratulated Musk on the signing of the electric vehicle project with Shanghai. Li said Shanghai has an advanced automobile industry and a rather complete automobile industry chain. Setting up its project in Shanghai will help Tesla to explore the markets in China and the Asia-Pacific region.
Li hoped that Tesla and Shanghai can further their cooperation. As China's biggest economic center, Shanghai highly values the development of advanced manufacturing industry while upgrading its urban energy level.
The city will build an international, law-abiding, and convenient business environment for domestic and foreign companies. This November, Shanghai will host the China International Import Expo, which is an important measure for China to further open up its markets to the outside world, as well as an important platform for companies from each participating country.
The CIIE welcomes Tesla to bring its latest technologies and electric vehicles to the expo and share business opportunities, Li added.
Musk said the reason for Tesla to choose to set up its first overseas super factory in Shanghai was for the city's innovation, vitality, efficiency and its talent pools. Tesla has great faith in building the super factory in Shanghai into a leading and exemplary green and sustainable factory with integrated functions such as research, development, manufacture and sales.
Zhou Bo, executive vice mayor of Shanghai, and Zhuge Yujie, secretary-general of the CPC Shanghai Committee, also attended the meeting.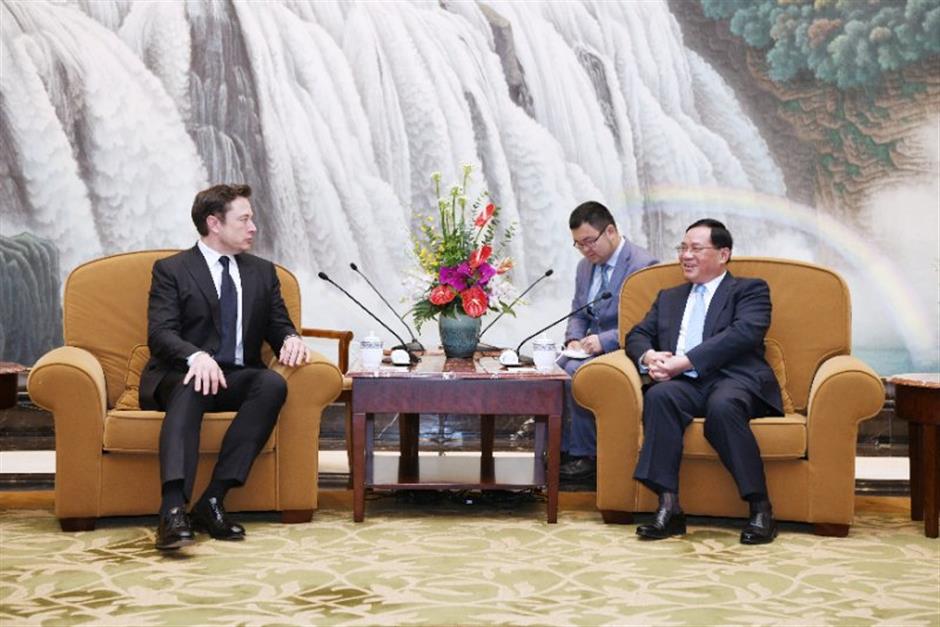 Shanghai Party Secretary Li Qiang meetsElon Musk, chairman and CEO of Tesla Inc.