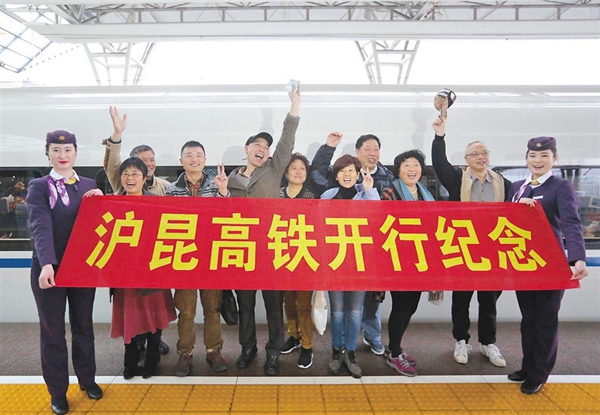 Passengers at Hongqiao Railway Station celebrating before setting off on the maiden high-speed train journey from Shanghai to Kunming. — Wang Rongjiang

Nearly 540 passengers went on the first high-speed train from Shanghai to southwestern Yunnan's Kunming City, departing from Hongqiao Railway Station at 8:55am yesterday.
The high-speed service Shanghai-Kunming line — 2,252 km in length — traverses five provinces — Zhejiang, Jiangxi, Hunan, Guizhou and Yunnan — and cuts travel time between the two cities by two thirds, to 10 hours and 36 minutes compared with the regular train times.
Kunming is known as Spring City thanks to its clement weather, and the newly connected Shanghai-Kunming high-speed railway has been nicknamed "the most beautiful railway" by Chinese online users, because of the spectacular scenery along the line.
However, with the forthcoming Spring Festival travel rush, most passengers on yesterday's train were not tourists, but people wanting to get home early for festival reunions.
"I'm going to take my granddaughter to home for the Spring Festival this time," said a man surnamed Liu, 65. "We used to travel by the regular trains, which take about 30 hours from Shanghai to Kunming. You would have to stay two nights on the train."