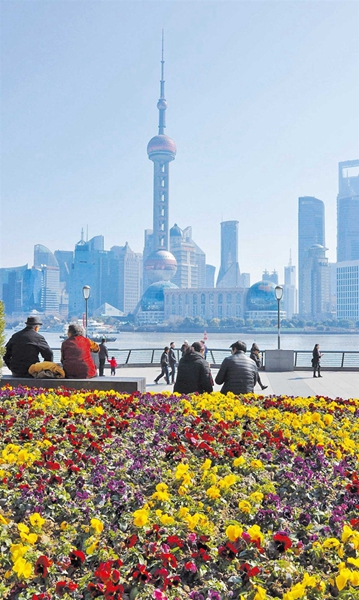 People enjoy the warm spring sunshine yesterday. — CNS

The city's mercury will seesaw this week with rain expected on Friday, forecasters said yesterday.
The temperature should climb to 18 degrees Celsius on Thursday, but fall again over the weekend, the Shanghai Meteorological Bureau said yesterday.
There should be two to three sunny to cloudy days ahead under the influence of a high, driving up temperatures.
Valentine's Day today should be sunny to cloudy, and the temperature will range from a low of 4 to 15 degrees as a high, compared with yesterday's high of 14.2 degrees.
Haze is forecast before noon today. And the air quality will be good to lightly polluted, with PM2.5 the major pollutant in the morning.
Air quality will return to good this afternoon.
Thursday will be overcast, with a low of 8 degrees and a high of 18. An incoming trough will bring drizzle on Friday. Saturday should be cloudy, with the temperature ranging from 6 to 10.