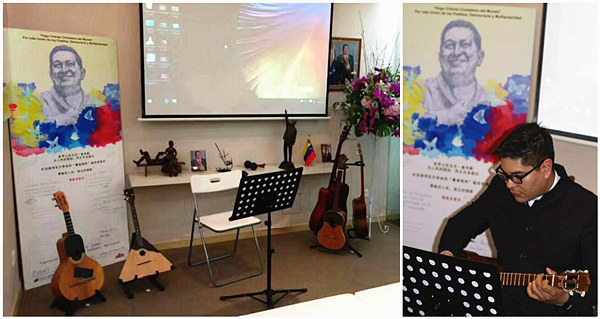 委内瑞拉在沪举办民俗文化音乐会纪念查韦斯逝世四周年
The Consulate General of the Bolivarian Republic of Venezuela in Shanghai held a Venezuelan musical recital entitled "From Poets and Singers" on March 9th, 2017 in commemoration of the fourth anniversary of the death of the late leader Hugo Rafael Chávez Frías.
2017年3月9日,委内瑞拉玻利瓦尔共和国驻上海总领事馆举办题为"来自诗人与歌手"的音乐活动,纪念已故领导人乌戈·拉斐尔·查韦斯·弗里亚斯逝世四周年。
Leisbeth Berríos, Consul General of Venezuela in Shanghai said in her speech, "Supreme Commander Chávez was a humanist who firmly believed in the national cultural wealth". So, the event saluted the commander in the form of music that he loved, and at the same time it provided Chinese people an understanding of Venezuelan folk culture.
委内瑞拉驻上海总领事莱斯贝斯·贝里奥斯在致辞中说,"最高统帅查韦斯是深信民族文化财富的人文主义者",因此,活动以统帅喜爱的音乐这一形式向其致敬,同时也让中国民众了解委内瑞拉的民俗文化。
Afterwards, Deputy Consul General Francisco Zaragoza, who is a professional sociologist and musician sang songs with his son and played the traditional Venezuelan four-stringed instrument, gaining praise from the guests at the scene.
随后,副总领事弗朗西斯科·萨拉戈萨,同时也是一位职业社会学者和音乐家,与儿子一起展示了委内瑞拉民乐,他们用四弦琴弹奏并演唱了歌曲,获得了现场嘉宾的称赞。
(Photos by the Venezuelan Consulate General in Shanghai)