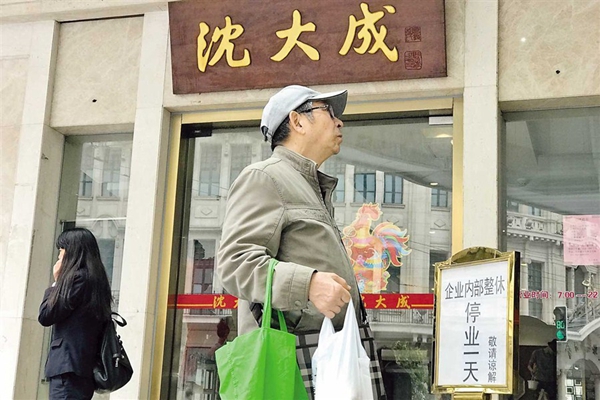 A man walks pass Shen Da Cheng, a well-known dim sum shop, which closed its doors yesterday. The restaurant was suspended and contaminated food destroyed, following a video uploaded online showing rats in the kitchen. — Wang Rongjiang

The city's food watchdog is conducting a citywide crackdown on irregularities of stores selling wanghong — food that becomes highly popular on the Internet.
"We must be fully alert to wanghong food," said Yan Zuqiang, director of the Food and Drug Administration. This was because their very popularity meant if food safety problems were found, the problem was worsened.
He said more than 6,000 officials at 16 district market supervision and management watchdogs had been sent over a one-month period to inspect more than 2,000 food and beverage stores, many of which sold wanghong foods. About 300 cases were being investigated for unsafe food factors found in the inspection, Yan said.
A string of scandals involving wanghong food, such as those involving the bakery chain Farine and Michelin-starred Taian Table, had prompted authorities to enhance supervision, said Yan.
The term wanghong translates as Internet celebrity — but the term also extends to food and brands and boutique stores that were "discovered," or later became popular, through Internet stardom.
Meanwhile, the administration had also checked 1,154 home-made food restaurants recently, and closed 672 for operating without a license, Yan added.