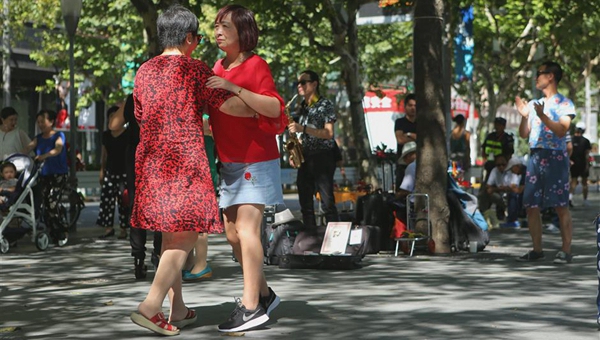 Typhoon Talim is forecast to move northeast and its effect on Shanghai will be downgraded, forecasters said.

At 10am on Wednesday, the eye of the storm was above the Pacific Ocean, 700 kilometers southeast to Xiangshan County, Zhejiang Province.
After reaching the East China Sea, Talim is set to make a turn and move northeast on Friday morning, running across the middle and northern part of Zhejiang, according to Shanghai Meteorological Bureau.
Due to the peripheral influence of Talim, Shanghai will be windy on Thursday and Friday. But only residents living along the coast and by the port are warned to be braced for gales.
Thursday and Friday will be overcast, with intermittent showers downtown. But downpours may still hit the city's eastern and southern coastal areas.
The winds are expected to leave and the rain should stop on Saturday.
Weekend temperatures will range between 23 and 27 degrees Celsius.
Thanks to the wind from the sea, Shanghai had a clear sky on Wednesday, and good air quality will continue to the weekend, according to the environmental protection bureau.
This year's 19th typhoon, Doksuri, has already formed. At 5am on Wednesday, its eye was above the South China Sea, about 970 kilometers southeast of Hainan's Sanya city. Doksuri won't affect Shanghai, forecaster said.
To avoid any danger from the typhoon, the city's flood prevention headquarters has planned for primary and middle school students to be evacuated to safety if winds get stronger.
Outdoor billboards, traffic signs and glass walls, meanwhile, will be checked to ensure they can cope with any coming storms.
The city's 82 mobile water pumping vehicles and 100 personnel squads are on stand-by.
Shanghai Railway Administration suspended selling tickets for 391 trains that had been scheduled to depart, arrive or pass Shanghai from Wednesday to Saturday.