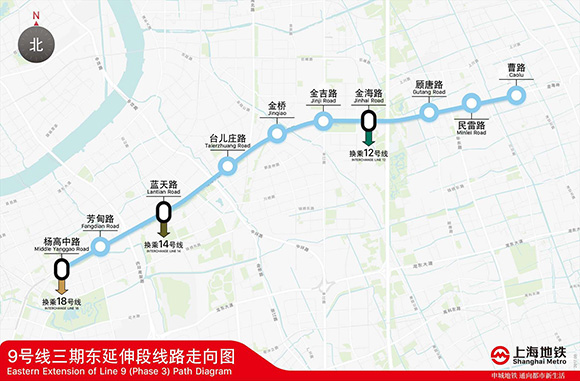 Eastern extension of Line 9 (Phase 3) Path Diagram [Picture/Shanghai Metro]
  The third section of Line 9 has taken a key step toward opening. Shanghai Transportation Trade Association, as the third-party review agency, completed a review on the basic conditions of the trial operation of Line 9's extension, thinking it is ready to be put into use and reflects a relatively high level of construction.
  The extension is all underground between Middle Yanggao Road and Caolu, hitting 13.82 kilometers. So Line 9 will be 70 kilometers in length, reaching Shanghai-Hangzhou inter-city high-speed rail Songjiang South Station in the southwest and Caolu Town in the east.
  The eastern extension includes 9 stations consisting of Fangdian Road, Lantian Road, Taierzhuang Road, Jinqiao, Jinji Road, Jinhai Road, Gutang Road, Minlei Road and Caolu. Passengers can transfer Line 14 at Lantian Road and Line 12 at Jinhai Road.