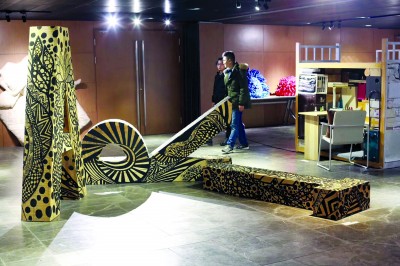 Colorful works show the artists' artistic sensitivity
The 5th National Art Institutes and Academics Biennial for Outstanding Public Visual Artwork of Graduates and Undergraduates will last till January 22, 2018 at Shanghai Design Center, free to the public.
The biennial is a national undergraduate public welfare exhibition encompassing public art, sculpture, installations and multimedia arts. This time, the "Youth Tendency" themed biennial adopts new materials such as glass and technologies like 3D printing to show the art sensitivity of the creators born in the 1990s through 1,163 works.
The work "Spreading Wings Under the Stars" at the end of the exhibition hall on the second floor has cost Li Yunhao, from East China Normal University, about one month. A pair of mirror wings is hung on the wall and visitors can see themselves in the mirror, with wings seemingly. He said he wants to show the true self, adding,"I hope everyone can face the true self when looking in the mirror and the wings will help them 'soar'."