【自2017年起,上海市人民政府外事办公室携手各区政府,举行"国际化的上海"系列推介活动,助推上海建设"五个中心"、卓越的全球城市和社会主义现代化国际大都市。
  继成功举办杨浦区、静安区推介后,2018年5月,系列活动将移师黄浦区。此次活动将凸显外滩金融集聚带优势,推介外滩滨江高端服务业创新发展示范区。为此,东方网记者专程采访了多位在黄浦区工作和生活的外籍友人,听他们娓娓道来与黄浦的不解之缘。】
  【Starting from 2017, the Shanghai Municipal Foreign Affairs Office, together with district governments, has started hosting the "Internationalized Shanghai Promotion Series" to help Shanghai turn itself into an international economic, financial, trade, shipping and technology innovation center, and become a global city of excellence and a modern socialistic international metropolis.
  Following the first two events in Yangpu and Jing'an District, this May, an event series will be held in Huangpu. The event will highlight the advantages of the financial agglomeration in the Bund area and promote the Innovation and Development Demonstration Area for High-end Service Industry at Bund Waterfront. Eastday.com sat down with some expats who shared their stories of living and working in Huangpu.】
外国友人在黄浦
法国夫妇留恋上海的N个理由
  在上海西藏南路与淮海中路的交界处,一幢幢赭红砖墙的建筑在周边高楼中格外引人注目,这里是有着132年历史的上海光明中学。也是在这里,我们见到了学校的两位法籍教师:史蒂芬·索耶(Stéphane Sourget)和安妮·兰洛斯(Annie Langlois)。
  At the junction of Shanghai's South Xizang Road and Middle Huaihai Road in Huangpu District, a group of red-brick buildings distinguish themselves among the nearby high-rises. They belong to Shanghai Guangming High School, which has a history of 132 years. There, Eastday reporters have an interview with the two French teachers at the school: Stéphane Sourget and Annie Langlois.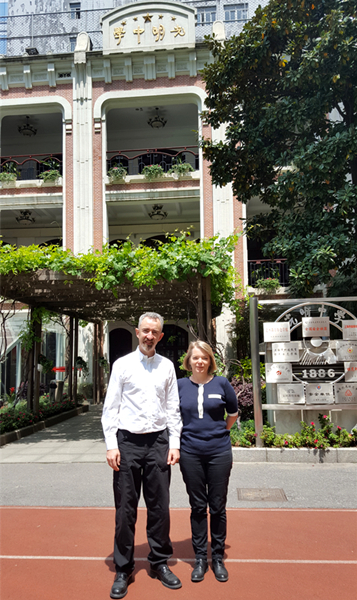 史蒂芬和安妮是一对夫妇。2017年9月,他们受法国政府委派来到上海,在光明中学法语班分别执教数学、法国文化与文学。在他们的授课下,法语班学生在法语口语和戏剧表演、数学思维和表达方面都得到了很大提高。未来,这群学生将有机会进入法国高校就读。
  Stéphane and Annie are a couple who were appointed by the French government to Shanghai Guangming High School in September 2017 for a French class program. Annie teaches French culture and literature while Stéphane teaches maths in French. Thanks to them, students in the class have improved a lot in oral French, dramatic performances, and maths reasoning. In the future, some of the students will have the opportunity to enter universities in France.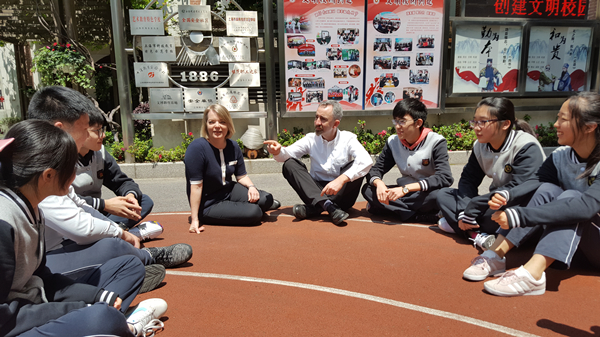 光明中学创办于1886年,一直有法语教学的历史。2014年中法政府间启动了"法文课程班"教育合作项目,光明中学成为在中国试点该项目的11所学校之一。2012年,学校与法国鲁昂高等工程师学院签订协议,陆续在每个年级设立第一外语法语班。作为上海地区将法语作为第一外语选修人数最多的学校,光明中学是目前全中国唯一一所获得法国政府教育认证的中学。在今年的国际法语日(3月20日),法国总统马克龙还在演讲中特别提到并肯定了上海光明中学的法语教学。
  Founded in 1886, Guangming High School has a long history of French teaching. According to Stéphane, in 2014, the Chinese and French governments launched an educational program called SPLF (Section Pilote de Langue Française en Chine). Guangming High School is one of 11 pilot schools in China. In 2012, it paired with a French engineering school (ESIGELEC) and began to open classes for each grade where French is the first foreign language. As the only school in Shanghai with the majority of students studying French as their first foreign language, it is the one and only high school in China that has received the Label Francéducation, which validates the quality of the teaching done in the school and the commitment to the program from the French government. On this year's International French Day (March 20th), French President Emmanuel Macron especially mentioned Guangming as a model school for teaching French.
  史蒂芬和安妮曾经生活在法国西南部一个只有500人的小村庄,来到人口超过2000万的特大型城市上海,他们收获了截然不同的人生体验。安妮说:"上海很大、非常现代化,节奏也很快。这里有太多惊喜等着我们去发现。"
  The couple are from a small village of 500 inhabitants in Southwestern France. In Shanghai, a city with a population of more than 20 million, they have had totally different experiences. As Annie says, "Everything is fast, big, modern. There is so much to do in Shanghai!"

  一到上海,夫妻俩第一时间变成了微信一族,还渐渐学会了逛淘宝和用支付宝,甚至用手机软件点起了外卖。"一杯咖啡也能送来,真是不可思议!这在我们法国的家乡是不可能的。"爱喝咖啡的史蒂芬兴奋地说道。
  Soon after their arrival, the couple began to use WeChat. They also learned to shop on Taobao and use Alipay, and even use mobile apps to order food deliveries. "Even a cup of coffee can be delivered, which is incredible. That is not possible in our hometown in France," Stéphane, who loves to drink coffee, says with excitement.
  让他们感叹的还有黄浦区的历史建筑和传统文化。史蒂芬说:"对法国人来说,黄浦区是个很有魅力的地方。这里的许多历史建筑都融合了多元文化,其中不乏法国建筑师的杰作,光明中学就是法国耶稣会在1886年创办的。"安妮告诉我们:"在法国,令人遗憾的是有一部分古建筑已经毁于战火。能有机会在黄浦、在上海看到这么多伟大的建筑,十分难得。"她同时希望,除了历史建筑以外,上海所有的优秀建筑都能得到很好的保护,从而提升城市的整体美观度。
  To their further amazement, there are a lot of historical monuments and beautiful architecture in Huangpu District. Stéphane says, "As a French person, I think Huangpu has a lot of appeal. Many of the historic buildings here are a mixture of multiculturalism, including many masterpieces of French architects. For example, Guangming school was built by French Jesuits in 1886 and the street nearby was called then the Joffre Avenue, named after a French general." Annie adds, "In France, many historic buildings were destroyed by war. So it is an incredible chance to still have such great places." She also hopes that except for historic buildings, all buildings in Shanghai will be nicely protected to keep the city beautiful.
  夫妇俩平时使用的通勤工具是地铁,"上海地铁很干净,也很便捷"。但如果要前往地铁到不了的地方,就得坐公交。"对老外来说,乘公交还是有些困难。指示牌上都是中文,如果有外语就好了。"
  The couple commute by metro, saying that, "Shanghai's Metro is very clean and fast." But if they want to go somewhere beyond the metro network, they have to take the bus. "For foreigners, it is still struggling to take a bus. The signs are all in Chinese. If there is a foreign language version, that'll be much better."
  在黄浦区,外滩是必去的打卡景点。"外滩太美了!在一天中的任何时候,都能给人带来美的体验。"安妮说。不过,外滩附近,尤其是南京东路,总是人流如织,能停下脚步仔细欣赏周边风光的时间并不多。
  In Huangpu, the Bund is a must-see attraction. "The Bund is spectacular. It is beautiful at any time of the day," agrees Annie. However, there are so many tourists that there is little time for them to stop and enjoy the surrounding scenery, especially on East Nanjing Road.
  在上海生活了半年多,夫妻俩也发现了中国和法国的共通之处,那就是人们对于食物的喜爱。"在法国,我们说:为了享受美食而生活,即为了吃饭而生活,中国人在这一点上与我们很像。即使生活忙碌,他们也会在桌边享受美食、享受当下。"
  Having lived in Shanghai for more than half a year, the couple have also discovered a common thing between China and France, which is people's love for food. "In France, we say: We live to eat and enjoy food. The Chinese people are similar to us in this case. Even if they are busy, they still sit down at a table and enjoy food and the moment."
  为了更好地融入本地的文化与生活,史蒂芬一家选择居住在普通居民区,成为小区里少有的法国居民。安妮笑着说:"既然到了上海,学习当地文化非常重要。如果我们以法国人的方式在这儿生活,那还有什么意思呢?"他们与邻居相处也很融洽,"上海是个十分友好的地方,这里的人似乎也已经习惯了与老外相处。"
  To better experience the local culture and life, the couple chose to live in an ordinary residential area, where French residents are a rarity. Annie says, "Since we are in Shanghai, experiencing local culture is essential. If we live in a French way, I don't see a point." They have a good relationship with their neighbors. "Shanghai is very welcoming to foreigners, and people here seem to be used to mixing with foreigners."
  随夫妇俩一起来到中国的,还有他们的两个孩子。当初,一想到要跟着父母不远万里来到陌生的上海,离开家乡的学校和朋友,孩子们并不情愿,甚至还打算一年后,等父母的执教期满就返回法国。可是如今,两个孩子却兴奋地表示:"我们不想离开上海!"史蒂芬和安妮也十分喜欢黄浦、喜欢上海,还特地报了中文班,认真学起了汉语。他们甚至向法国政府申请,希望能在光明中学留任。他们在上海的精彩生活才刚刚开始……
  Along with the couple, their two children also came to China last year. At first, the children were reluctant to leave their school and friends in France and go to an unfamiliar city. Their original plan was to return to France when their parents finished their one-year education mission. But now, they tell their parents, "We don't want to leave Shanghai!" The couple also like Huangpu and Shanghai. They have even signed up for a Chinese language class to study Mandarin. They've also applied to the French government, hoping to stay in Shanghai and teach for another year. Their life in Shanghai has just begun and their joie de vivre is overflowing.