【自2017年起,上海市人民政府外事办公室携手各区政府,举行"国际化的上海"系列推介活动,助推上海建设"五个中心"、卓越的全球城市和社会主义现代化国际大都市。
继成功举办杨浦区、静安区推介后,2018年5月,系列活动将移师黄浦区。此次活动将凸显外滩金融集聚带优势,推介外滩滨江高端服务业创新发展示范区。为此,东方网记者专程采访了多位在黄浦区工作和生活的外籍友人,听他们娓娓道来与黄浦的不解之缘。】
【Starting from 2017, the Shanghai Municipal Foreign Affairs Office, together with district governments, has started hosting the "Internationalized Shanghai Promotion Series" to help Shanghai turn itself into an international economic, financial, trade, shipping and technology innovation center, and become a global city of excellence and a modern socialistic international metropolis.
Following the first two events in Yangpu and Jing'an District this May, an event series will be held in Huangpu. The event will highlight the advantages of the financial agglomeration in the Bund area and promote the Innovation and Development Demonstration Area for the High-end Service Industry at Bund Waterfront. Eastday.com sat down with some expats who shared their stories of living and working in Huangpu.】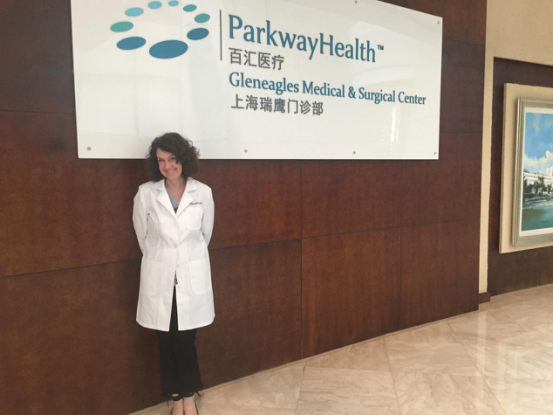 外国友人在黄浦
德国医生在上海
A German Doctor in Shanghai
在上海的中心,人民广场附近,高耸的地标性建筑明天广场内,"藏着"这么一家外资医院:百汇医疗集团上海瑞鹰门诊部。可能是因为藏身在甲级写字楼内的缘故,除了醒目的招牌之外,人们很难将这里与平常所见的医院联想到一起。在瑞鹰优雅、静谧而舒适的环境中,有一支专业医疗团队为患者提供全方位的服务,而我们的采访对象正是其中一位外籍医生:米歇拉· 鲍姆女士(Michaela Baum)。
Inside the towering landmark building Tomorrow Square, which is near city's heart of People's Square, there is a foreign hospital called ParkwayHealth Gleneagles Medical & Surgical Center. The center is located in such a magnificent office building that one can hardly conceive it to be a hospital. Within the grandeur, tranquility and grace of the environment, the center is staffed by a highly professional medical team of doctors and nurses, providing all-around service to patients. There, we had an interview with Michaela Baum, one of the doctors with the center.
米歇拉来自德国慕尼黑,作为一名耳鼻喉科专业医生,她从业已有30多年。10年前,她随丈夫来到了上海。她的丈夫在一家瑞士医药公司工作,目前夫妻俩在上海的事业都很稳定,也都很享受在上海的生活。
Michaela comes from Munich, and she has been practicing as an ear, nose and throat (ENT) specialist and surgeon for more than 30 years. She came to Shanghai ten years ago with her husband, who currently works for a Swiss pharmaceutical company. The couple has lived a comfortable life in Shanghai and built stable careers here.
据米歇拉介绍,百汇医疗登陆上海已有13年。2005年在人民广场地区的明天广场,开设其在中国的第一家门诊部——瑞鹰门诊部以来,陆续在新天地、陆家嘴、虹桥、金桥等地区开设新的门店,现在正计划在人民广场或虹桥地区建设新的大型医院。
According to Michaela, ParkwayHealth has been operating in China for 13 years. Since the opening of Gleneagles Medical & Surgical Center - its first medical center in China - back in 2005, the company has significantly expanded its presence in Shanghai and set up medical centers in such locations as Xintiandi, Lujiazui, Hongqiao and Jinqiao. The company also has plans to build hospitals of a larger scale near People's Square and in Hongqiao.
谈到门诊部的接诊情况时,米歇拉称目前50%的就医对象是外籍人士,大部分医生也是外籍的,在这里就医需要提前预约。每次预约就诊一般为30分钟,所以她最多时会一天接待15名病人。米歇拉微笑着说:"这里环境舒适,也不用排队,加上可以提供高质量的医疗服务,所以来这儿的人满意率较高。"
Michaela told us that around 50% of the patients here are foreigners as are most doctors. A patient needs to make an appointment before they come to the center. Each appointment will be allocated about 30 minutes, so Michaela will see up to 15 patients a day. "Most of our patients are very satisfied with our service because of the comfortable environment and high-quality medical care we provide and also because they don't need to queue in line."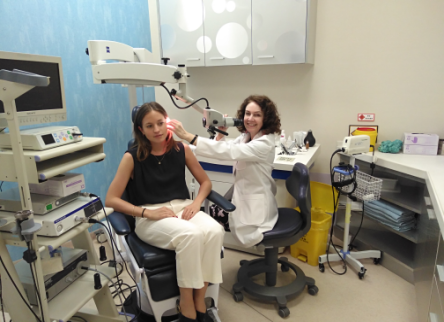 对于自己所在的黄浦区,米歇拉坦诚表示:"来之前我了解到,公司之所以选择在黄浦开设第一家门诊部,正是看中黄浦区优越的地理位置和为国际高端服务业提供的良好营商环境。黄浦区地处上海市中心区域的核心,附近有便捷的交通和繁华的商圈,无论是浦东、还是浦西的病人来此就诊都非常方便。"
"I learnt when I first came here that Huangpu was chosen as the location for the first ParkwayHealth medical centre in China because of its strategic location and business friendly environment for high-end services. Huangpu is situated in the heart of the city and boasts convenient transportation and bustling commercial centers. It is very convenient for patients from both Puxi and Pudong to pay a medical visit here," said Michaela, speaking of Huangpu District.
就她个人而言,上海的生活便利性和安全度也让她非常满意。"在这里,餐馆、商店和便利店星罗棋布,而且都可以用微信和支付宝支付,不用带现金,这点是我回德国时会非常想念的事情。"米歇拉笑着说,"在安全方面,上海也是一流的。作为一个女性,我感觉即使深夜在路上行走也很安全。"
Michaela is also very satisfied with the convenience of life and safety in Shanghai. "The number of restaurants, shops and convenience stores here is great, and I don't need to take cash with me because I can pay with Wechat and Alipay. This is something I will miss when I am back in Germany," smiled Michaela, "Shanghai is also among the best in terms of safety. As a woman, I feel safe even when I walk in the late night on the street."
虽然对这个城市情有独钟,不过米歇拉也认为上海在城市管理中仍有一些可以改进的地方。她比划着说:"我觉得上海可以尝试更环保的垃圾处理方式。另外,上海可以更好地规划道路,让城市交通更通畅,让机动车、自行车和行人都可以舒适、公平地享用道路使用权。"
Despite her fondness for Shanghai, Michaela still has some suggestions for Shanghai on city management. "Shanghai can further improve garbage recycling, classification to create a greener environment for the citizens. Besides, roads can be planned in a better to way to make sure all road users including motor vehicles, motorcycles and pedestrians can use the road in a safe, comfortable and equal way."
米歇拉非常喜欢黄浦区丰厚的历史人文底蕴,尤其是装饰派历史建筑和当代建筑艺术的完美融合,让黄浦区别具风情,散发出迷人的魅力。对于城区内现存的许多老建筑,她也建言政府部门要下大力气来修缮和保护,特别是对那些年代久远的后现代装饰派艺术建筑,她认为是这座城市无法复制的时代印记和宝贵财富。
Huangpu enjoys a very rich historical and cultural deposit, and the mixture of historical art-deco and modern buildings has given Shanghai unique glamour. She suggested that more efforts should be taken to preserve and restore those historical buildings, especially those with a post-modern art deco style, which are precious treasures of the city.
中国将进一步扩大开放幅度,对此米歇拉也充满了期待,她认为这将对自己所处的行业产生更为积极的影响。她说:"虽然与欧洲城市相比,上海经济持续多年保持了迅猛发展势头,但有时在这里仍然买不到有些进口药品。身为一名医生,我对无法为病人提供所有所需的药物,难免会感到遗憾。建设上海自贸区为国外药物进口带来了极大便利,希望未来能加快这方面的工作步伐,让我们医生能及时有更多、更好的药品选择。"
Michaela also has great expectations for China's further reform and opening up. "Shanghai has been developing at a speed much faster than European cities," said Michaela. "However, there are still some medications that I cannot buy here. It is a pity for me as a doctor to be unable to offer all medications needed to treat my patients. The establishment of the Pilot Free Trade Zone in Shanghai has made it easier to import foreign medications into China, and I hope the government will speed up the process to give doctors access to a broader range of medications."
【延伸阅读】:上海开埠前没有西医,只有中医郎中以游走或坐堂等方式行医。1843年后随着在沪外籍人士的增多,上海陆续出现了综合性的西医医院。从1844 年起,陆续开设了仁济医院、同仁医院、公济医院、广慈医院等,到1910年已达14家,其中大部分都位于现黄浦区的上海老城区。
1844年开设的上海第一家西式医院称为"中国医院",为仁济医院的前身。1846年迁入山东路的麦家圈,即现在仁济医院西院。始建于1863年的公济医院(现第一人民医院)创立于外滩洋泾浜附近科尔贝尔路(今中山东二路22号新永安路口),于1864年3月1日正式开办。红房子医院又名复旦大学附属妇产科医院,于1884年在方斜路506号由在沪外国人捐资创办。因创建时屋顶呈红色,一百多年来,被广大市民以及患者亲切地称为"红房子医院"。其创办的上海女子医学院,也称上海基督教女子医学院,是当时上海唯一的女子医学院。而坐落于瑞金二路的上海交通大学医学院附属瑞金医院创建于1907年,原名广慈医院,法文名称是"圣玛利亚医院"。
Related reading:
Shanghai had no western hospitals before it was opened for trade in 1843, and there were only traditional Chinese doctors who roamed the street or treated illnesses at their clinics. With the increase of foreigners in Shanghai since 1843, a host of general Western hospitals had gradually appeared in Shanghai, including Renji Hospital, Tongren Hospital, Gongji Hospital, Guangci, Hospital. A total of 14 Western hospitals had been set up in Shanghai by 1910, most of which are now situated in the old downtown area of Huangpu District.
The first Western hospital founded in Shanghai in 1844 was called the "Chinese Hospital", the predecessor of Renji Hospital. Two years later, the hospital moved to Mai Jia Quan (now on Middle Shandong Road and the west part of Renji Hospital). Gongji Hospital, which was founded in 1863 (now the First People's Hospital) on Colbert Road near the Bund and the Yangjingbang Canal (now at the intersection of Xin Yong An Road and No.22 Zhong Shan Dong Er Road), and was officially opened on March 1, 1864. The Obstetrics & Gynecology Hospital of Fudan University on No.506 Fangxie Road, otherwise known as the Red House Hospital, was founded based on donations from foreigners in Shanghai in 1884. Due to its red-brick roof, when it was built the hospital was affectionately referred to as the "Red House Hospital" by the general public as well as the patients. The hospital later established the Shanghai Women's Christian Medical College, which was the only medical college for women in Shanghai back then. Ruijin Hospital, a university hospital affiliated to , Shanghai Jiao Tong University's School of Medicine, was founded in 1907, formerly known as Guangci Hospital, or St. Marie Hospital in French.