【自2017年起,上海市人民政府外事办公室携手各区政府,举行"国际化的上海"系列推介活动,助推上海建设"五个中心"、卓越的全球城市和社会主义现代化国际大都市。
继成功举办杨浦区、静安区推介后,2018年5月,系列活动将移师黄浦区。此次活动将凸显外滩金融集聚带优势,推介外滩滨江高端服务业创新发展示范区。为此,东方网记者专程采访了多位在黄浦区工作和生活的外籍友人,听他们娓娓道来与黄浦的不解之缘。】
【Starting from 2017, the Shanghai Municipal Foreign Affairs Office, together with district governments, has started hosting the "Internationalized Shanghai Promotion Series" to help Shanghai turn itself into an international economic, financial, trade, shipping and technology innovation center, and become a global city of excellence and a modern socialistic international metropolis.
Following the first two events in Yangpu and Jing'an District, this May, an event series will be held in Huangpu. The event will highlight the advantages of the financial agglomeration in the Bund area and promote the Innovation and Development Demonstration Area for the High-end Service Industry at Bund Waterfront. Eastday.com sat down with some expats who shared their stories of living and working in Huangpu.】
外国友人在黄浦丨"抢"说中文的西班牙总裁:我爱上海
在外滩中心的办公室,圣戈班集团亚太区总裁孟昊文(Javier Gimeno)欣然接受了采访。孟昊文来自西班牙马德里,他是公司的"大忙人",见面时他刚从繁忙的会议中抽身出来。虽然每天的日程都被排得满满的,但他给人留下的第一印象就是精神矍铄且充满活力。
In the office at the center of the Bund, Javier Gimeno, President of the Saint Gobain Group's Asia Pacific division, welcomed the interviewer. Javier comes from Madrid, Spain. He is the company's "busy man" and had only just finished a meeting before meeting us. Although his daily schedule is full, the first impression he gives me is that he is hale and hearty.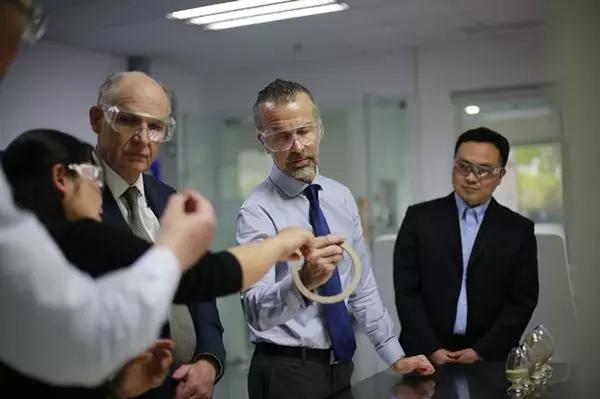 图片说明:孟昊文参加公司新材料研发活动
Javier takes part in the company's research of new materials. [Photo provided to Eastday]
还没等我开口用英语打招呼,西班牙总裁就用中文滔滔不绝地做起了自我介绍:"我叫孟昊文,我会说汉语,说的很好,因为我住在上海7年半(了)。我很喜欢上海,(上海是)中国最好的城市,我的家人也很喜欢上海。我每天都学习汉语,但是汉语很难,而我出差又多,所以没有时间(学)。"
Hardly had I greeted him in English when he made a self-introduction in Chinese. "My name is Meng Haowen, I can speak Chinese. I speak well, because I have been living in Shanghai for seven and a half years. I love Shanghai. It is the best city in China. My families also like Shanghai. I learn Chinese every day. But Chinese is very hard to learn. I travel a lot and have not enough time to learn."
这时一旁的传媒总监插话补充说,除了出差,孟昊文在上海时基本每天都会上中文课。话音未落,他自豪地又用中文强调道:"我很喜欢中国的文化,我爱上海。"
The company's communication director Catherine Liu added that Gimeno has a Chinese class almost everyday when he is not on an out-of-town business trip. No sooner had she finished than Javier emphasized in Chinese, "I love Chinese culture. I love Shanghai."
图片说明:孟昊文倡导并亲自参加公司健康跑活动
Javier initiated and personally participated in the company's healthy running activities. [Photo provided to Eastday]
对孟昊文来说,上海兼容并蓄的多元文化令其着迷,在这里他可以交到许多中外朋友。因为工作关系,他经常出差去巴黎、马德里、柏林等国际城市,但在他看来上海无疑是其中的翘楚,因为上海比这些城市更充满活力,"一切都在高速发展,每天都会有新鲜事物诞生。另外,这里的人们思维开阔、热情友好,外国人在这儿会觉得自己受到欢迎,这点非常棒。"
For Javier, Shanghai's diversity fascinates him. Here he could make lots of friends with people from both China and abroad. Compared with other cities like Paris, Madrid, and Berlin where he often goes for business, Shanghai is more dynamic. "Everything is evolving at high speed. There is always something new. People here are open-minded and friendly. Foreigners feel welcome here, which is fantastic."
谈及上海对各类人才的吸引时,他称赞说上海拥有很多非常优秀的大学,人才支持对像圣戈班这样的跨国企业而言十分重要的。上海及其周边的生态环境也比其他地方要好,对人才来说极具吸引力。
When it comes to Shanghai's appeal to all kinds of talents, he said the city has a lot of excellent universities, which are important for multinational companies like Saint-Gobain. The ecosystem around Shanghai is also better than other places, which is favorable.
他评价说,上海是中国经济增长的引擎之一,也是改革开放的前沿门户。"正是改革开放促进了中国经济发展,让中国一跃成为亚洲经济重心。随着亚洲经济重心向中国转移,圣戈班随之将总部从日本东京迁到了中国北京,2007年又搬到上海。我们看中的是上海蓬勃发展的实体经济和商业环境。"
讲到这里,他的谈兴愈发浓厚,"上海地理位置优越、交通便捷,我们在上海的总部正在不断发展壮大。值得一提的是,黄浦区政府给予了我们很多支持,我们喜欢在这样稳定、可持续的框架下自由开展业务,也愿意与黄浦区共同发展、共同进步。"
He commented that Shanghai is the engine of China's economic growth and leads the race in modernisation. "It is the reform and opening up that has promoted China's economic development and made China the center of economic gravity in Asia. Therefore, Saint Gobain moved its headquarter from Tokyo to Beijing. In 2007, it moved to Shanghai because we found that the real economy and business environment in Shanghai is better than Beijing."
"Shanghai has a superior location and convenientntransportation. Our headquarters in Shanghai is growing. It is worth mentioning that the Huangpu district government gave us a lot of support, we like working freely within a framework which is stable and sustainable to make common progress with the district government."
据了解, 2005年圣戈班在黄浦设立了上海办事处。得到消息后,区外经委主动上门提供服务,了解集团在中国以及上海的业务发展情况,帮助解决运营过程中遇到的各种问题。2007年法国总部决定将其在华总部迁至上海后,区外经委又全程协助办理迁址的各项事宜,最终促成圣戈班中国总部顺利落户黄浦。
Saint Gobain set up its Shanghai office in Huangpu in 2005, during which process, the district government offered lots of support to help solve various problems.
正是得益于政府的支持,这家总部位于法国巴黎,主营高科技材料生产和销售的知名世界五百强企业,自1985年改革开放之初来到中国后,经过30多年的深耕,目前在华已拥有50家公司、1个综合研发中心和8500多名员工,2017年实现销售额100多亿元。
According to Javier, it is thanks to the government's support that this world top 500 enterprise which mainly operates the production and sales of high-tech materials currently owns over 50 manufacturing sites and one Research and Development Centre in China, with more than 8,500 employees and a sales volume of more than 10 billion yuan in 2017.
孟昊文并不讳言上海在市政管理、国际学校分布等方面存在可提升的空间,但他仍旧很享受这里的城市生活,每天傍晚都坚持跑步,"滨江跑道是中国最好的跑道,我很喜欢。另外,上海的夜生活也很丰富,有很多酒吧、俱乐部,同时又非常安全。"
他的眼神里充满了对上海无尽的热爱,"上海的文化生活精彩纷呈。这里既有一流的艺术画廊、表演剧院,又有可以回归田园、亲近自然的水乡环境,在那里享受慢生活也是一种别致的体验。"
Javier pointed out that although there is still room for improvement in municipal administration and international schools distribution, he still enjoys the city life here and loves running on Pudong riverside avenue every evening. "The track is the best track for running in China. I love that. And the night life in Shanghai is also very rich. There are lots of bars and clubs. It is quite safe here."
His eyes are filled with endless love. "The cultural life here is wonderful. It has first-class galleries of art and theaters, and water villages are attractive for people to enjoy a slow pace of life."
As Javier bids us farewell in Chinese and rushes off to another meeting, we leave him delighted to know that the city that we both call home, fills him with such joy.