【自2017年起,上海市人民政府外事办公室携手各区政府,举行"国际化的上海"系列推介活动,助推上海建设"五个中心"、卓越的全球城市和社会主义现代化国际大都市。
  2018年5月,继成功举办杨浦区、静安区推介后,系列活动将移师上海的心脏、窗口和名片——黄浦区。此次活动将凸显外滩金融集聚带优势,推介外滩滨江高端服务业创新发展示范区。为此,东方网记者专程采访了多位在黄浦区工作和生活的外籍友人,听他们娓娓道来与黄浦的不解之缘。】
  【Starting from 2017, the Shanghai Municipal Foreign Affairs Office, together with district governments, has started hosting the "Internationalized Shanghai Promotion Series" to help Shanghai turn itself into an international economic, financial, trade, shipping and technology innovation center, and become a global city of excellence and a modern socialistic international metropolis.
  Following the first two events in Yangpu and Jing'an District, this May, an event series will be held in Huangpu. The event will highlight the advantages of the financial agglomeration in the Bund area and promote the Innovation and Development Demonstration Area for the High-end Service Industry at Bund Waterfront. Eastday.com sat down with some expats who shared their stories of living and working in Huangpu.】
  外国友人在黄浦丨致力于回馈中国的法国绅士总裁
  马优(Claude Maillot)是必维国际检验集团船级社事业部(Bureau Veritas Marine & Offshore,简称必维船级社)的北亚暨中国区总裁。绅士浪漫、彬彬有礼的气质,让采访成为享受。
  Claude Maillot is the Chief Executive for Bureau Veritas Marine & Offshore North Asia Zone and China. A romantic and polite gentleman he has been based here in Shanghai for the last five years.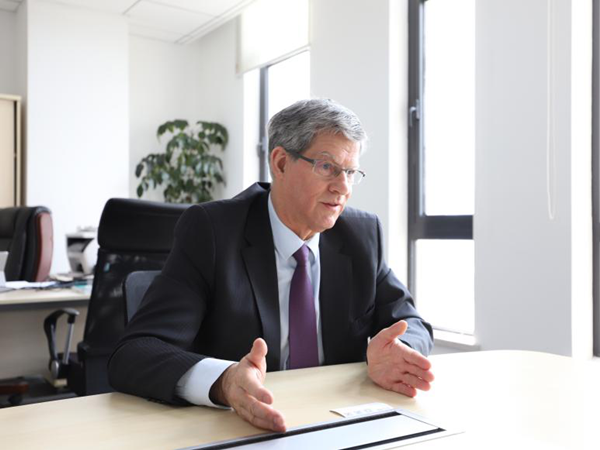 马优在必维船级社任职已超过35年,很多年前,他就常出差来中国、来上海,5年多前终于正式被派驻到了上海。单身的他很享受在上海的生活,希望能一直在这里工作,直至退休。
  Claude has worked for Bureau Veritas, a multinational shipbuilding company,for more than 35 years. Over that time he has made frequent business trips to China. He enjoys life here very much and hopes he could stay here till retirement.
  谈起对这座城市的印象,马优表示这里的发展日新月异,但同时又很好地保留了历史文化遗产。他对上海的包容开放大加赞赏:"在我看来,上海最典型的特征就是海纳百川,对各种文化均持开放的态度。"
  Regarding his impression of the city, Claude praises the fact that Shanghai has experienced dramatic changes but still preserves its historical and cultural heritage well."In my opinion, the most typical feature of Shanghai is that it is open to all cultures."
  "我很高兴公司能派我来上海工作。我喜欢中国文化、中国诗歌,以及随处可见的中国美食,我喜欢这里的一切!"他热情洋溢地说道,一脸的兴奋。工作之余他会利用闲暇时间去旅行,与中国老百姓接触能帮助他不断磨练自己的中文水平,"我想学汉语,但我工作比较忙,没有太多时间来学习,这可能也是我对自己有些不满意的地方。能说一口流利的汉语是我的追求。"
  "I am very happy that the company sentme to Shanghai. I love Chinese culture, especially Chinese poetry and delicious Chinese food everywhere. I love everything here!" he said enthusiastically with a look of excitement. He told me that in his spare time, he often goes travelling during which process he takes the opportunity to improve his Chinese through communicating with Chinese people."I want to learn Chinese. I am not satisfied with myself, because I am busy and have no time to learn. But that is my pursuit."
  当被问及必维船级社为何将企业设立在黄浦区时,他说必维与黄浦区实际上拥有十分深厚的历史渊源。"100多年前,必维船级社就曾在外滩开设代表机构。1993年必维重返中国,当时员工数量并不多。我们过去常说中国是必维的第二故乡,但其实应该是第一故乡,因为中国如今已经成为必维最大的运营中心,比法国本部规模还要大,目前我们在华员工已达到了15,000人。"
  When asked why Bureau Veritas had established its office in the Huangpu district, he said that more than 100 years ago Bureau Veritas opened a representative office on the Bund and returned to the same district upon its return to China in 1993."At that time we had only a handful of employees. We used to say China is the second hometown of Bureau Veritas, but actually it is the first hometown, because China has become its biggest operation center, even larger than France itself. We currently have 15,000 employees in China."
  "正是由于中国拥有良好的商业环境,才让必维蓬勃发展到今天这么大的规模。像必维一样,有很多外企都选择扎根黄浦,这证明区政府制定了积极的商务政策,尤其在行政流程简化、办事公开透明方面极有成效,让我们对未来在黄浦进一步发展壮大很有信心。与此同时,必维也致力于在安全、环保、能源等领域提供专业解决方案,以不断回馈中国社会。"
  "It is because of the good business environment that Bureau Veritashas flourished to today's size. Many foreign companies like Bureau Veritas are rooted in the district, which demonstrates that the district government has made positive policies especially in terms of the simplification and transparency of administrative process. We have confidence in further development in Huangpu. At the same time, our company is committed to providing professional solutions in security, environmental protection and energy to continuously give back to Chinese society."
  不过,他也表达了对上海日益增高的商务成本的担心。上海现在正致力于吸引海外高端人才落户,他认为如果政府能为其子女就读国际学校和其他优质教育机构提供更多便利,上海将更具竞争力。
  However, he also expressed his worry about the rising business cost in the district. In terms of attracting overseas talents to settle down in Shanghai, he thinks that if the distribution of international schools for their children's education is improved, it will be more competitive.
  马优亲眼见证了上海改革开放以来所发生的翻天覆地的变化。"30年前我来上海时,造成上海交通堵塞的是自行车、而不是汽车。而且,城市只有一条地下隧道——打浦路隧道,南浦大桥还没有建成,人们可以在外滩附近的黄浦江上看到一些船坞......"他扭头看着办公室窗外的南外滩滨水岸线,满是感慨地说道。
  Claude is a witness to Shanghai's dramatic changes that have taken place since reform and opening up."Thirty years ago, when I arrived in Shanghai, the traffic jams were caused by bicycles but not cars. The city had only one tunnel. The Nanpu Bridge had not been built. Some shipyards could be seen on the Huangpu river..." He turned back to see the South Bund shoreline with a melancholy expression.
  他又补充说,"我每天都能感受到上海的活力,所有人、整个社会都在快速地前进。虽然很多东西发生了变化,然而一切都还是井然有序,经济发达之外城市依然很安全,这在国外有些地方是做不到的。这不是一蹴而就的成就,体现了政府努力执政为民的决策力和行动力。"
  "I feel Shanghai's dynamism every day. Everyone in the whole society is moving forwardfast. Although lots of things have changed, everything is in order. The city has developed dramatically but is still very safe. This is not the case even in some areas of foreign countries. But this could not be done in one day. It has demonstrated the discipline and executive ability of the Chinese government."
  对于中国的改革开放,这位法国总裁流露出由衷的钦佩之情:"全世界没有哪个地方像中国,尤其是上海这样,在对外开放上做了如此之多。如此宏大的改革需要决策、计划、勇气、执行力等。中国已成为世界第二大经济体,如果没有改革开放,这是做不到的。中国与世界日益紧密联系在一起,改革开放不仅让中国自身获益,也让世界从中受益。中国成了航天大国,科技创新遍地开花,中国实现了从无到有的跨越式发展,这是非常了不起的!中国的智能制造已经在国际上处于领先地位,手机支付似乎没几年时间就遍及全国了。"他边说边比划着自己所说的"跨越式发展",激动的神情溢于言表,"透过这30年来我所看到的变化,我相信这里将继续创造和诞生奇迹,世界将越来越离不开中国。"
  As for China's reform and opening up, this French company president expressed his sincere admiration."Nowhere in the world has done as much as China, especially Shanghai,in reform and opening up. This big reform has required discipline, strategy, planning and courage. China today is the world's second-largest economy, it cannot be done if it is closed. China has been linked with the world more and more closely. It has grown thanks to opening up, and the world has also benefited from it. China has sent rockets to space and has developed its own high-tech technology. The leapfrog development from zero to three is wonderful! China's smart manufacturing takes the lead in the world, and mobile payment has spread across the country in not many years." His words are full of excitement."Through the changes I have witnessed in these 30 years, I believe China will continue to create miracles and the world will rely more and more on China."
  这个很有情怀的法国绅士对自己曾获得上海市政府颁发的白玉兰纪念奖显得非常谦虚。他表示,必维船级社的目标是不断将创新的领域实践带到中国,不仅要造出更加节能环保的船只,同时还要进一步融入中国社会,为城市的繁荣进步做出积极贡献。
  This French gentleman is very modest about receiving Shanghai's prestigious Magnolia Award, given to foreign guests who have positively impacted Shanghai.However, his work with Bureau Veritas in Shanghai clearly shows that his modesty is simply that of a gentleman.
  "2014年必维在沪设立第二个研发中心,聘请了具有高精尖技术的中国优秀工程师。这个倡议主要由我提出,得到了员工们的大力支持。目前,必维正在研发更为节能、高效、环保的新型船只,我们的实力能帮助吸引更多法国船东来这里造船,我想这或许是必维可以回馈给中国的厚礼之一。这些年来,中国的造船业发展迅猛,已跃居世界第一,这是中国在船舶制造领域取得的伟大成就,又一次实现了跨越式发展。"
  "In 2014, Bureau Veritas set up its second R&D center in Shanghai, employing excellent Chinese engineers with advanced technology. This initiative was mainly put forward by me and greatly supported by my staff. At present, Bureau Veritas is developing new types of ships which are more energy saving, efficient and environmentally protective. Our strength could attract more French ship builders to come here and I think this is maybe the gift Bureau Veritas could give back to China. Over the years, China's shipbuilding industry has also developed rapidly and now ranks first in the world. It is another great leapfrog development China has achieved."
  When we leave Claude to the rest of his busy day, we consider how interesting it was to have met someone who first came to Shanghai when China's economy was at a low ebb and now regards Shanghai as his own company'shometown. And that he loves the city as much as its locals do, can only be testament to the development made by both the Chinese and their foreign partners, like this modest French gentleman who has done so much for Shanghai and China.