Suzhou Metro line S1, which is planned to connect with Shanghai Metro line 11 in Huaqiao Station, has been given construction approval, according to news released by the National Development and Reform Commission on September 6.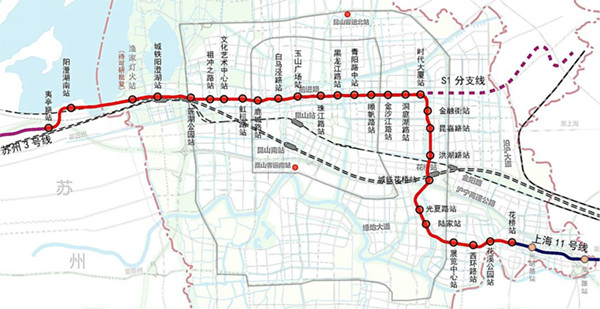 Located at the intersection of Guangming Road and Yanhu Avenue in Huaqiao county of Kunshan city in Jiangsu Province, Huaqiao metro station serves as the current western terminus on the branch line of Shanghai Metro Line 11.
In the construction plan of the third phase of Suzhou'surban Rail Transit program, line S1 will start at Yiting Road Station in Suzhou Industrial Park Area, the eastern terminal station of Suzhou Metro line 3 and go eastward through the entire Kunshan city, ending in Huaqiao Station.
When completed, S1 will connectdowntown Kunshan with both Shanghai and Suzhou, making commuting and travel between the cities even smoother.