Sophia, an emotionally expressive humanoid robot and a full citizen of Saudi Arabia, acted as the final examiner for a youth English speech contest held by vipJr, an online education platform for the youth, in Shanghai on September 7th.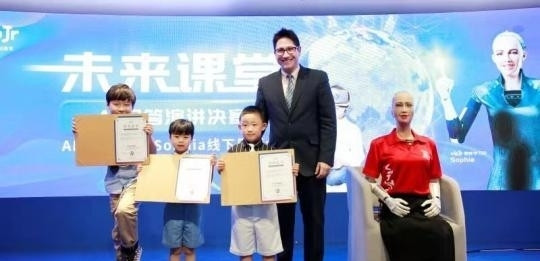 Being the first robot in history to obtain citizenship, Sophia looks like a human female with rubber skin and has more than 60 facial expressions. Computer algorithms in Sophia's sophisticated "brain" enable her to recognize human faces and make eye contact with human.
On the competition site, Sophia expressed her sincere praise, like a real human, for the contestants for their impromptu speeches on topics she set for the child and juvenile groups.
Since 2017, with the successive introduction of policies such as "A New Generation of Artificial Intelligence Development Plan" and "the 2035 Modernization of education in China plan", adopting AI technology to promote the intelligent development of education has gradually become an industry consensus. The emergence of AI examiners shows the latest application scenarios of artificial intelligence in the field of education.