Rwandan electoral commission declares Kagame as winner, citing provisional results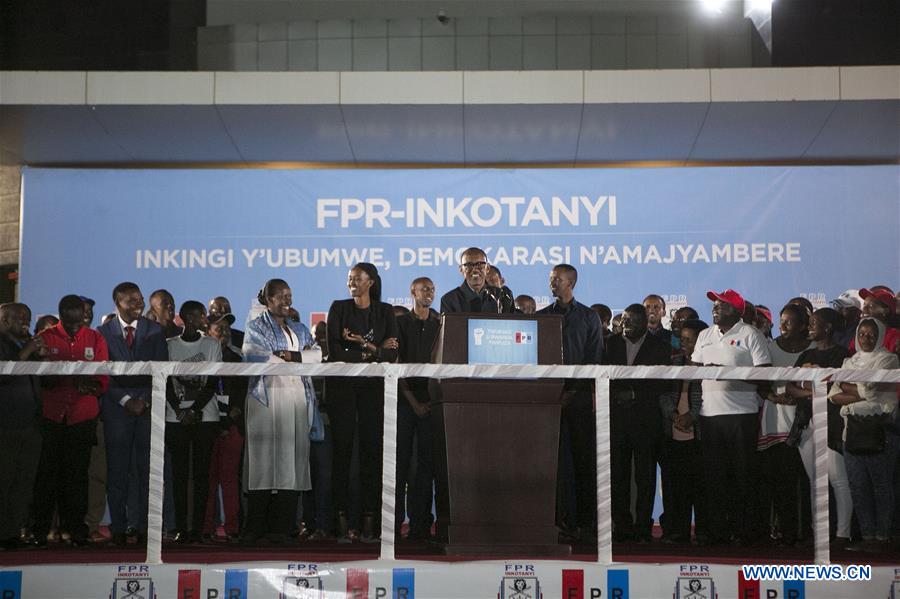 Rwandan presidential candidate, the incumbent President Paul Kagame (C, Front), addresses supporters in Kigali, capital of Rwanda, on Aug. 5, 2017. The Rwandan National Electoral Commission (NEC) on Saturday declared Paul Kagame as the winner of the presidential elections, citing provisional results. According to the provisional results released, it is clear that Kagame is the winner, said Kalisa Mbanda, the NEC chairperson. Provisional results show that the incumbent president won 98.63 percent of the votes. Over 6.6 million votes cast their ballots in the country. (Xinhua/Office of the President of Rwanda)
KIGALI, Aug. 5 (Xinhua) -- The Rwandan National Electoral Commission (NEC) on Saturday declared Paul Kagame as the winner of the presidential elections, citing provisional results.
According to the provisional results released, it is clear that Kagame is the winner, said Kalisa Mbanda, the NEC chairperson.
Provisional results show that the incumbent president won 98.63 percent of the votes. Over 6.6 million votes cast their ballots in the country.
Kagame, who has been seeking the third term, was followed by independent candidate Philippe Mpayimana with 0.73 percent. The Democratic Green Party of Rwanda's candidate, Frank Habineza, came last with 0.47 percent.
Votes from Rwandans living overseas and spoilt votes are still being counted, said Mbanda.
The final results will be released some time soon, he said, adding that observers appreciated high turnout, sound security and organization of the election.
"However, some issues were raised and they will be compiled in the report of the election, including the level of professionalism, where some volunteers were not allowed to get in the rooms," said the chairperson.
Mbanda promised to look into the issues and work on them.
Habineza, the Democratic Green Party candidate, congratulated Kagame on his victory earlier Saturday, when the commission released results for 80 percent of the votes cast, with Kagame winning 98.66 percent.
He called on "all Rwandans who unreservedly supported us to remain calm, united and peaceful as we move forward together as a nation."
The other candiate, Mpayimana, said he was happy with the result, expressing the hope that "our future will be as dynamic as possible."
"I appeal for continued calm in the country," the independent candidate said. "This is the will of the people."
After the release of partial results earlier Saturday, Kagame addressed supporters at the headquarters of the ruling Rwandan Patriotic Front (RPF), saying his victory is truly the will of the people.
"This victory is yours," Kagame said to wild cheers.
"The history of RPF is to confront challenges," he said. "It confronted many challenges but together we keep going forward up to where we are."
Kagame also complimented the two challengers.
Balloting for the latest Rwandan presidential elections kicked off Friday. The president for the next seven years is elected by universal suffrage in one uninominal round ballot.
Kagame, 59, has been president since 2000 when he was elected by ministers and members of parliament following the resignation of then President Pasteur Bizimungu.
He was re-elected in the 2003 and 2010 presidential elections by winning 95 percent and 93 percent of votes respectively.
Rwanda, which has been recovering since the 1994 genocide, is now considered a model for developing countries, especially African ones.
1 2 3 4 Next 1 2 3 4 Next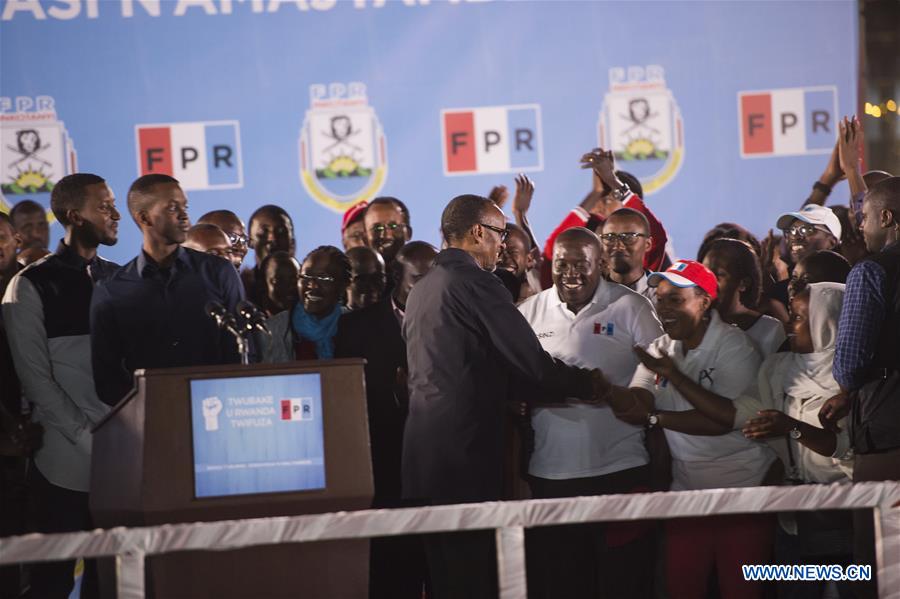 Rwandan presidential candidate, the incumbent President Paul Kagame (C, Front), greets supporters in Kigali, capital of Rwanda, on Aug. 5, 2017. The Rwandan National Electoral Commission (NEC) on Saturday declared Paul Kagame as the winner of the presidential elections, citing provisional results. According to the provisional results released, it is clear that Kagame is the winner, said Kalisa Mbanda, the NEC chairperson. Provisional results show that the incumbent president won 98.63 percent of the votes. Over 6.6 million votes cast their ballots in the country. (Xinhua/Office of the President of Rwanda)
Prev 1 2 3 4 Next Prev 1 2 3 4 Next
聽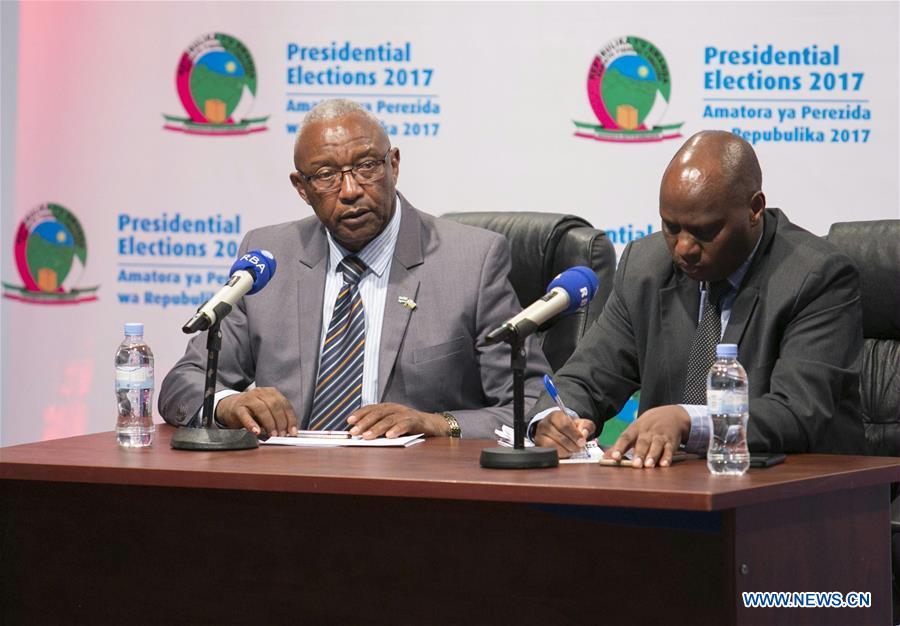 聽
Kalisa Mbanda(L), chairperson of Rwandan National Electoral Commission (NEC), speaks at a press conference in Kigali, captial of Rwanda, on Aug.5, 2017. NEC on Saturday declared Paul Kagame as the winner of the presidential elections, citing provisional results. (Xinhua/Gabriel Dusabe)
Prev 1 2 3 4 Next Prev 1 2 3 4 Next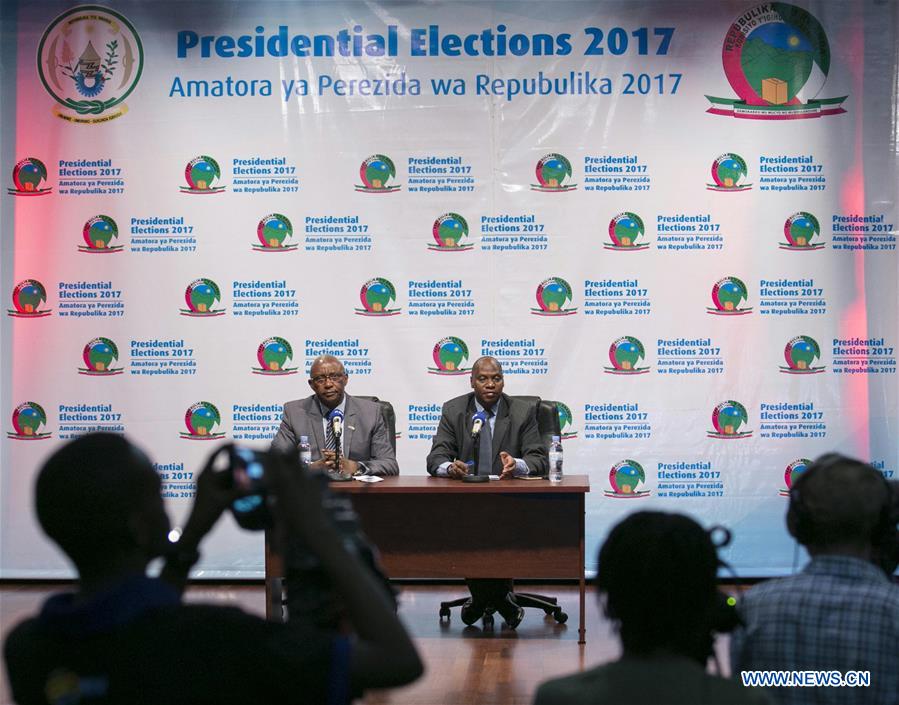 Kalisa Mbanda(L), chairperson of Rwandan National Electoral Commission (NEC), and executive Secretary of NEC Charles Munyaneza (R) attend a press conference in Kigali, captial of Rwanda, on Aug. 5, 2017. NEC on Saturday declared Paul Kagame as the winner of the presidential elections, citing provisional results. (Xinhua/Gabriel Dusabe)
Prev 1 2 3 4 Prev 1 2 3 4