U.S. national flags are erected to honor the victims of the September 11, 2001 attacks in New York, are seen at the campus of Pepperdine University in Malibu, California, Sept. 10, 2017. (Xinhua/Zhao Hanrong)
LOS ANGELES, Sept. 10 (Xinhua) -- Nearly 3,000 flags are on display Saturday on the campus of Pepperdine University in Los Angeles County in the western U.S. state of California, before the 16th anniversary of the Sept. 11, 2001 terror attacks in the United States.
According to the University website, Pepperdine's Alumni Park will have the 10th annual Waves of Flags display from Sept. 9 through Sept. 25 to commemorate the lives lost in the terror attacks.
Each year Waves of Flags features 2,977 full-size flags -- 2,887 American flags for each American life lost and 90 international flags representing the home countries of individuals from abroad who died in the attacks.
"Another reason to be proud of my school. One flag for every victim of the attacks on 9/11 really puts the magnitude of the attacks into perspective," wrote Andrew Harley Shute, a student of Pepperdine University on Facebook.
"Thank you so much for doing this every year, we the citizens of Malibu graciously appreciate this beautiful display every year. It really makes us think about life," wrote a local resident, Gigi Ann Goyette-Jeffers, on Facebook.
Waves of Flags Display on the campus of Pepperdine University is one of the remarkable Sept. 11 remembrance events in Los Angeles. The installation became a Pepperdine tradition in 2008 when the school's College Republicans group organized to bring the tribute to the campus.
1 2 3 4 Next 1 2 3 4 Next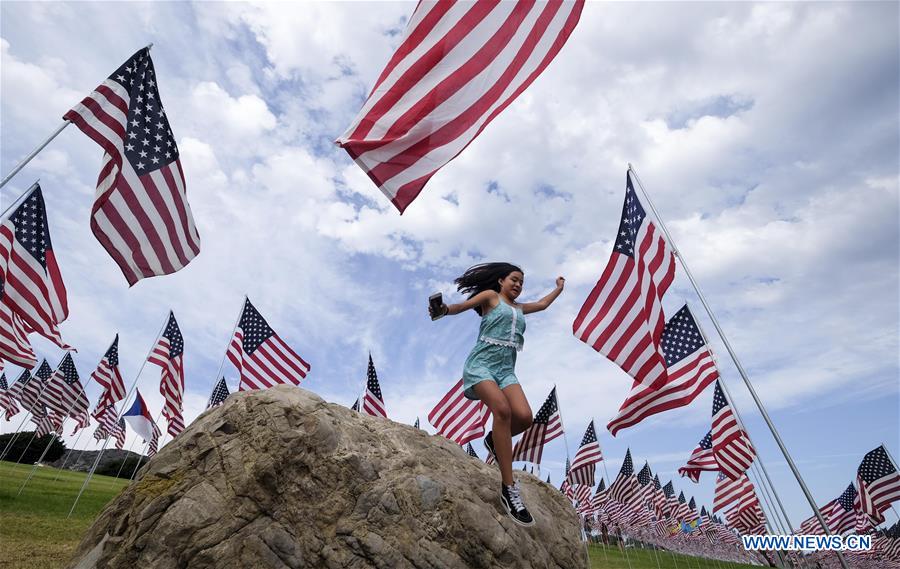 A girl jumps from a rock amongst 2,977 U.S. national flags erected to honor the victims of the September 11, 2001 attacks in New York, at the campus of Pepperdine University in Malibu, California, Sept. 10, 2017. (Xinhua/Zhao Hanrong)
Prev 1 2 3 4 Next Prev 1 2 3 4 Next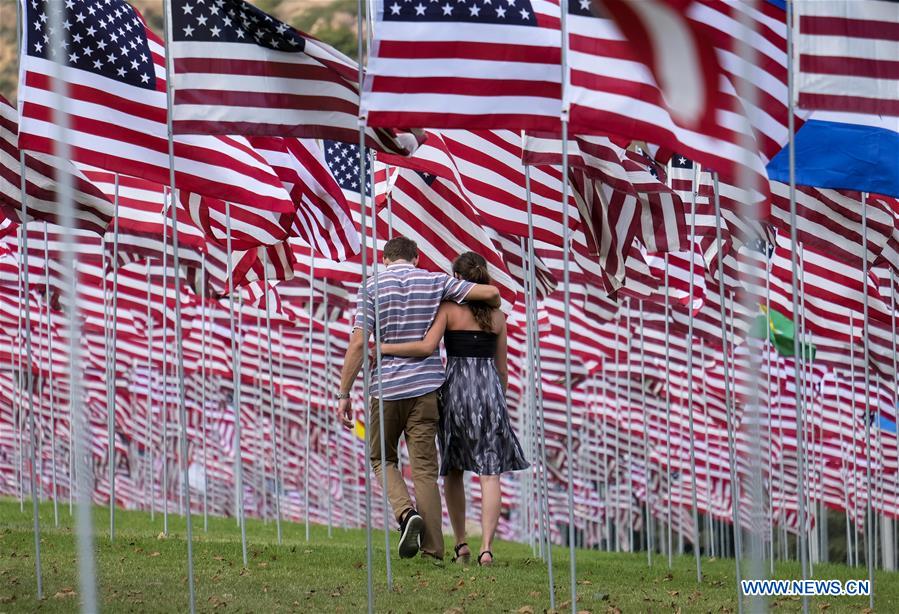 A couple walk amongst 2,977 U.S. national flags erected to honor the victims of the September 11, 2001 attacks in New York, at the campus of Pepperdine University in Malibu, California, Sept. 10, 2017. (Xinhua/Zhao Hanrong)
Prev 1 2 3 4 Next Prev 1 2 3 4 Next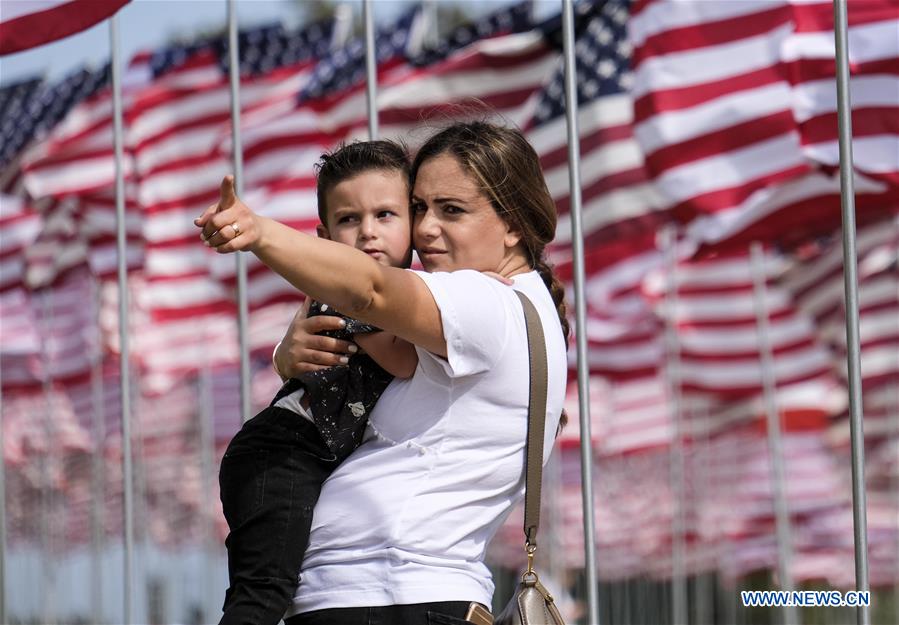 A mother holds her son amongst 2,977 U.S. national flags erected to honor the victims of the September 11, 2001 attacks in New York, at the campus of Pepperdine University in Malibu, California, Sept. 10, 2017. (Xinhua/Zhao Hanrong)
聽
Prev 1 2 3 4 Prev 1 2 3 4