Interview: Aung San Suu Kyi stresses curbing violence without use of excessive force in Rakhine state
Video PlayerClose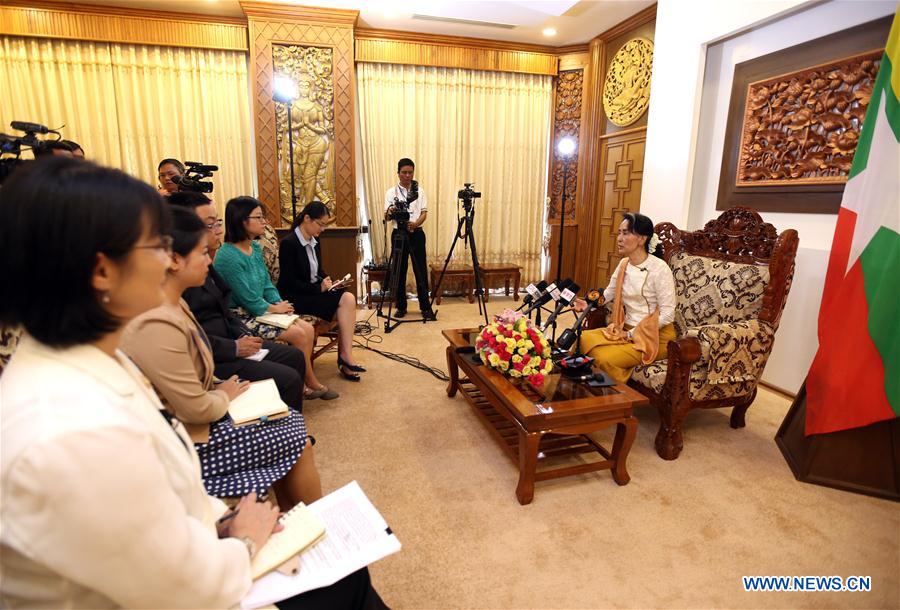 聽
Myanmar State Counselor Aung San Suu Kyi (R) speaks during an interview by Chinese media in Nay Pyi Taw, Myanmar, Sept. 20, 2017. Myanmar State Counselor Aung San Suu Kyi has stressed that the Myanmar government was taking effective measures to curb the violence in northern Rakhine state, while ensuring that innocent civilians were not harmed. (Xinhua/U Aung)
NAY PYI TAW, Sept. 23 (Xinhua) -- Myanmar State Counselor Aung San Suu Kyi has stressed that the Myanmar government was taking effective measures to curb the violence in northern Rakhine state, while ensuring that innocent civilians were not harmed.
Aung San Suu Kyi made the remarks Wednesday as she replied to questions raised in a joint interview by Chinese media, including Xinhua, in Nay Pyi Taw, a day following her speech on the government's national reconciliation and peace efforts.
She said the government has issued very strict instructions to the security forces to respect the rights of the people and to make sure that excessive force was not used.
Aung San Suu Kyi said the most difficult challenge in the Rakhine issue is to change people's mindset, to make them understand it is much better to live in harmony and peace and try to understand each other, rather than to try to fight each other and work on the basis of fear and hatred.
On humanitarian aid, she said the government is continuing to provide such aid speedily.
Aung San Suu Kyi said Myanmar appreciated China's recognition that the problems facing Myanmar are extremely complex and cannot be solved overnight.
On Sino-Myanmar relations, she said maintaining friendly relationship with neighboring China is Myanmar's policy, and that she also has very good personal relations with many Chinese friends.
"On my part, I want friendship with China... I think we need to be friend as neighbors," she said.
She also stressed the importance to build "good and strong" relationship between the Communist Party of China and her National League for Democracy.
Regarding the Belt and Road Initiative proposed by China, the state counselor said it has great potential to create better economic and social environment for all the countries and regions concerned. She stressed the need for peace for the success of the initiative.
Regardless of size and current situation, each country has the ability to become a responsible, progressive and effective participant of the Belt and Road Initiative, she added.
1 2 3 4 5 Next 1 2 3 4 5 Next
Video PlayerClose聽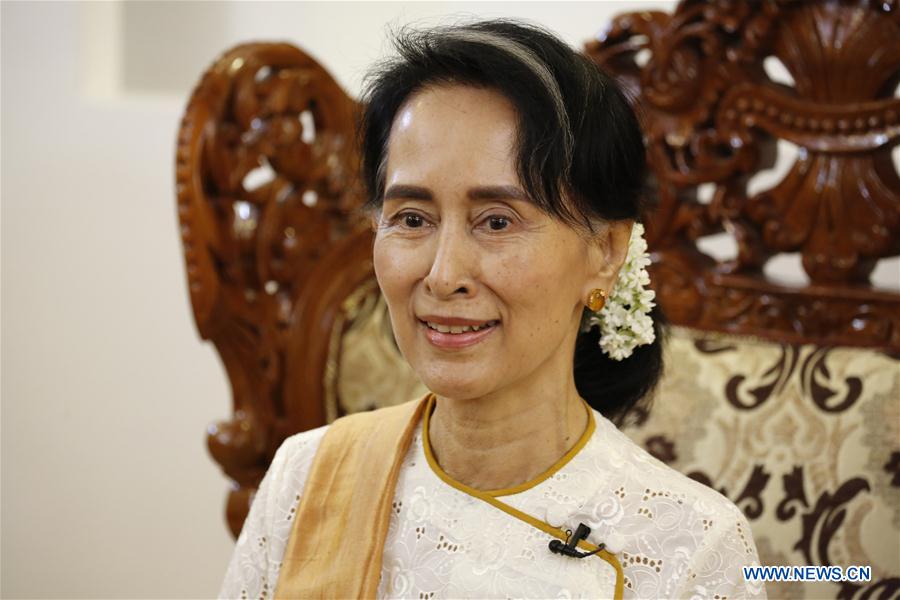 Myanmar State Counselor Aung San Suu Kyi reacts during an interview by Chinese media in Nay Pyi Taw, Myanmar, Sept. 20, 2017. Myanmar State Counselor Aung San Suu Kyi has stressed that the Myanmar government was taking effective measures to curb the violence in northern Rakhine state, while ensuring that innocent civilians were not harmed. (Xinhua/U Aung)
Prev 1 2 3 4 5 Next Prev 1 2 3 4 5 Next
Video PlayerClose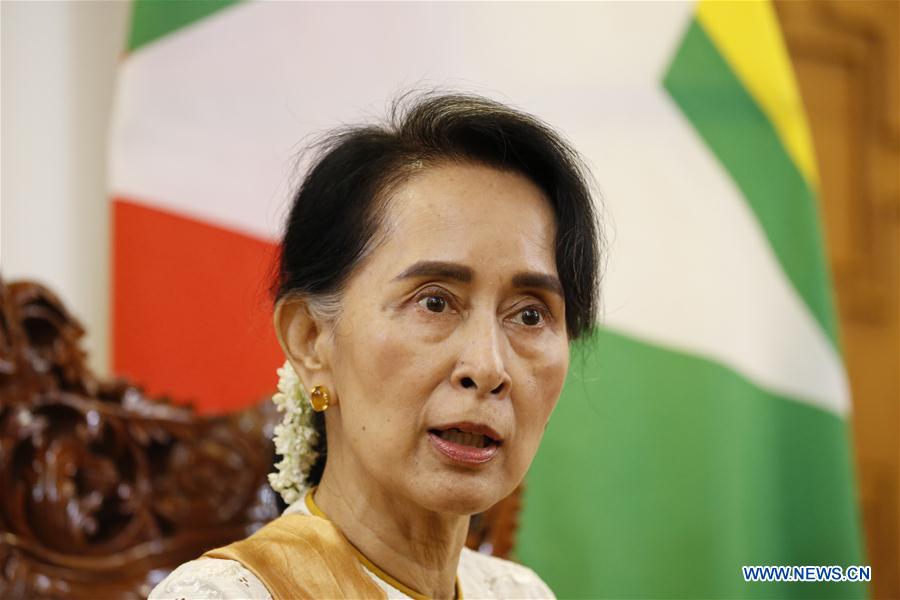 Myanmar State Counselor Aung San Suu Kyi speaks during an interview by Chinese media in Nay Pyi Taw, Myanmar, Sept. 20, 2017. Myanmar State Counselor Aung San Suu Kyi has stressed that the Myanmar government was taking effective measures to curb the violence in northern Rakhine state, while ensuring that innocent civilians were not harmed. (Xinhua/U Aung)
Prev 1 2 3 4 5 Next Prev 1 2 3 4 5 Next
Video PlayerClose
Myanmar State Counselor Aung San Suu Kyi speaks during an interview by Chinese media in Nay Pyi Taw, Myanmar, Sept. 20, 2017. Myanmar State Counselor Aung San Suu Kyi has stressed that the Myanmar government was taking effective measures to curb the violence in northern Rakhine state, while ensuring that innocent civilians were not harmed. (Xinhua/U Aung)
Prev 1 2 3 4 5 Next Prev 1 2 3 4 5 Next
Video PlayerClose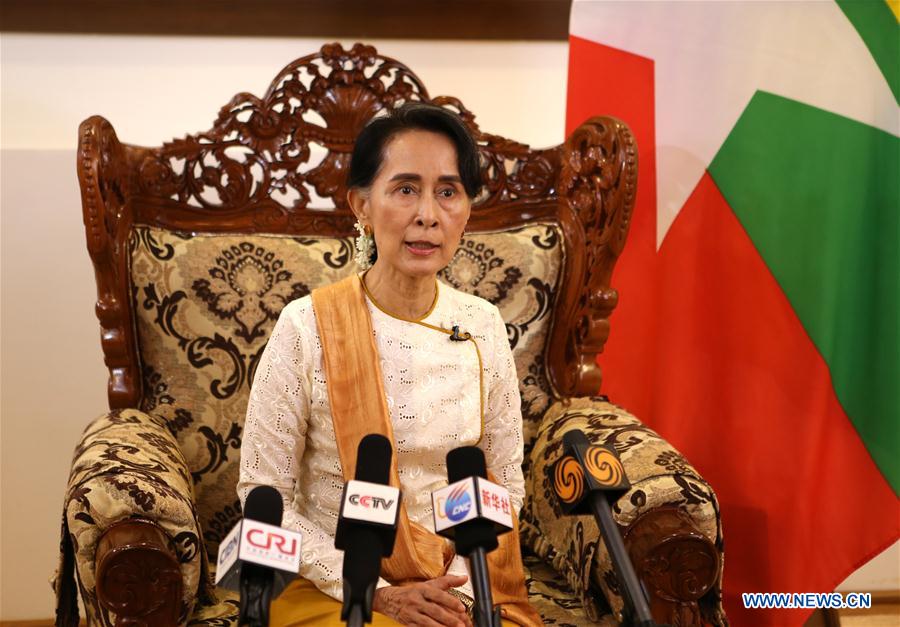 Myanmar State Counselor Aung San Suu Kyi speaks during an interview by Chinese media in Nay Pyi Taw, Myanmar, Sept. 20, 2017. Myanmar State Counselor Aung San Suu Kyi has stressed that the Myanmar government was taking effective measures to curb the violence in northern Rakhine state, while ensuring that innocent civilians were not harmed. (Xinhua/U Aung)
Prev 1 2 3 4 5 Prev 1 2 3 4 5