Video PlayerClose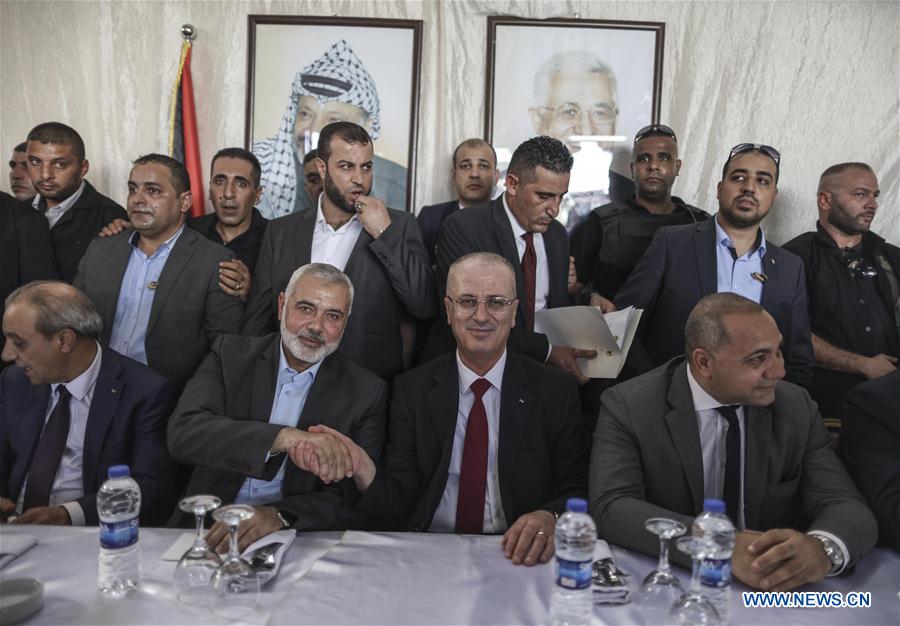 Rami Hamdallah (2nd R, front), Prime Minister of the Palestinian Consensus Government, shakes hands with Hamas Chief Ismail Haniyeh (2nd L, front) in Gaza Strip, on Oct. 2, 2017. Rami Hamdallah announced on Monday that his government began its work in the Gaza Strip in accordance to the Egyptian-brokered reconciliation understandings aimed at ending 10 years of internal divisions. (Xinhua/Wissam Nassar)
GAZA, Oct. 2 (Xinhua) -- Rami Hamdallah, Prime Minister of the Palestinian Consensus Government announced on Monday that his government began its work in the Gaza Strip in accordance to the Egyptian-brokered reconciliation understandings aimed at ending 10 years of internal divisions.
Hamdallah and a delegation of 120 figures, including cabinet ministers, deputy ministers and security chiefs arrived on Monday morning in the Gaza Strip after crossing the borders between the northern tip of the coastal enclave and Israel, coming from the West Bank city of Ramallah.
It is the first visit of Hamdallah and his government's members, ministers and security chiefs to the Hamas-ruled Gaza Strip since December 2014. The visit aimed at handing over the rule of Gaza, according to an Egyptian-brokered reconciliation agreement reached in Cairo last month .
The consensus government was formed in June 2014, in accordance to an agreement reached in the house of Hamas chief Ismail Haniyeh in April 2014 between Hamas and Fatah.
Hundreds of Palestinians gathered to the sides of the road near Erez Crossing Point on the borders waving Palestinian flags to receive the large convoy of Hamdallah and his team. They expressed happiness and hope that the visit of the government to Gaza would improve their hard daily living condition.
Around 200 Palestinian figures, representing the Palestinian factions, society notables and head of local society organizations received Hamdallah and his government at the checkpoint. The convoy headed to have lunch at the home of Ahmed Helles, member in Fatah Central Committee, in eastern Gaza City.
A high-ranking Egyptian security intelligence delegation and a United Nations delegation are in Gaza to receive Hamdallah and his government and also to observe handing over the ministries, which were run by Hamas for more than ten years, to Hamdallah's government.
"We are back again to Gaza in order to achieve reconciliation and unity and end of internal division. We came to build up on this historic moment and the Palestinian factions biased to national reconciliation," Hamdallah told a new briefing at the crossing before getting into Gaza.
Hamdallah went on saying that "We are certain that the only road that would take us to our national goal is the road of unity and turning the page of division."
Ibrahim Salem, 28 years old unemployed from Gaza, who waited for the delegation at Erez crossing said: "I came here to receive Prime Minister Rami Hamdallah and the government. I want to tell them that ten years of internal division are enough. We suffered a lot in our life and it is time to end this division, unite and live a life with dignity."
Abdul Rahman Abu Namoos, 32-year-old former security officer said "I think it is a historic day today for the Palestinians. I feel so happy today because it will be a first step towards unity and towards ending our suffering."
"I hope they will succeed in achieving a full unity, end the suffering in Gaza, lift the blockade, open the crossings and find jobs for tens of thousands of unemployed people here," he said.
The Hamas-run security forces ensured the area and the road that goes from the borders down to Gaza city, where the delegation stays for three days to takeover ministries that had been run by Hamas for more than ten years.
A senior Egyptian security delegation, high-ranking figures and leaders of various factions and political powers, including Hamas and Palestinian President Mahmoud Abbas Fatah Party received Hamdallah and his team at the crossing.
Hamdallah and his cabinet ministers are scheduled to hold meetings on Monday with leaders of factions, including Hamas and Fatah, and will also head to their offices in Gaza to officially hand over the different ministries.
On Tuesday, Hamdallah is to chair his weekly cabinet meeting at the consensus government's headquarters in Gaza city, the former house of President Mahmoud Abbas.
Hamdallah and most of his ministries will leave the Gaza Strip back to the West Bank on Wednesday.
Meanwhile, Hussein al-Sheikh, the Palestinian Minister of Civil Affairs told reporters that handing over control on the crossing points, either with Egypt or with Israel, "will be after two Fatah and Hamas delegation meet in Cairo on reconciliation talks next week."
General Tawfiq Abu N'iem, Hamas security chief in Gaza told reporters that he is ready to handover control of security apparatuses to the interior ministry of the consensus government.
1 2 3 4 Next 1 2 3 4 Next
Video PlayerClose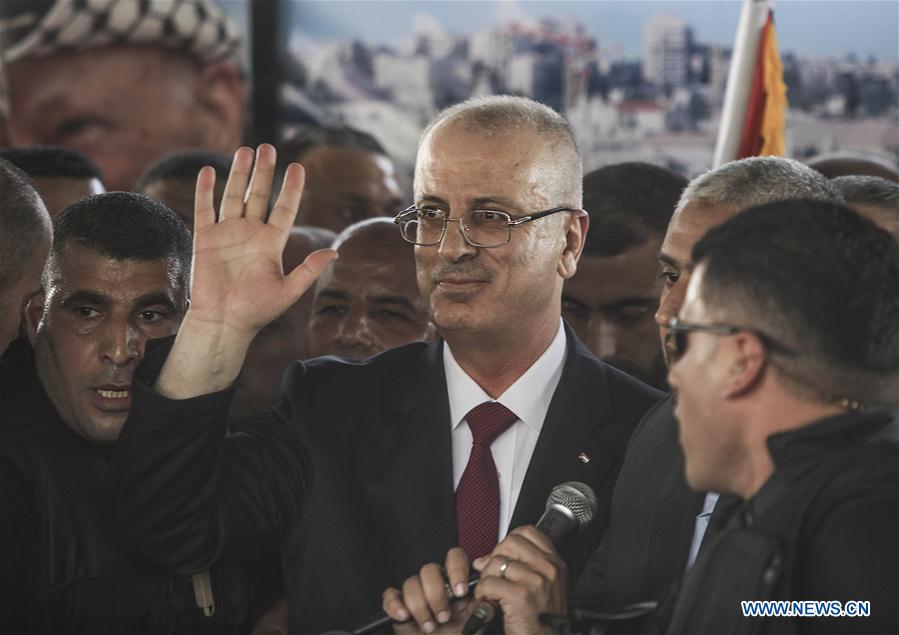 Rami Hamdallah (C), Prime Minister of the Palestinian Consensus Government, waves upon his arrival at Beit Hanun in the Gaza Strip after crossing the borders between the northern tip of the coastal enclave and Israel, on Oct. 2, 2017. Rami Hamdallah announced on Monday that his government began its work in the Gaza Strip in accordance to the Egyptian-brokered reconciliation understandings aimed at ending 10 years of internal divisions. (Xinhua/Wissam Nassar)
Prev 1 2 3 4 Next Prev 1 2 3 4 Next
Video PlayerClose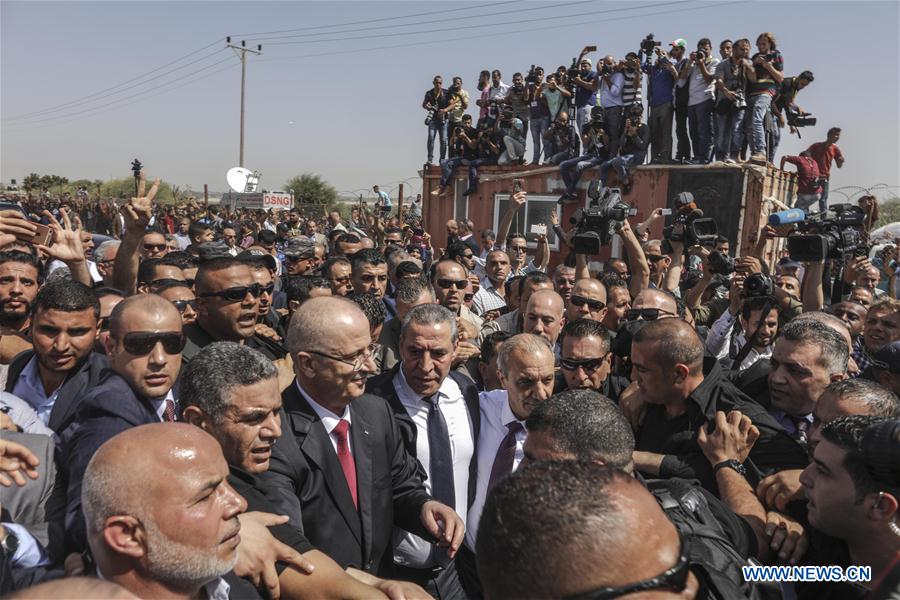 Rami Hamdallah, Prime Minister of the Palestinian Consensus Government, arrives at Beit Hanun in the Gaza Strip after crossing the borders between the northern tip of the coastal enclave and Israel, on Oct. 2, 2017. Rami Hamdallah announced on Monday that his government began its work in the Gaza Strip in accordance to the Egyptian-brokered reconciliation understandings aimed at ending 10 years of internal divisions. (Xinhua/Wissam Nassar)
Prev 1 2 3 4 Next Prev 1 2 3 4 Next
Video PlayerClose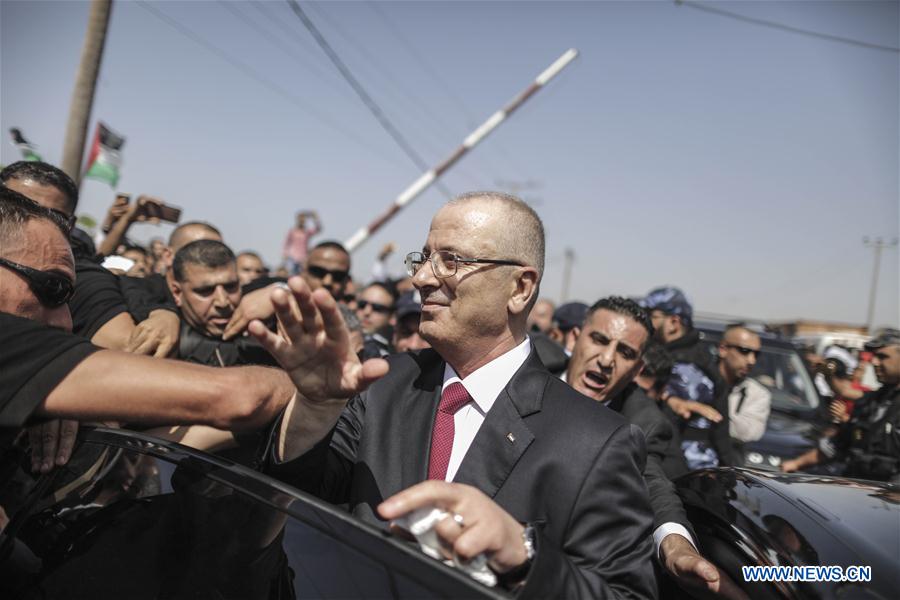 Rami Hamdallah (C), Prime Minister of the Palestinian Consensus Government, arrives at Beit Hanun in the Gaza Strip after crossing the borders between the northern tip of the coastal enclave and Israel, on Oct. 2, 2017. Rami Hamdallah announced on Monday that his government began its work in the Gaza Strip in accordance to the Egyptian-brokered reconciliation understandings aimed at ending 10 years of internal divisions. (Xinhua/Wissam Nassar)
Prev 1 2 3 4 Prev 1 2 3 4