Video PlayerClose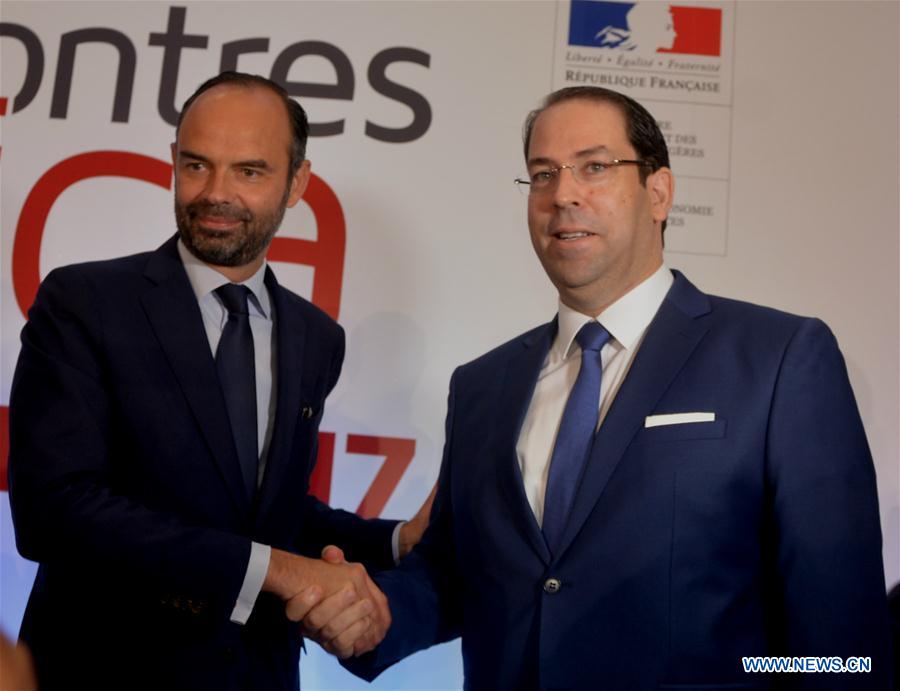 Tunisian Prime Minister Youssef Chahed (R) shakes hands with French Prime Minister Edouard Philippe during the Africa 2017 Forum in Tunis, Tunisia, on Oct. 5, 2017. The 2-day forum kicked off on Oct. 5 in Tunisia. (Xinhua/Adele Ezzine)
TUNIS, Oct. 6 (Xinhua) -- Tunisia and France have signed on Thursday a series of agreements worth a total of 92.3 million euros (108 million U.S. dollars) to boost cooperation in multiple areas.
The agreements were sealed at the first meeting of the Tunisian-French Cooperation Council with the attendance of Tunisian Prime Minister Youssef Chahed and his French counterpart Edouard Philippe.
The deals focus on partnerships in areas of development, finance, business, investment and small-scale financing, renewable energy, agriculture, education, scientific research and vocational training.
The most important agreement, with a value of 62 million euros (72.5 million U.S. dollars), concerns the promotion of investment and agriculture modernization.
Philippe praised the legal measures that Tunisia had taken to secure the investment, and that France would put more investment in Tunisia in the future.
The signing of the deals was in parallel with the second Africa 2017 Meetings held in Tunisia from Oct. 5-6, during which the Tunisian and the French leaders pledged to expand partnerships in security, finance and education.