Video PlayerClose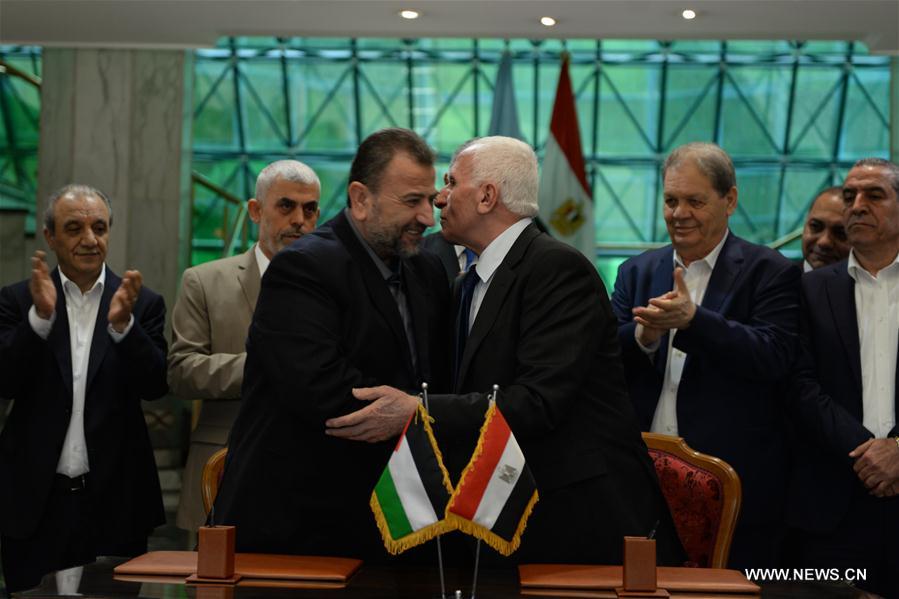 Azzam al-Ahmad of Fatah (front R) and Saleh al-Arouri (front L) of Hamas react after signing a reconciliation agreement in Cairo, Egypt, on Oct. 12, 2017. Palestinian rival movements Fatah and Hamas on Thursday agreed to end their long-time rift following talks mediated by Egypt in Cairo, official MENA news agency reported. (Xinhua/STR)
CAIRO, Oct. 12 (Xinhua) -- Palestinian rival movements Fatah and Hamas on Thursday agreed to end their long-time rift following talks mediated by Egypt in Cairo, official MENA news agency reported.
Under the agreement, the consensus government under Fatah will have full control of Hamas-ruled Gaza Strip by December 1.
The deal was reached after two-day Egyptian-brokered talks between ruling Fatah Movement and the Islamic Hamas movement.
The agreement is considered a resumption of a frozen reconciliation deal reached in Cairo in 2011.
Egypt invited all the Palestinian factions that signed the 2011 reconciliation agreement for a meeting in Cairo on November 21, a few days before complete handover of Gaza to Fatah.
1 2 Next 1 2 Next
Video PlayerClose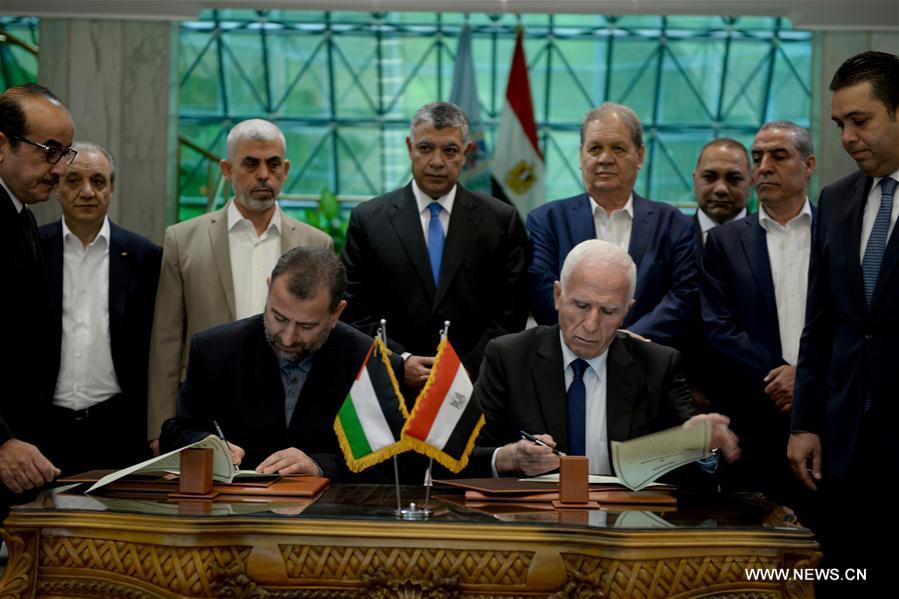 Azzam al-Ahmad of Fatah (front R) and Saleh al-Arouri (front L) of Hamas sign a reconciliation agreement in Cairo, Egypt, on Oct. 12, 2017. Palestinian rival movements Fatah and Hamas on Thursday agreed to end their long-time rift following talks mediated by Egypt in Cairo, official MENA news agency reported. (Xinhua/STR)
Prev 1 2 Prev 1 2