Video PlayerClose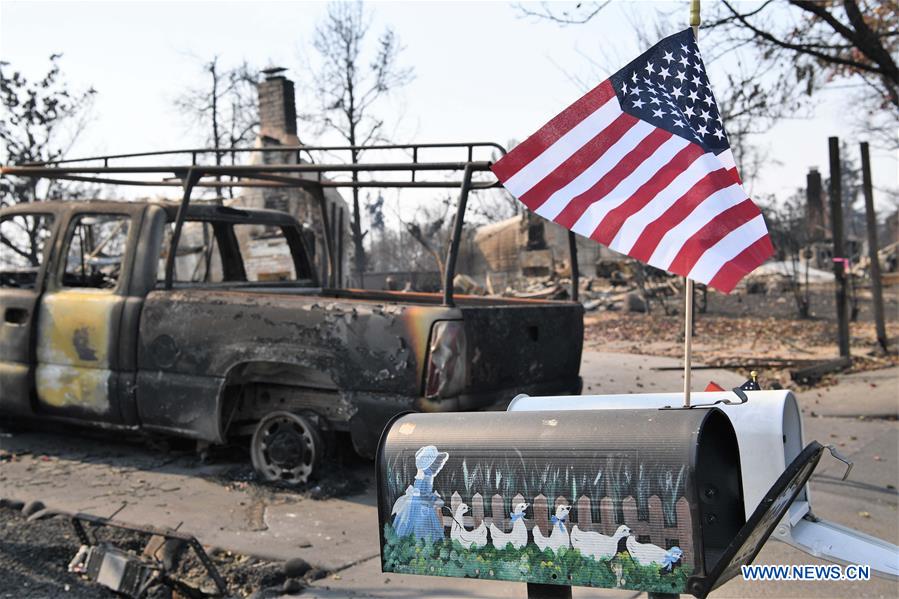 Photo taken on Oct. 13, 2017 shows a burnt residential area in Santa Rosa, California, the United States. An estimated 5 percent of the housing stock, or 3,500 homes and businesses, in Santa Rosa city were burned in wildfires ravaging North Bay of western California, Mayor Chris Coursey told Xinhua on Friday. (Xinhua/Wu Xiaoling)
SAN FRANCISCO, Oct. 13 (Xinhua) -- An estimated 5 percent of the housing stock, or 3,500 homes and businesses, in Santa Rosa city were burned in wildfires ravaging North Bay of western California, Mayor Chris Coursey told Xinhua on Friday.
The property losses, not including commercial damage, will amount to a huge sum of 1.2 billion U.S. dollars, Coursey confirmed to Xinhua after a press conference Friday afternoon at Santa Rosa, seat of Sonoma County, about 90 kilometers north of San Francisco.
"It's a huge hill that we have to climb," Coursey said at the press briefing.
"Our job right now is to get through this emergency. Then we'll start taking the next steps," the mayor added.
Meanwhile, Sonoma County Sheriff Rob Giordano confirmed at the press conference another fatality in the county, which brought the number of deaths in the county to 18. The fires have also claimed eight lives in Mendocino County, four in Yuba County and two in Napa since Sunday.
The statewide wildfires have killed a total of 32 people, including a 14-year-old boy, whose identity was confirmed in Mendocino County, about 200 kilometers north of San Francisco.
By Friday, 29,500 people remain without power across California state after a series of deadly wildfires downed power lines, local media quoted the California Office of Emergency Services as saying.
Early Friday, the California Department of Forestry and Fire Protection (CAL FIRE) said more than 22,000 acres of land have been burned.
Firefighters continued their battle against 17 wildfires that have burned 221,754 acres. Several of the wildfires merged with other fires, while full containment was made on three other, CAL FIRE said in a press release.
A Red Flag Warning has been issued for Friday night when winds are expected to increase again, which are forecast to be stronger than on Thursday with gusts up to 45mh (72 kmh), Cal FIRE said.
It added that hundreds of additional fire engines and firefighters have begun to arrive from several other states, not only to help relieve crews on the frontlines, but to be ready for possible new wildfires that may ignite during the Red Flag Warnings.
Continued gusty winds, low humidity and higher temperatures threaten to exacerbate already extreme fire conditions in wildfire zones, the National Weather Service warned ahead of a new batch of Red Flag warnings for the North Bay mountains, East Bay hills and Diablo Range in eastern Californian coast.
The wildfires are one of the most damaging in California history, which devastated thousands of homes and business structures, forced tens of thousands of people to be evacuated, and incurred heavy damage to the wineries in northern California.
1 2 3 4 5 6 7 8 9 10 Next >>| | 11 12 13 14 15 16 Next 1 2 3 4 5 6 7 8 9 10 Next >>|
Video PlayerClose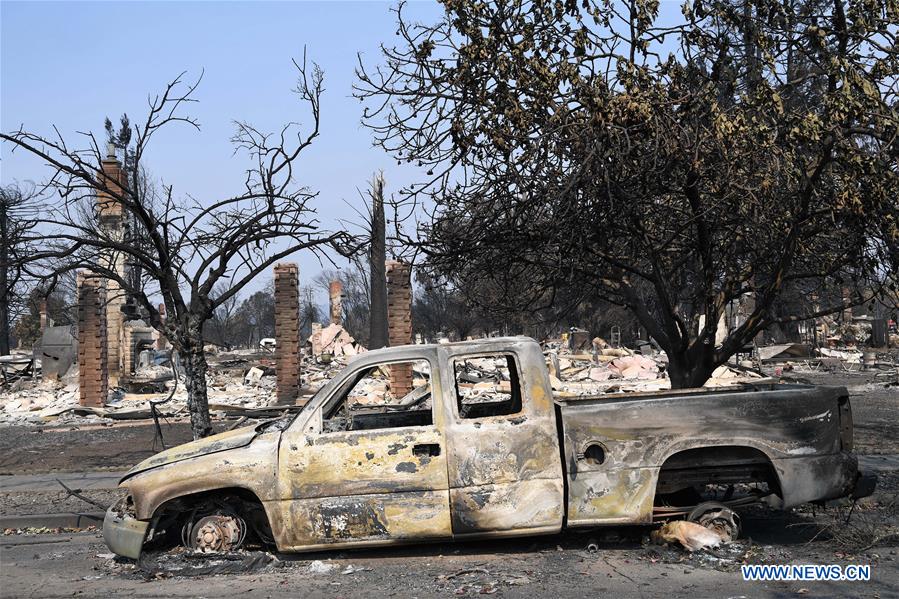 Photo taken on Oct. 13, 2017 shows a burnt residential area in Santa Rosa, California, the United States. An estimated 5 percent of the housing stock, or 3,500 homes and businesses, in Santa Rosa city were burned in wildfires ravaging North Bay of western California, Mayor Chris Coursey told Xinhua on Friday. (Xinhua/Wu Xiaoling)
Prev 1 2 3 4 5 6 7 8 9 10 Next >>| | Prev 11 12 13 14 15 16 Next Prev 1 2 3 4 5 6 7 8 9 10 Next >>|
Video PlayerClose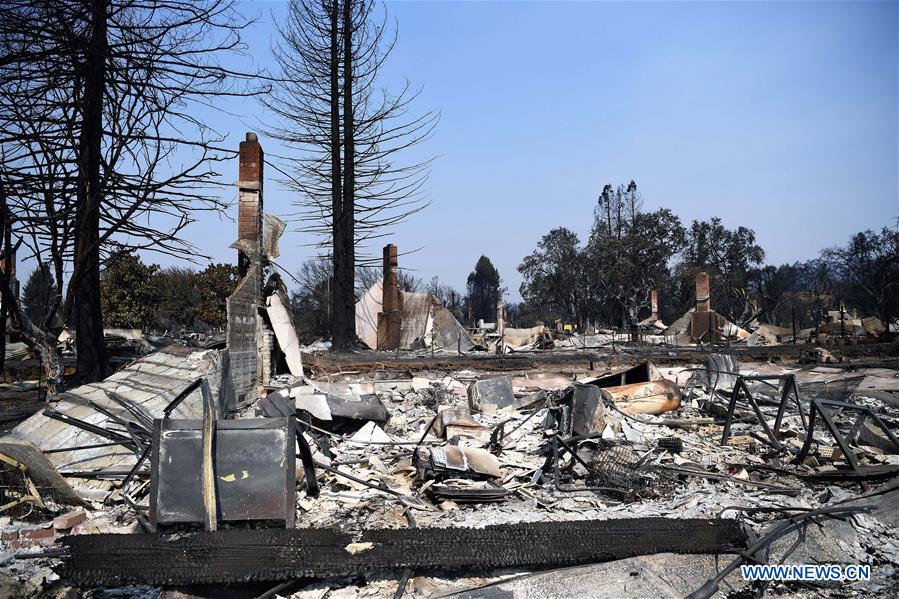 Photo taken on Oct. 13, 2017 shows a burnt residential area in Santa Rosa, California, the United States. An estimated 5 percent of the housing stock, or 3,500 homes and businesses, in Santa Rosa city were burned in wildfires ravaging North Bay of western California, Mayor Chris Coursey told Xinhua on Friday. (Xinhua/Wu Xiaoling)
Prev 1 2 3 4 5 6 7 8 9 10 Next >>| | Prev 11 12 13 14 15 16 Next Prev 1 2 3 4 5 6 7 8 9 10 Next >>|
Video PlayerClose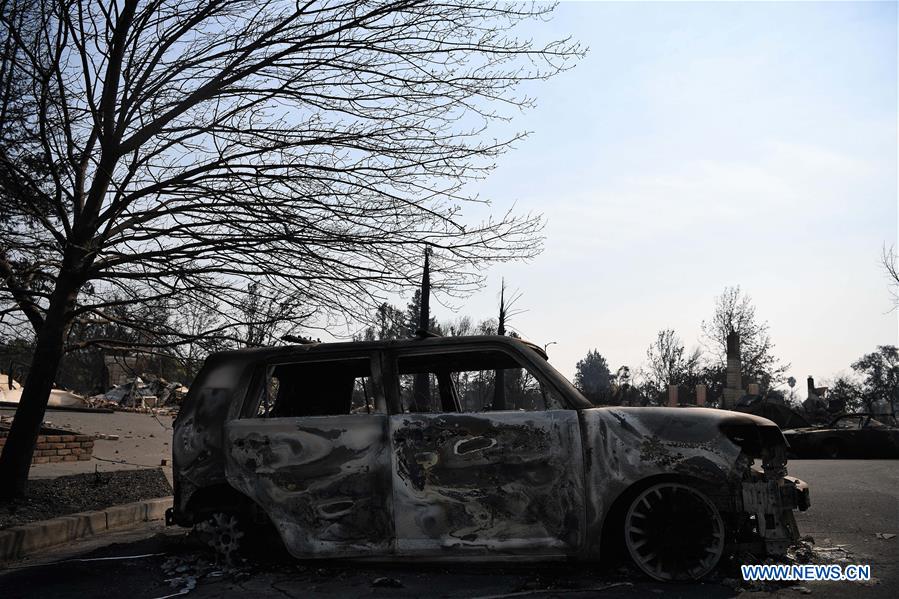 Photo taken on Oct. 13, 2017 shows a burnt residential area in Santa Rosa, California, the United States. An estimated 5 percent of the housing stock, or 3,500 homes and businesses, in Santa Rosa city were burned in wildfires ravaging North Bay of western California, Mayor Chris Coursey told Xinhua on Friday. (Xinhua/Wu Xiaoling)
Prev 1 2 3 4 5 6 7 8 9 10 Next >>| | Prev 11 12 13 14 15 16 Next Prev 1 2 3 4 5 6 7 8 9 10 Next >>|
Video PlayerClose
Photo taken on Oct. 13, 2017 shows a burnt residential area in Santa Rosa, California, the United States. An estimated 5 percent of the housing stock, or 3,500 homes and businesses, in Santa Rosa city were burned in wildfires ravaging North Bay of western California, Mayor Chris Coursey told Xinhua on Friday. (Xinhua/Wu Xiaoling)
Prev 1 2 3 4 5 6 7 8 9 10 Next >>| | Prev 11 12 13 14 15 16 Next Prev 1 2 3 4 5 6 7 8 9 10 Next >>|
Video PlayerClose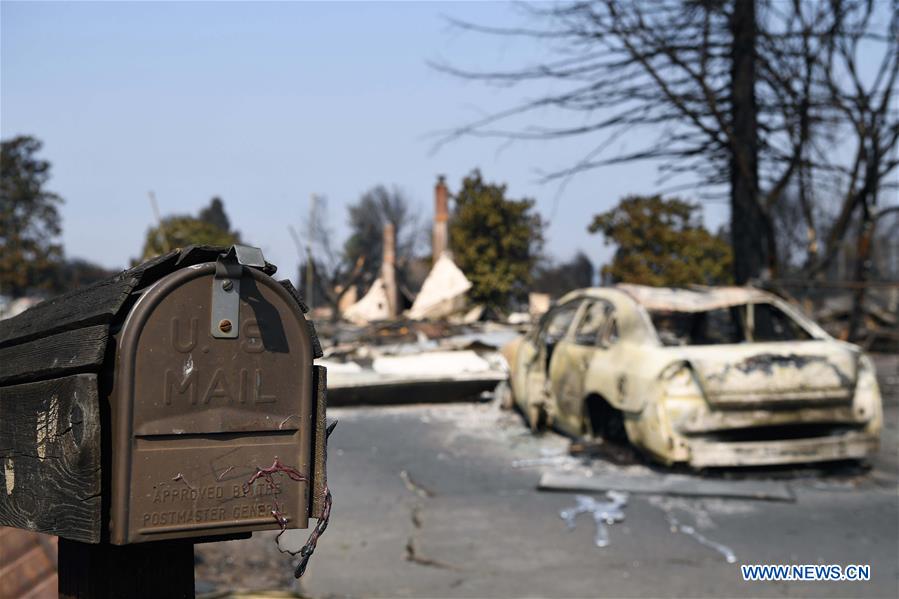 Photo taken on Oct. 13, 2017 shows a burnt residential area in Santa Rosa, California, the United States. An estimated 5 percent of the housing stock, or 3,500 homes and businesses, in Santa Rosa city were burned in wildfires ravaging North Bay of western California, Mayor Chris Coursey told Xinhua on Friday. (Xinhua/Wu Xiaoling)
Prev 1 2 3 4 5 6 7 8 9 10 Next >>| | Prev 11 12 13 14 15 16 Next Prev 1 2 3 4 5 6 7 8 9 10 Next >>|
Video PlayerClose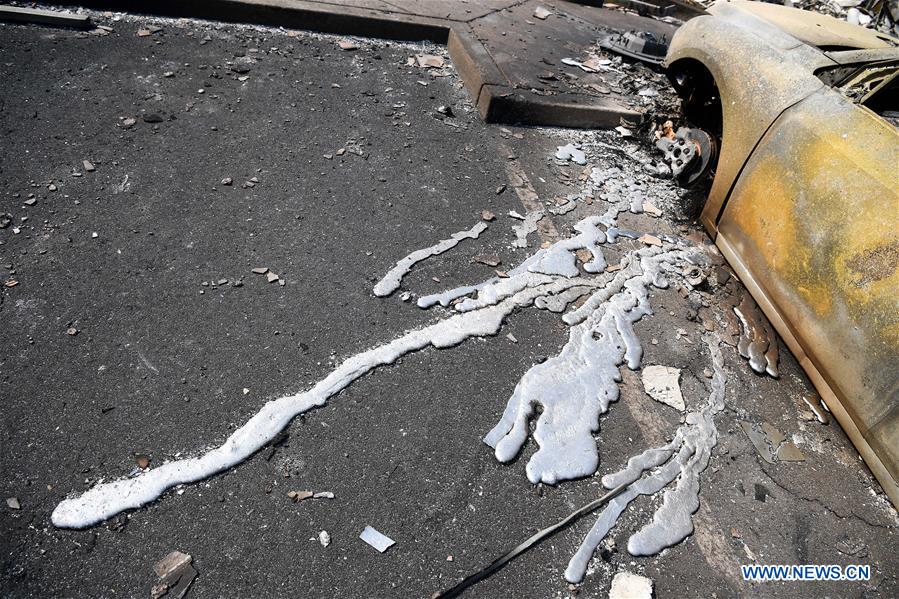 Photo taken on Oct. 13, 2017 shows a burnt car in Santa Rosa, California, the United States. An estimated 5 percent of the housing stock, or 3,500 homes and businesses, in Santa Rosa city were burned in wildfires ravaging North Bay of western California, Mayor Chris Coursey told Xinhua on Friday. (Xinhua/Wu Xiaoling)
Prev 1 2 3 4 5 6 7 8 9 10 Next >>| | Prev 11 12 13 14 15 16 Next Prev 1 2 3 4 5 6 7 8 9 10 Next >>|
Video PlayerClose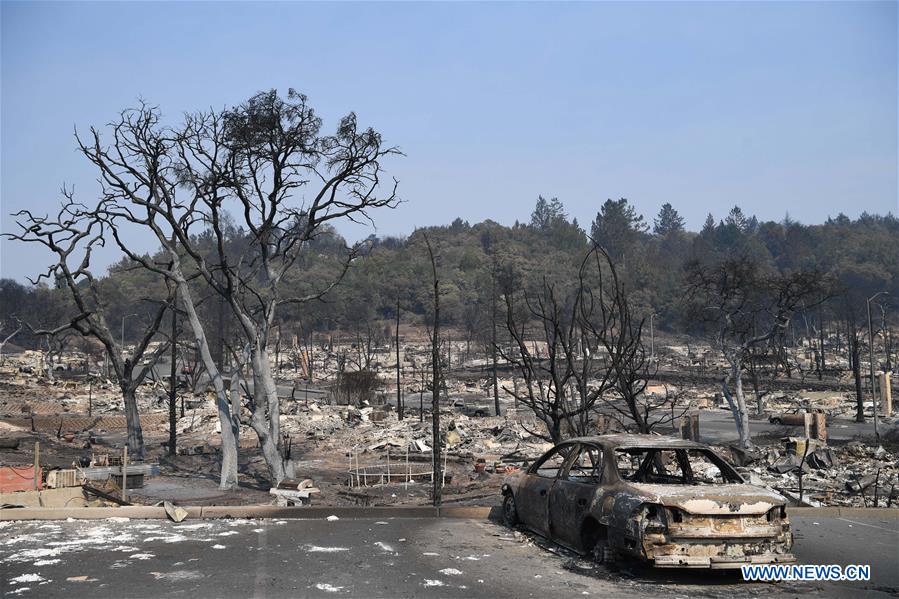 Photo taken on Oct. 13, 2017 shows a burnt commercial district in Santa Rosa, California, the United States. An estimated 5 percent of the housing stock, or 3,500 homes and businesses, in Santa Rosa city were burned in wildfires ravaging North Bay of western California, Mayor Chris Coursey told Xinhua on Friday. (Xinhua/Wu Xiaoling)
Prev 1 2 3 4 5 6 7 8 9 10 Next >>| | Prev 11 12 13 14 15 16 Next Prev 1 2 3 4 5 6 7 8 9 10 Next >>|
Video PlayerClose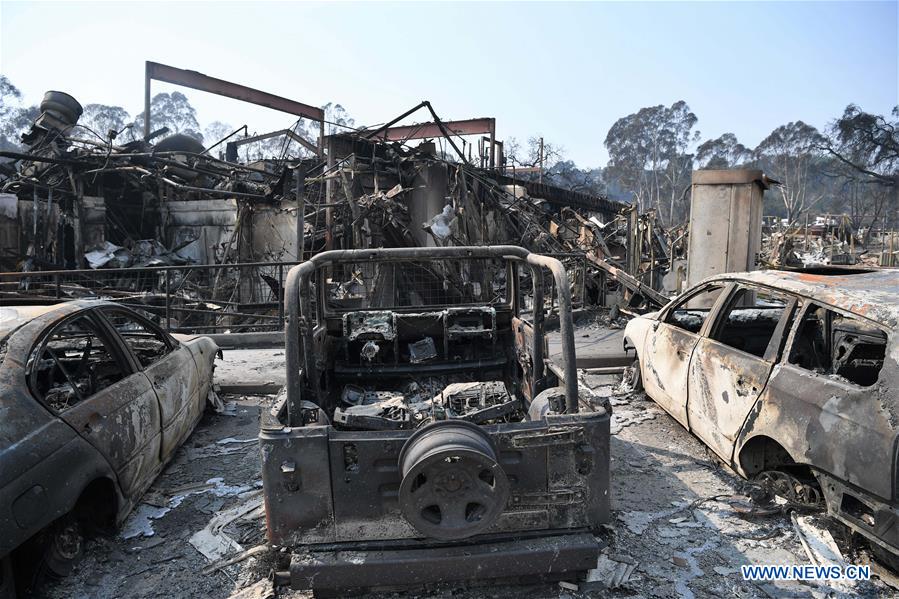 Photo taken on Oct. 13, 2017 shows a burnt commercial district in Santa Rosa, California, the United States. An estimated 5 percent of the housing stock, or 3,500 homes and businesses, in Santa Rosa city were burned in wildfires ravaging North Bay of western California, Mayor Chris Coursey told Xinhua on Friday. (Xinhua/Wu Xiaoling)
Prev 1 2 3 4 5 6 7 8 9 10 Next >>| | Prev 11 12 13 14 15 16 Next Prev 1 2 3 4 5 6 7 8 9 10 Next >>|
Video PlayerClose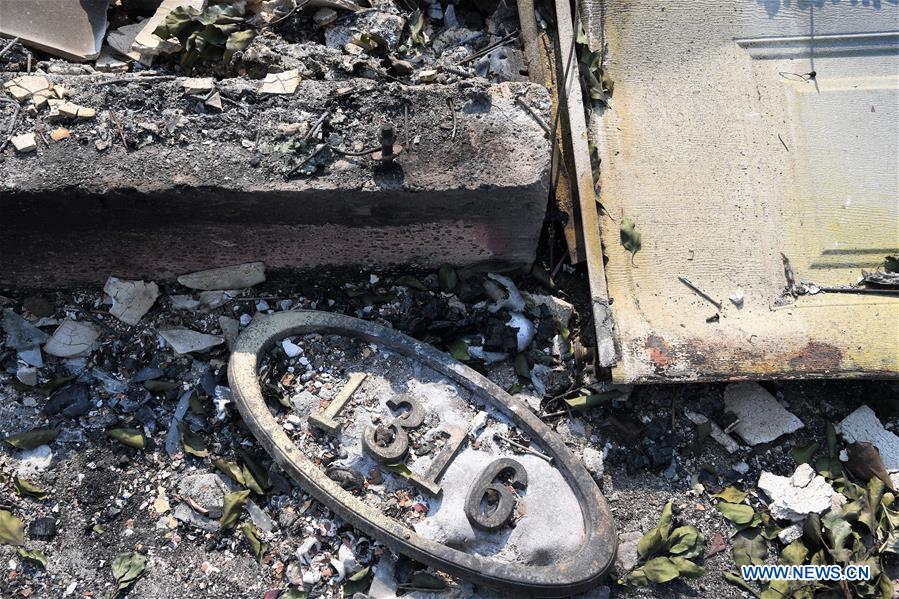 Photo taken on Oct. 13, 2017 shows a burnt residential area in Santa Rosa, California, the United An estimated 5 percent of the housing stock, or 3,500 homes and businesses, in Santa Rosa city were burned in wildfires ravaging North Bay of western California, Mayor Chris Coursey told Xinhua on Friday. (Xinhua/Wu Xiaoling)
Prev 1 2 3 4 5 6 7 8 9 10 Next >>| | Prev 11 12 13 14 15 16 Next Prev 1 2 3 4 5 6 7 8 9 10 Next >>|
Video PlayerClose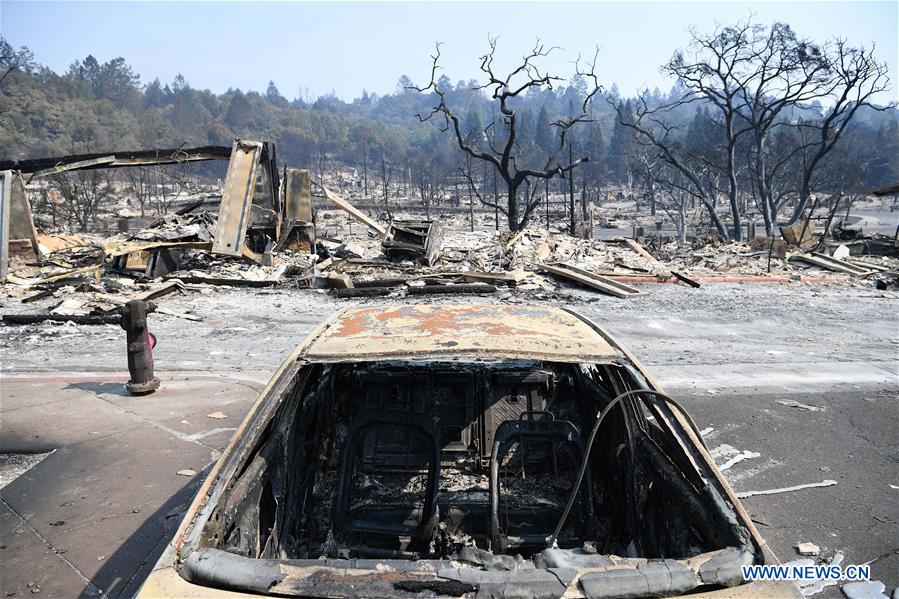 Photo taken on Oct. 13, 2017 shows a burnt commercial district in Santa Rosa, California, the United States. An estimated 5 percent of the housing stock, or 3,500 homes and businesses, in Santa Rosa city were burned in wildfires ravaging North Bay of western California, Mayor Chris Coursey told Xinhua on Friday. (Xinhua/Wu Xiaoling)
Prev 1 2 3 4 5 6 7 8 9 10 Next >>| | Prev 11 12 13 14 15 16 Next | Prev 11 12 13 14 15 16 Next
Video PlayerClose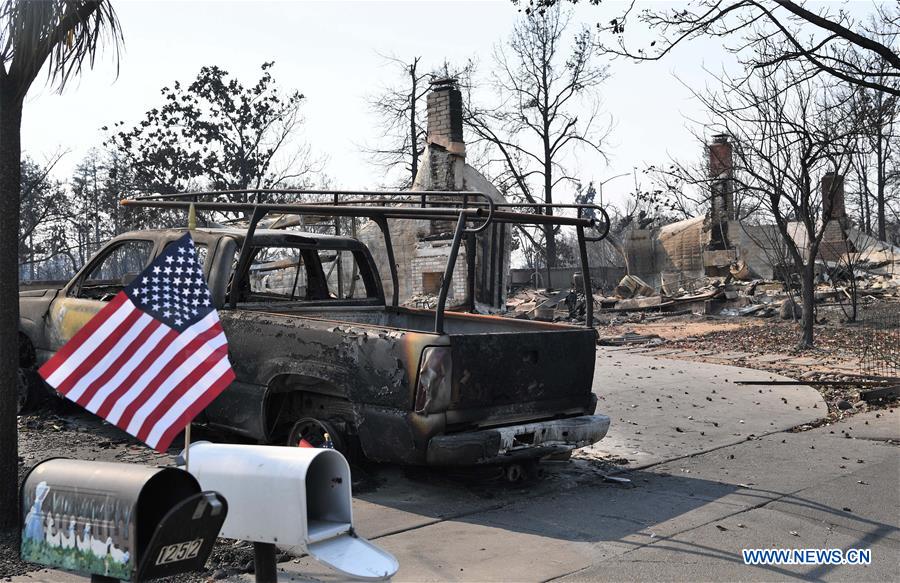 Photo taken on Oct. 13, 2017 shows a burnt residential area in Santa Rosa, California, the United States. An estimated 5 percent of the housing stock, or 3,500 homes and businesses, in Santa Rosa city were burned in wildfires ravaging North Bay of western California, Mayor Chris Coursey told Xinhua on Friday. (Xinhua/Wu Xiaoling)
Prev 1 2 3 4 5 6 7 8 9 10 Next >>| | Prev 11 12 13 14 15 16 Next | Prev 11 12 13 14 15 16 Next
Video PlayerClose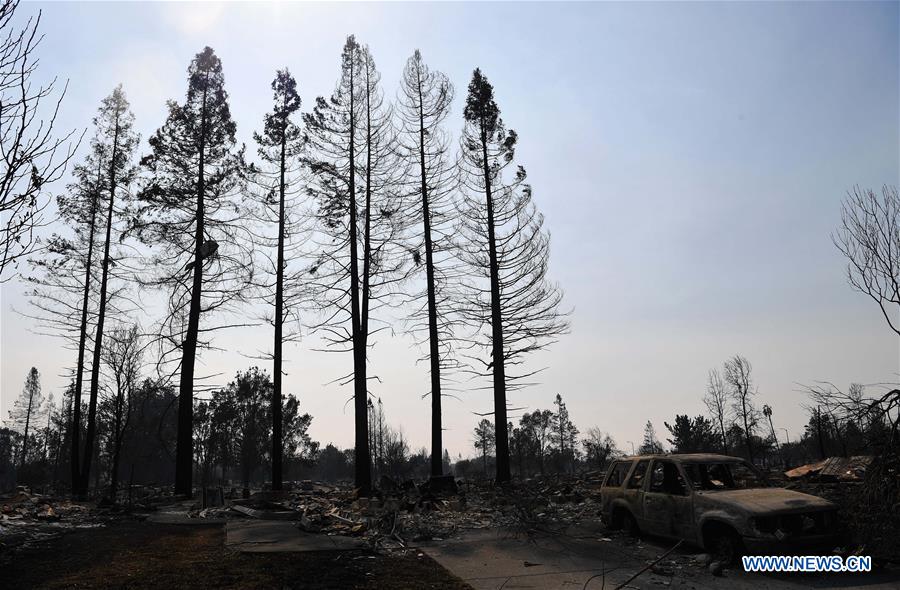 Photo taken on Oct. 13, 2017 shows a burnt residential area in Santa Rosa, California, the United States. An estimated 5 percent of the housing stock, or 3,500 homes and businesses, in Santa Rosa city were burned in wildfires ravaging North Bay of western California, Mayor Chris Coursey told Xinhua on Friday. (Xinhua/Wu Xiaoling)
Prev 1 2 3 4 5 6 7 8 9 10 Next >>| | Prev 11 12 13 14 15 16 Next | Prev 11 12 13 14 15 16 Next
Video PlayerClose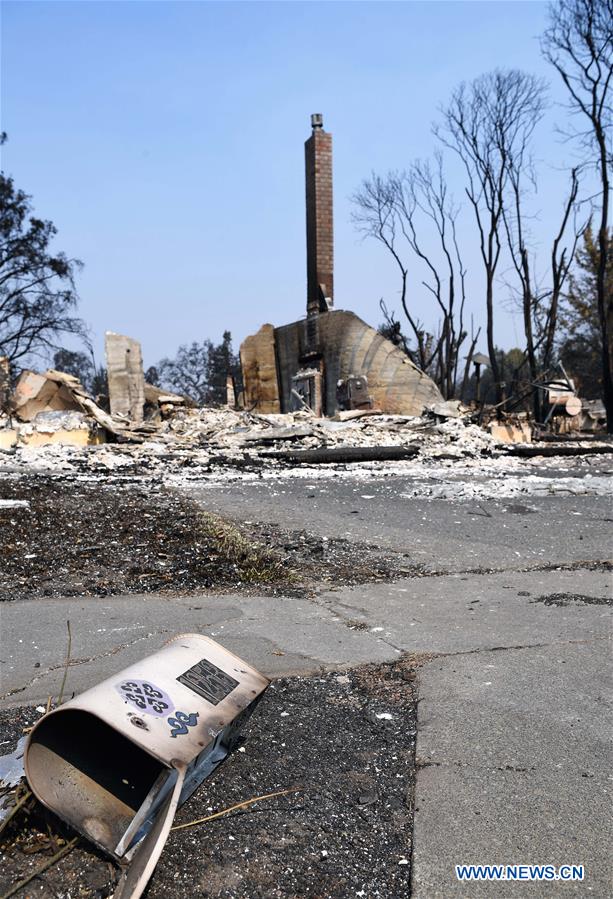 Photo taken on Oct. 13, 2017 shows a burnt residential area in Santa Rosa, California, the United States. An estimated 5 percent of the housing stock, or 3,500 homes and businesses, in Santa Rosa city were burned in wildfires ravaging North Bay of western California, Mayor Chris Coursey told Xinhua on Friday. (Xinhua/Wu Xiaoling)
Prev 1 2 3 4 5 6 7 8 9 10 Next >>| | Prev 11 12 13 14 15 16 Next | Prev 11 12 13 14 15 16 Next
Video PlayerClose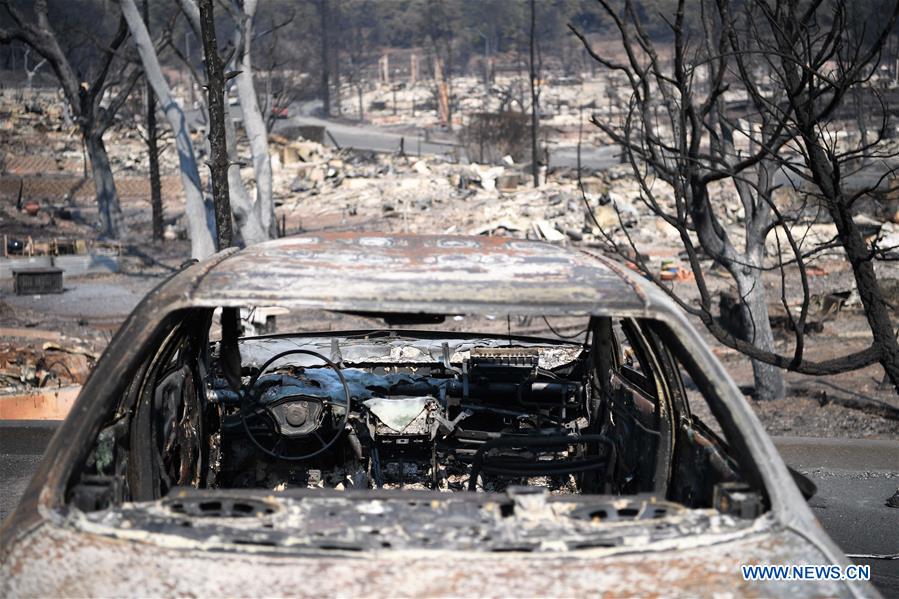 Photo taken on Oct. 13, 2017 shows a burnt commercial district in Santa Rosa, California, the United States. An estimated 5 percent of the housing stock, or 3,500 homes and businesses, in Santa Rosa city were burned in wildfires ravaging North Bay of western California, Mayor Chris Coursey told Xinhua on Friday. (Xinhua/Wu Xiaoling)
Prev 1 2 3 4 5 6 7 8 9 10 Next >>| | Prev 11 12 13 14 15 16 Next | Prev 11 12 13 14 15 16 Next
Video PlayerClose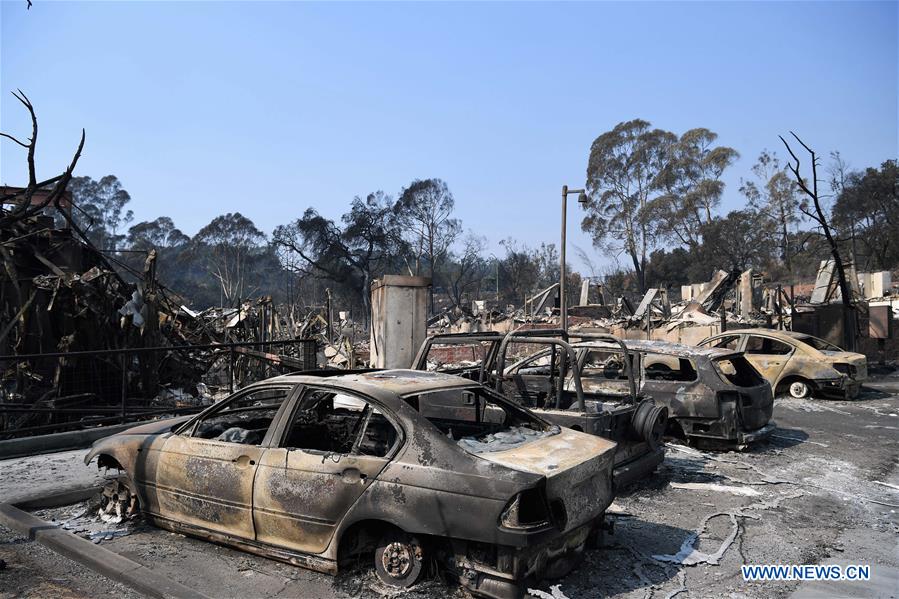 Photo taken on Oct. 13, 2017 shows a burnt commercial district in Santa Rosa, California, the United States. An estimated 5 percent of the housing stock, or 3,500 homes and businesses, in Santa Rosa city were burned in wildfires ravaging North Bay of western California, Mayor Chris Coursey told Xinhua on Friday. (Xinhua/Wu Xiaoling)
Prev 1 2 3 4 5 6 7 8 9 10 >>| | Prev 11 12 13 14 15 16 | Prev 11 12 13 14 15 16