Video PlayerClose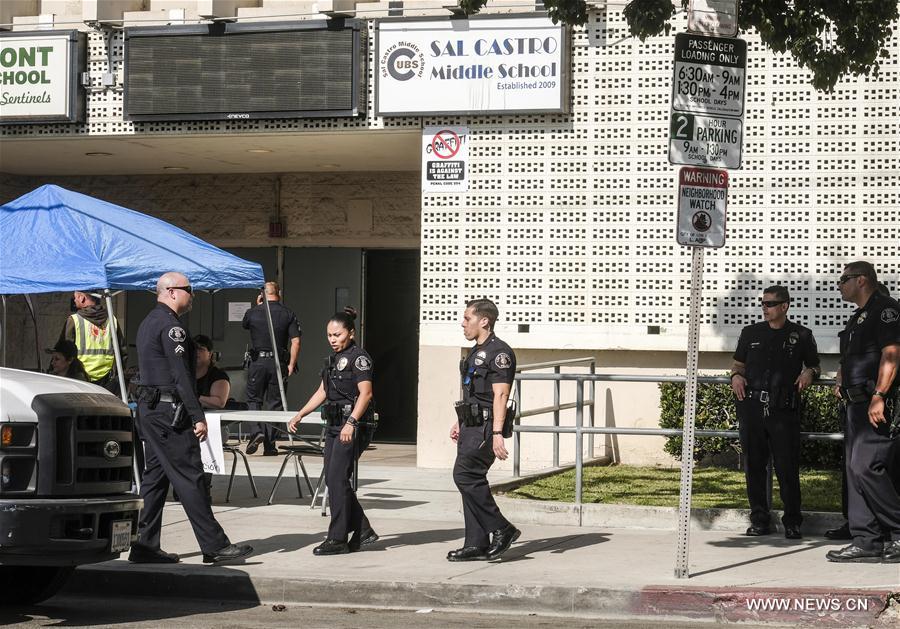 Police officers stand guard outside Salvador Castro Middle School in Los Angeles, the United States, Feb. 1, 2018. Five people were injured, including two students shot, in a classroom shooting Thursday at the Salvador Castro Middle School in the western U.S. city of Los Angeles, local authorities said. (Xinhua/Zhao Hanrong)
LOS ANGELES, Feb. 1 (Xinhua) -- Five people were injured, including two students shot, in a classroom shooting Thursday at the Salvador Castro Middle School in the western U.S. city of Los Angeles, local authorities said.
A 15-year-old boy who was shot in the head was in critical condition and a 15-year-old girl who was shot in the wrist was in stable condition, according to Los Angeles Police Department (LAPD).
"We had some type of a shooting occurrence inside a classroom," said L.A. School Police Chief Steve Zipperman during a press briefing at the scene.
The shooting was reported to police around 9 a.m. local time. Police rushed to the scene and conducted room searches at the campus.
Three other people, including two children and 30-year-old woman suffered minor injuries which were not caused by the shooting.
A handcuffed girl was seen being taken into custody by police and referred as a "person of interest" by Zepperman.
Police officials said the shooting suspect is about 12 years old and the weapon of the shooter has been recovered by police.
Police officials told reporters that they don't know the exact number of students on the scene when the shooting happened and it is still too early in the investigation to determine the motive of the suspect.
There was a heavy police presence at the location and the campus was on lockdown. A lot of anxious parents and relatives were waiting outside the campus.
All of the parents of the victims have been notified, said authorities.
Salvador Castro Middle School has a total enrollment of 428 students and 22 full-time teachers. More than 92 percent of the students are Hispanic, according the data on the website of the www.localschooldirectory.com.
1 2 Next 1 2 Next
Video PlayerClose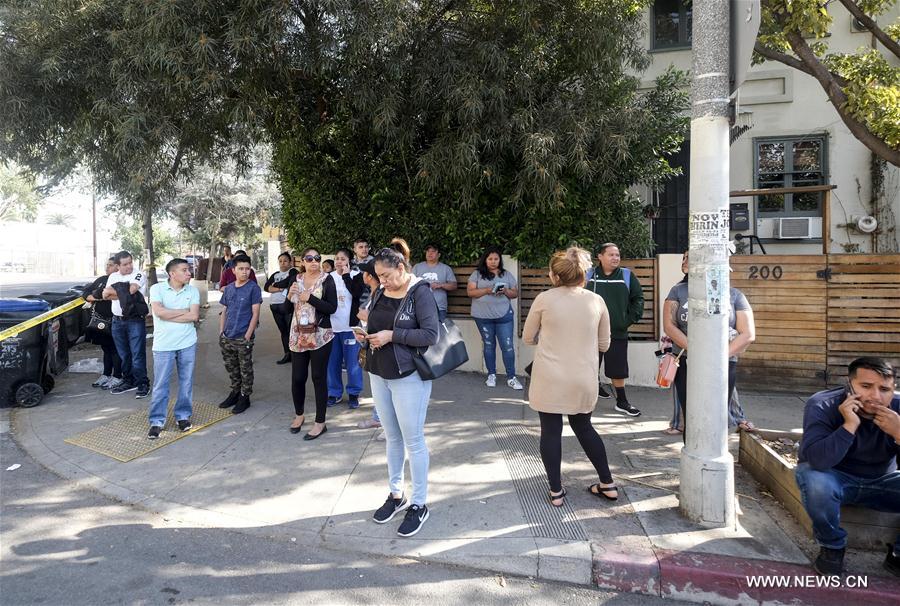 Parents wait to pick up their children outside Salvador Castro Middle School in Los Angeles, the United States, Feb. 1, 2018. Five people were injured, including two students shot, in a classroom shooting Thursday at the Salvador Castro Middle School in the western U.S. city of Los Angeles, local authorities said. (Xinhua/Zhao Hanrong)
Prev 1 2 Prev 1 2