Video PlayerClose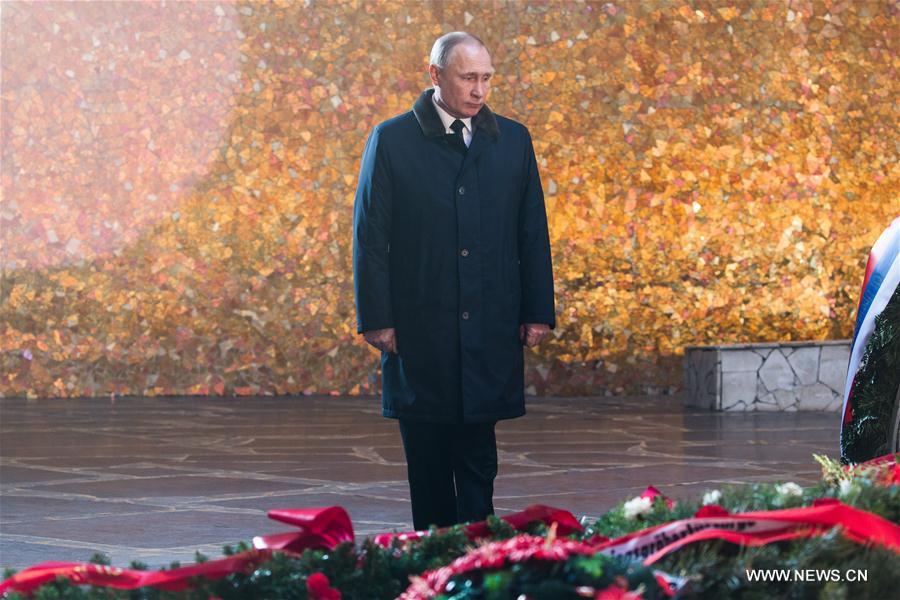 Russian President Vladimir Putin stands in front of the Eternal Flame at the Battle of Stalingrad State Historical and Memorial Museum-Reserve in Volgograd, Russia, on Feb. 2, 2018. Russian President Vladimir Putin Friday took part in the celebration of the 75th anniversary of the Battle of Stalingrad against Nazi Germany in World War II (WWII). (Xinhua/Bai Xueqi)
MOSCOW, Feb. 2 (Xinhua) -- Russian President Vladimir Putin Friday took part in the celebration of the 75th anniversary of a major battle against Nazi Germany in World War II (WWII).
The Battle of Stalingrad, which is the former name of Volgograd, was one of the longest battles during WWII, fought from August 1942 to February 1943. It radically changed the course of the war, heralding the victory over Nazi Germany in 1945.
Putin addressed WWII veterans and other guests at the solemn event in the city of Volgograd on the Volga River.
The defenders of Stalingrad left a great heritage -- love for the motherland, readiness to defend its interests and independence, standing firm in any trial, and working for the country's prosperity, Putin said.
"We have no right to leave uncompleted work, to show cowardice and indecisiveness. We must follow the example of our fathers and grandfathers to be worthy of their accomplishments, to be ready to reach the set goals, and to achieve more than we have already achieved," he said.
Putin visited the Battle of Stalingrad memorial complex, laid a wreath at the Eternal Flame in the Hall of Military Glory and honored the memory of Soviet troops with a minute of silence.
1 2 3 4 5 6 7 8 Next 1 2 3 4 5 6 7 8 Next
Video PlayerClose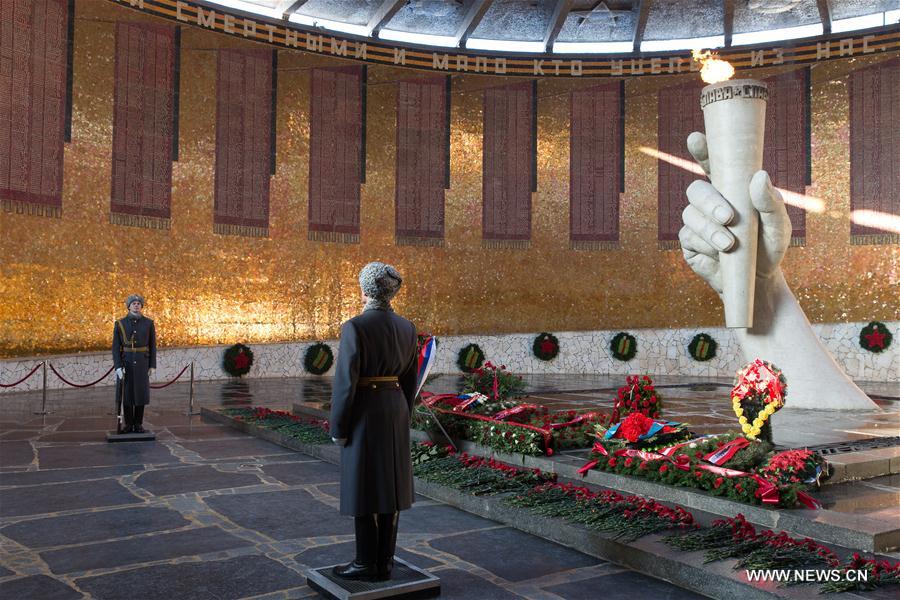 Soldiers stand guard at the Eternal Flame at the Battle of Stalingrad State Historical and Memorial Museum-Reserve in Volgograd, Russia, on Feb. 2, 2018. Russian President Vladimir Putin Friday took part in the celebration of the 75th anniversary of the Battle of Stalingrad against Nazi Germany in World War II (WWII). (Xinhua/Bai Xueqi)
Prev 1 2 3 4 5 6 7 8 Next Prev 1 2 3 4 5 6 7 8 Next
Video PlayerClose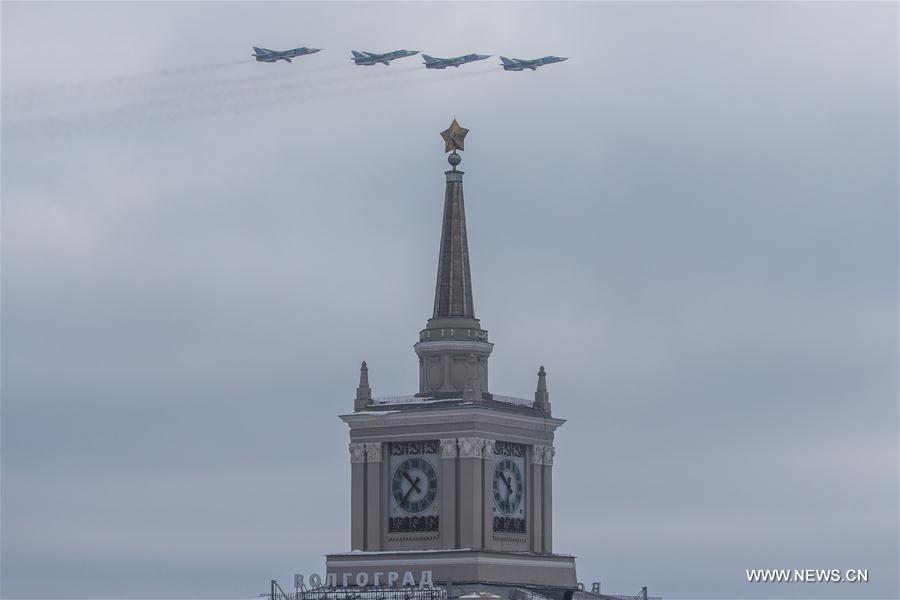 Su-24Ms fly over during a celebration of the 75th anniversary of the Battle of Stalingrad in Volgograd, Russia, on Feb. 2, 2018. Russian President Vladimir Putin Friday took part in the celebration of the 75th anniversary of the Battle of Stalingrad against Nazi Germany in World War II (WWII). (Xinhua/Bai Xueqi)
Prev 1 2 3 4 5 6 7 8 Next Prev 1 2 3 4 5 6 7 8 Next
Video PlayerClose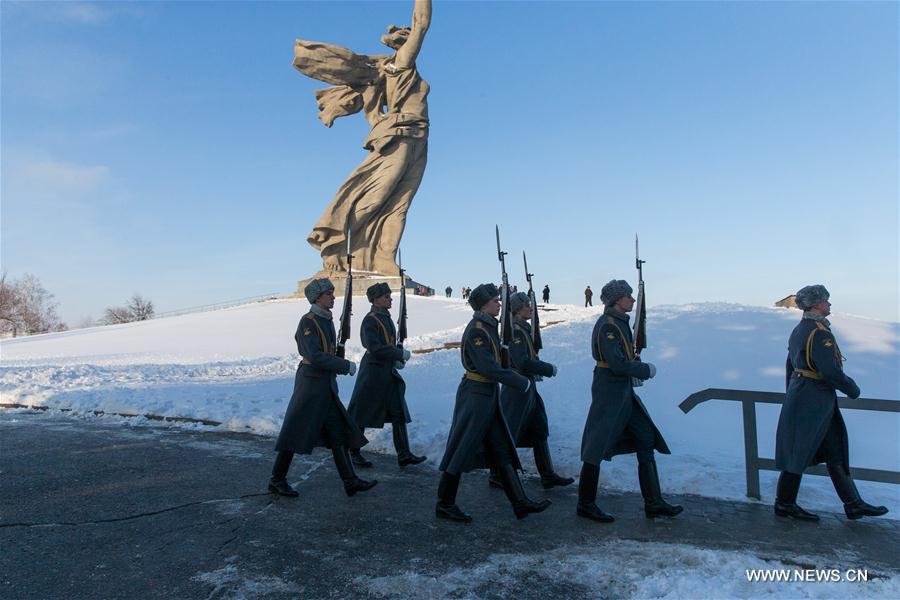 Soldiers parade on Mamayev Kurgan, on which the Battle of Stalingrad State Historical and Memorial Museum-Reserve is located, in Volgograd, Russia, on Feb. 2, 2018. Russian President Vladimir Putin Friday took part in the celebration of the 75th anniversary of the Battle of Stalingrad against Nazi Germany in World War II (WWII). (Xinhua/Bai Xueqi)
Prev 1 2 3 4 5 6 7 8 Next Prev 1 2 3 4 5 6 7 8 Next
Video PlayerClose
Russia's aerobatic team "Swifts" fly over during a celebration of the 75th anniversary of the Battle of Stalingrad in Volgograd, Russia, on Feb. 2, 2018. Russian President Vladimir Putin Friday took part in the celebration of the 75th anniversary of the Battle of Stalingrad against Nazi Germany in World War II (WWII). (Xinhua/Bai Xueqi)
Prev 1 2 3 4 5 6 7 8 Next Prev 1 2 3 4 5 6 7 8 Next
Video PlayerClose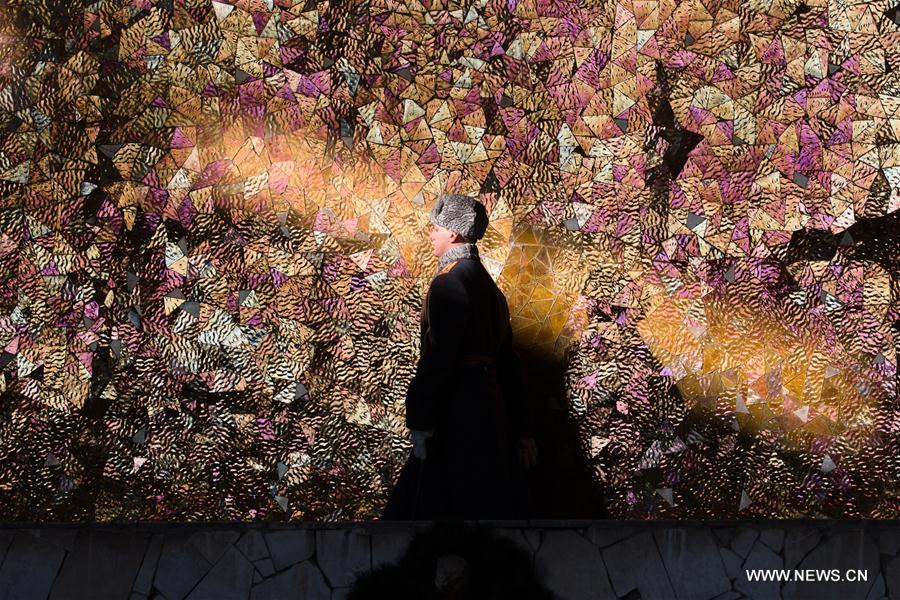 A soldier walks behind the Eternal Flame at the Battle of Stalingrad State Historical and Memorial Museum-Reserve in Volgograd, Russia, on Feb. 2, 2018. Russian President Vladimir Putin Friday took part in the celebration of the 75th anniversary of the Battle of Stalingrad against Nazi Germany in World War II (WWII). (Xinhua/Bai Xueqi)
Prev 1 2 3 4 5 6 7 8 Next Prev 1 2 3 4 5 6 7 8 Next
Video PlayerClose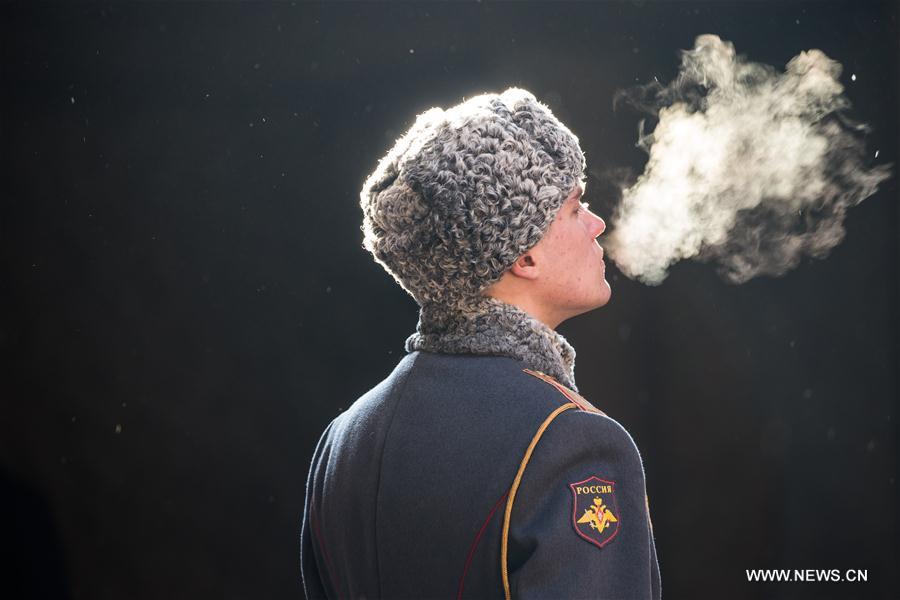 A soldier stands guard at the Eternal Flame at the Battle of Stalingrad State Historical and Memorial Museum-Reserve in Volgograd, Russia, on Feb. 2, 2018. Russian President Vladimir Putin Friday took part in the celebration of the 75th anniversary of the Battle of Stalingrad against Nazi Germany in World War II (WWII). (Xinhua/Bai Xueqi)
Prev 1 2 3 4 5 6 7 8 Next Prev 1 2 3 4 5 6 7 8 Next
Video PlayerClose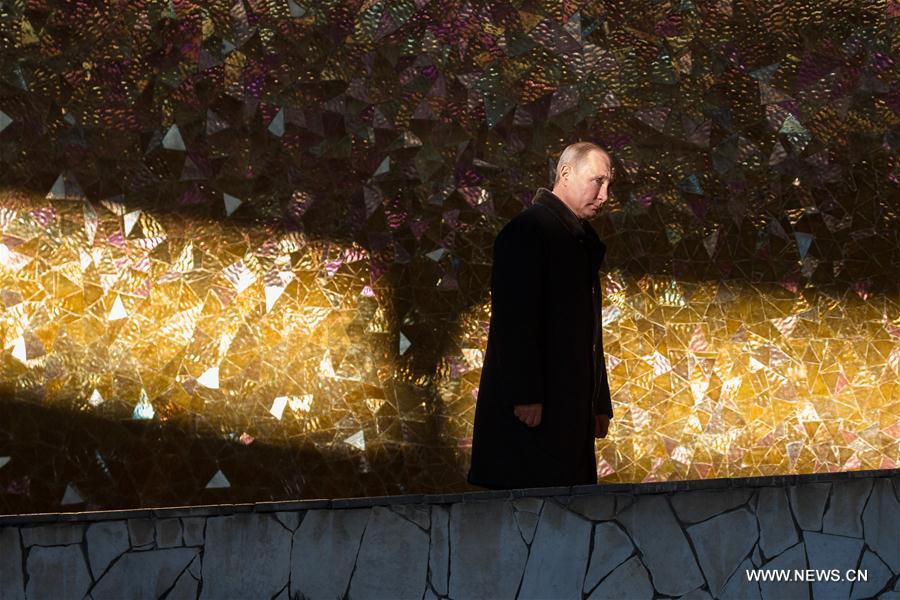 Russian President Vladimir Putin leaves the Battle of Stalingrad State Historical and Memorial Museum-Reserve after laying a wreath at the Eternal Flame in Volgograd, Russia, on Feb. 2, 2018. Russian President Vladimir Putin Friday took part in the celebration of the 75th anniversary of the Battle of Stalingrad against Nazi Germany in World War II (WWII). (Xinhua/Bai Xueqi)
Prev 1 2 3 4 5 6 7 8 Prev 1 2 3 4 5 6 7 8