Palestine urges U.S. to end use of blackmail, distortion
Video PlayerClose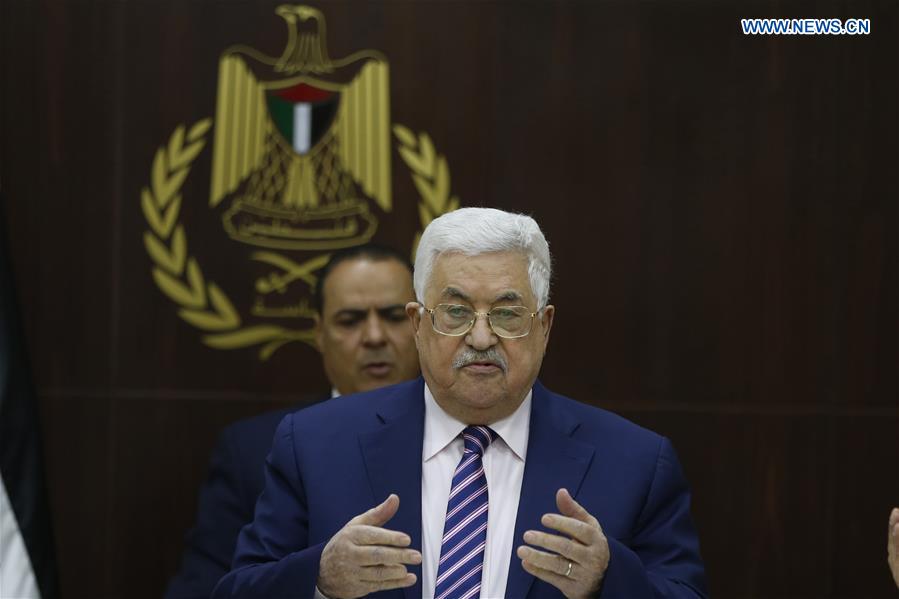 Palestinian President Mahmoud Abbas chairs a meeting of the Palestine Liberation Organization (PLO) executive committee in the West Bank City of Ramallah, on Feb. 3, 2018. Palestine Liberation Organization executive committee convened Saturday and decided to form a higher committee to implement the important resolutions. (Xinhua/Fadi Arouri)
RAMALLAH, Feb. 3 (Xinhua) -- Palestine Liberation Organization (PLO) executive committee convened Saturday and decided to form a higher committee to implement the important resolutions.
The PCC resolutions included the suspension of recognitions with Israel, until the latter recognizes the Palestinian state over 1967 borders with East Jerusalem as its capital.
The PCC gave instructions to the government to start putting strategic plans to sever ties with Israel on all levels, and decided to go to the UN Security Council and General Assembly.
President Mahmoud Abbas is expected to address the General Assembly of the UN later this month and is determined to present request to recognize Palestine as a full member state.
The PLO executive committee also slammed what it described as "the U.S. blackmail" and "distortion attempts against the Palestinian leadership."
It called on the U.S. to "stop hatred speech" against the Palestinians and "stop using the blackmail and threats policies" in dealing with the Palestinian side.
The PLO statement denounced U.S. Vice President Mike Pence's statements in Israel last month where he said the US embassy will be moved to Jerusalem before the end of 2019.
1 2 3 Next 1 2 3 Next
Video PlayerClose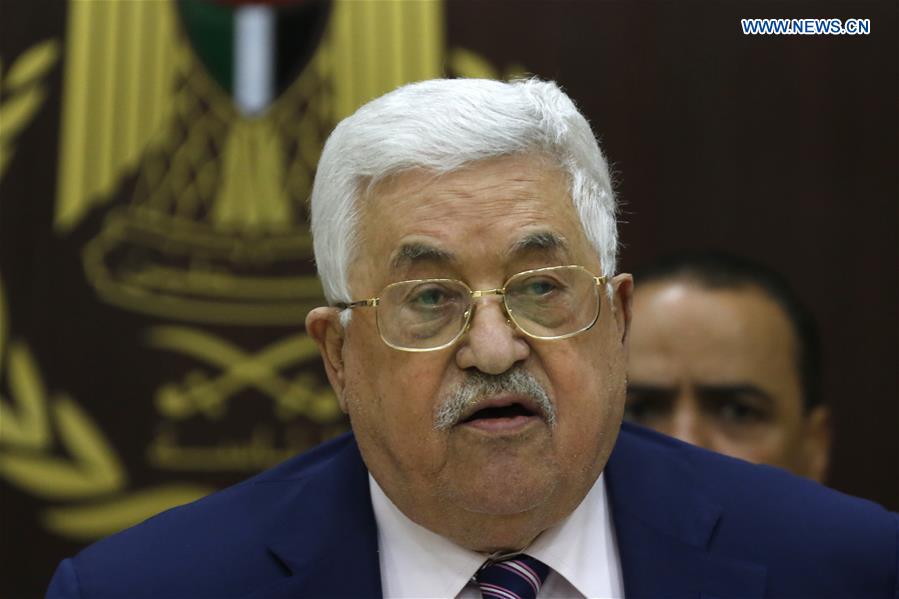 Palestinian President Mahmoud Abbas chairs a meeting of the Palestine Liberation Organization (PLO) executive committee in the West Bank City of Ramallah, on Feb. 3, 2018. Palestine Liberation Organization executive committee convened Saturday and decided to form a higher committee to implement the important resolutions. (Xinhua/Fadi Arouri)
Prev 1 2 3 Next Prev 1 2 3 Next
Video PlayerClose
Palestinian President Mahmoud Abbas chairs a meeting of the Palestine Liberation Organization (PLO) executive committee in the West Bank City of Ramallah, on Feb. 3, 2018. Palestine Liberation Organization executive committee convened Saturday and decided to form a higher committee to implement the important resolutions. (Xinhua/Fadi Arouri)
Prev 1 2 3 Prev 1 2 3