Video PlayerClose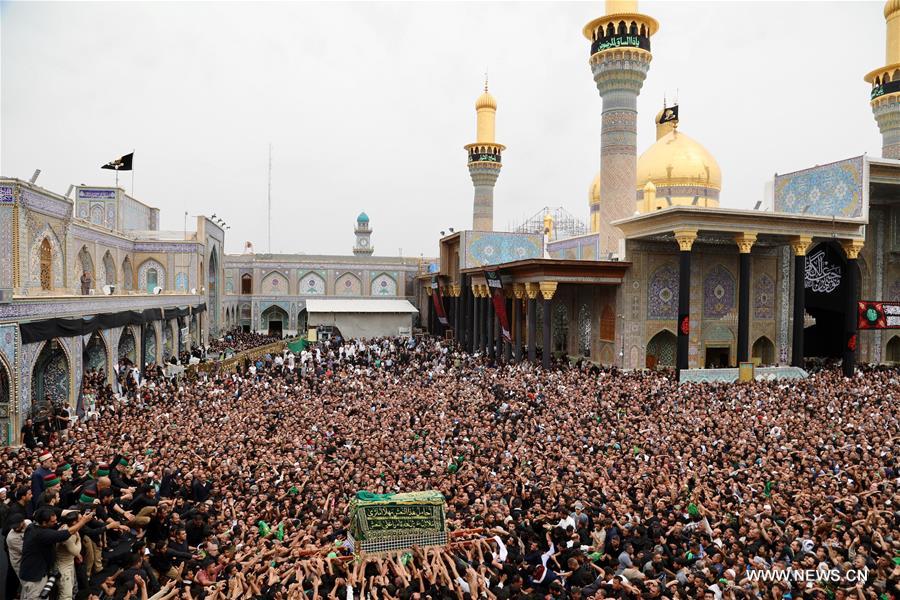 Iraqi Shiite Muslims gather at the Al-Kadhimiya Mosque in northern Baghdad on April 12, 2018. Millions of Shiite pilgrims on Thursday ended their week-long pilgrimage to a holy shrine in the Iraqi capital Baghdad to mark a major ritual amid tightened security measures. (Xinhua/Khalil Dawood)
BAGHDAD, April 12 (Xinhua) -- Millions of Shiite pilgrims on Thursday ended their week-long pilgrimage to a holy shrine in the Iraqi capital Baghdad to mark a major ritual amid tightened security measures.
During the past few days, more than 5.6 million Shiite pilgrims visited the shrine of the seventh of the most revered 12 Shiite Imams, Jamal Abdul-Rasoul, an official from the mausoleum, told a press conference after the end of the ritual.
The pilgrims marched on foot or by bus from places across Iraq and abroad to commemorate the death of Imam Musa al-Kadhim at his golden-tomb mausoleum in the center of the old part of the holy Shiite Kadhimiya district in northern Baghdad.
Dozens of tents were set up on the streets leading to the shrine to serve water, food and medication to the pilgrims.
People clad in black and accompanied by drummers were marching in lines in honor of Imam Musa al-Kadhim who was believed to be poisoned to death while in prison in A.D. 799 during the Abbasid era.
The Shiite ritual was held under tightened security measures as thousands of Iraqi soldiers, federal police and other security forces totally blocked Kadhimiya district for several days and deployed on the main routes that were assigned for the pilgrims outside and inside Baghdad.
The troops, backed by helicopter gunships, manned dozens of checkpoints and patrolled the pilgrims routes across Baghdad.
"Baghdad was secured before and during the ritual against any plan by the terrorists, and we have thwarted malicious rumors that sought to disturb the visit (of the mausoleum)," General Jalil al-Rubaie, Commander of Baghdad Operations Command (BOC) told the press conference.
Rubaie said that the security forces on Wednesday thwarted an attack against the pilgrims by two suicide bombers.
On Wednesday, a statement by BOC said that the security forces acted on intelligence reports and ambushed two militants wearing explosive belts in Tarmiyah area, some 40 km north of Baghdad, leaving one of the suicide bombers killed and forcing the other to detonate his explosive belt after wounding him.
The two suicide bombers were attempting to attack Shiite pilgrims who were walking in large numbers on the main road in north of Baghdad to the holy Kadhimiya shrine, according to the statement.
Extremist insurgent groups, including Islamic State (IS), frequently attacked Shiite pilgrims who perform communal rituals in Iraqi cities, killing and wounding hundreds of them in the past years in attempts to provoke sectarian strife in the violence-shattered country.
1 2 3 Next 1 2 3 Next
Video PlayerClose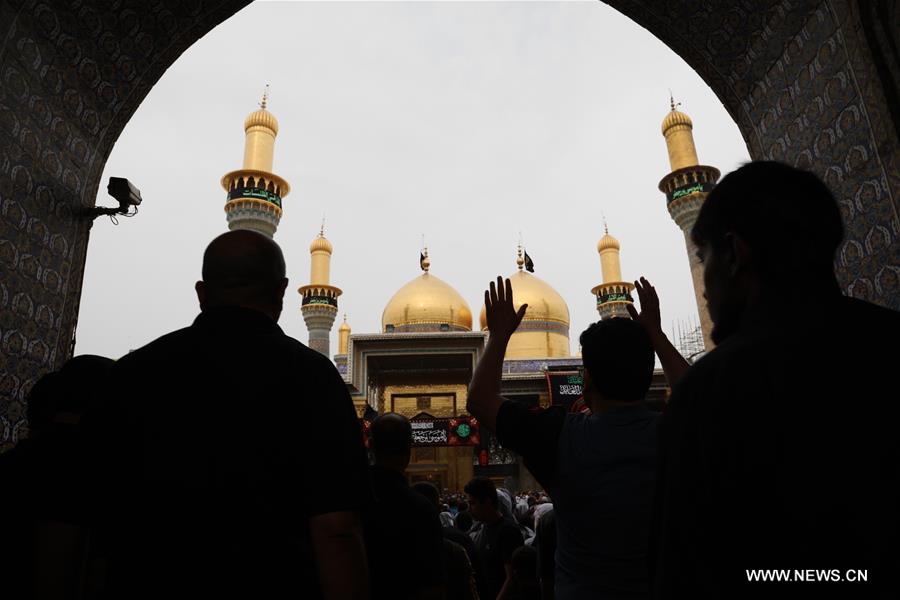 Iraqi Shiite Muslims gather at the Al-Kadhimiya Mosque in northern Baghdad on April 12, 2018. Millions of Shiite pilgrims on Thursday ended their week-long pilgrimage to a holy shrine in the Iraqi capital Baghdad to mark a major ritual amid tightened security measures. (Xinhua/Khalil Dawood)
Prev 1 2 3 Next Prev 1 2 3 Next
Video PlayerClose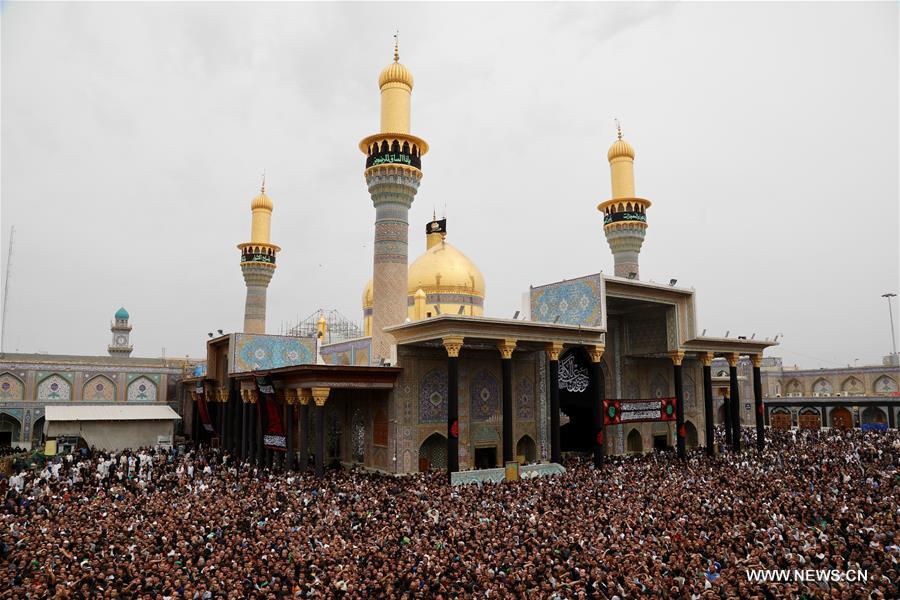 Iraqi Shiite Muslims gather at the Al-Kadhimiya Mosque in northern Baghdad on April 12, 2018. Millions of Shiite pilgrims on Thursday ended their week-long pilgrimage to a holy shrine in the Iraqi capital Baghdad to mark a major ritual amid tightened security measures. (Xinhua/Khalil Dawood)
Prev 1 2 3 Prev 1 2 3