Syrian scientific institution denies possession of chemical weapons after destroyed by U.S. strike
Video PlayerClose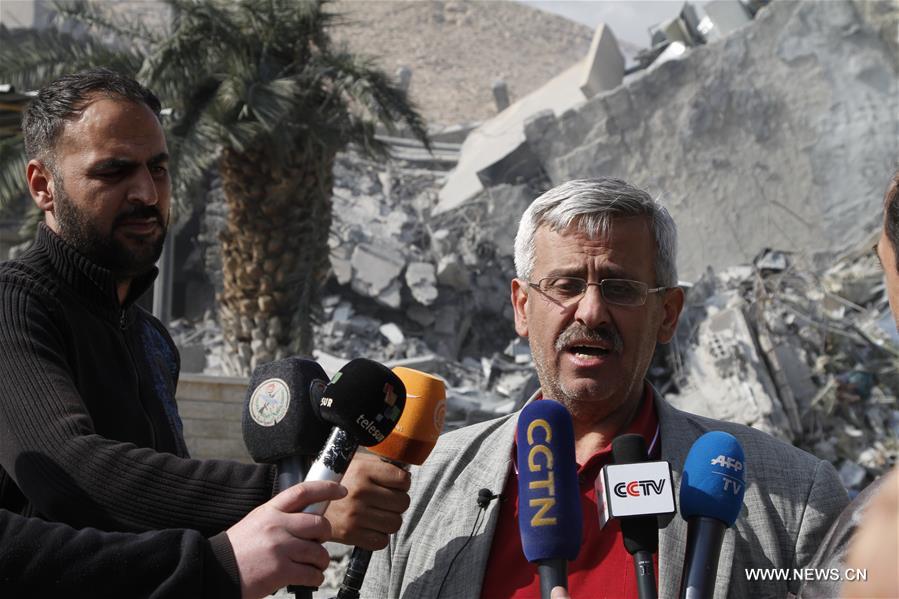 Saeed Saeed, head of the Institute for the Development of Pharmaceutical and Chemical Industries, speaks to reporters at the research center that was hit by the U.S.-led missile attacks in the Barzeh neighborhood in northeast Damascus, Syria on April 14, 2018. Saeed Saeed on Saturday denied the facility's possession of chemical weapons. (Xinhua/Monsef Memary)
DAMASCUS, April 14 (Xinhua) -- An official of a scientific research institution that was hit by the U.S.-led missile attack on Saturday denied the facility's possession of chemical weapons.
Speaking to reporters after the strike that destroyed the facility, Saeed Saeed, head of the Institute for the Development of Pharmaceutical and Chemical Industries, said the research center was used by the Organization for the Prohibition of Chemical Weapons (OPCW) in 2013.
"The OPCW has visited this building since 2013 till recently and carried out inspection tours," he told reporters at the site.
"The building was a working base, in which the mission of the OPCW experts in Syria was carried out. They would bring all suspected samples from different sites to this building and they have issued two reports stating that this building was empty of any chemical materials for warfare," he added.
He stressed that if the building contained chemical weapons, as claimed by the United States, he and other colleagues could not be standing there after the strike without wearing masks.
The OPCW has carried out its work in late 2013 when the Syrian army agreed to hand over its chemical arsenal.
By June 2014, the entire chemical arsenal of the Syrian army was handed over to the OPCW.
But after the Syrian army surrendered its chemical arsenal, the Western countries kept accusing the government forces of using chemical weapons, despite the Syrian government's repeated denials that it has never used such weapons.
On April 7, the rebels in Douma district of Eastern Ghouta countryside of Damascus accused the Syrian government forces of using chlorine gas in an attack in that area, a claim the army and the Syrian government never admitted.
Earlier on Saturday, the United States, Britain and France launched a missile strike on Syrian military positions, including the scientific research center in the Barzeh neighborhood northeast of Damascus.
1 2 3 Next 1 2 3 Next
Video PlayerClose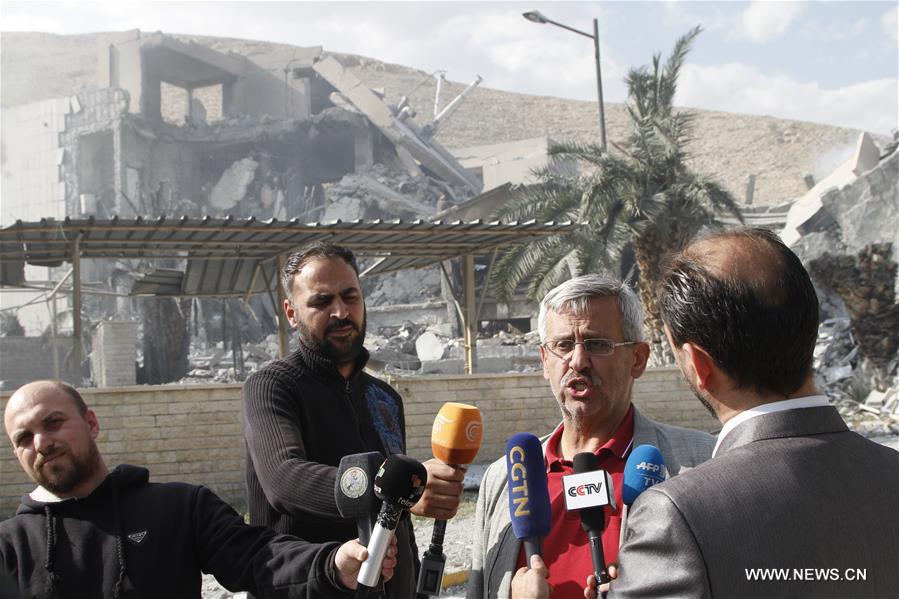 Saeed Saeed, head of the Institute for the Development of Pharmaceutical and Chemical Industries, speaks to reporters at the research center that was hit by the U.S.-led missile attacks in the Barzeh neighborhood in northeast Damascus, Syria on April 14, 2018. Saeed Saeed on Saturday denied the facility's possession of chemical weapons. (Xinhua/Monsef Memary)
Prev 1 2 3 Next Prev 1 2 3 Next
Video PlayerClose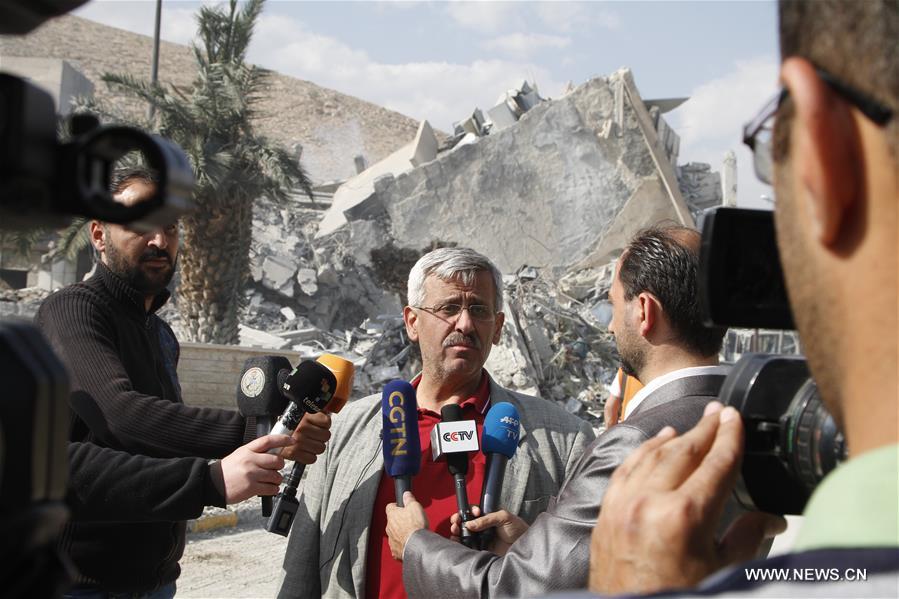 Saeed Saeed, head of the Institute for the Development of Pharmaceutical and Chemical Industries, speaks to reporters at the research center that was hit by the U.S.-led missile attacks in the Barzeh neighborhood in northeast Damascus, Syria on April 14, 2018. Saeed Saeed on Saturday denied the facility's possession of chemical weapons. (Xinhua/Monsef Memary)
Prev 1 2 3 Prev 1 2 3