Video PlayerClose
Photo taken on April 20, 2018 shows displaced children inside a tent at a makeshift camp in Mazar-i-Sharif, capital of northern Balkh province, Afghanistan. The endemic conflicts in Afghanistan have left 83,345 people including women and children displaced since the beginning of 2018, according to a report from the United Nations Office for the Coordination of Humanitarian Affairs. (Xinhua/Rahmat Alizadah)
by Abdul Haleem, Omid Jawed
KABUL, May 15 (Xinhua) -- The prolonged war in Afghanistan has seriously damaged all economic and social infrastructure and above all the nation's children are the most vulnerable segment of society that bear the brunt of the war in the conflict-strife country.
Zabihullah, eight, is among hundreds of thousands of innocent children who have witnessed the deadly conflicts in the country.
The war has claimed the life of Zabihullah's father, forcing him to abandon the sweet innocence of childhood and work hard on the streets to support his family.
Revealing his nightmare, the child murmured that the fighters of Daesh or Islamic State (IS) killed his father along with several more villagers in the Khawja Sabzposh district of the northern Faryab province last year and since then his family has been struggling to survive.
"The war has killed my father and devoured all our assets and left us in the doldrums," the child said sadly.
Still bearing the wounds of war with shrapnel in his right leg and living in a makeshift camp outside the Balkh provincial capital of Mazar-i-Sharif along with three siblings and his mother, the dejected child grieved that the murder of his father is also slowly killing his family as they struggle day by day to survive.
Echoing Zabihullah's ordeal, his elder brother Anayatullah, 10, added that the on going war and militants' frequent attacks on their village have forced them to migrate to Balkh in order to escape the violence.
Anayatullah complained that due to the family's extremely impoverished situation he had no choice but to take Zabihullah with him to work on the streets as child laborers to earn just meager amount for their displaced family.
More than 15,600 internally displaced families have been living in the relatively peaceful Balkh province over the past couple of years and 2,500 of them are those who left their houses due to fighting in the neighboring Jawzjan, Sari Pul and Faryab provinces over the past several months.
The endemic conflicts in Afghanistan have left 83,345 people including women and children displaced since the beginning of 2018, according to a report from the United Nations Office for the Coordination of Humanitarian Affairs.
Moreover, the ongoing militancy and conflicts caused 10,453 civilian casualties including fatalities. Of these, 3,438 people were killed and 7,015 injured in 2017, according to a report from the United Nations Assistance Mission in Afghanistan.
The report also confirmed that conflicts and conflict-related activities claimed the lives of 861 children and injured 2,318 others in 2017 elsewhere in conflict-battered Afghanistan.
"In fact, the children are the victims of the war in Afghanistan. It makes no difference if the father or mother is killed, because a lack of parents means the gradual death of an entire family," Anayatullah, who stopped going to school after his father was murdered, said sorrowfully.
1 2 3 4 5 6 7 8 Next 1 2 3 4 5 6 7 8 Next
Video PlayerClose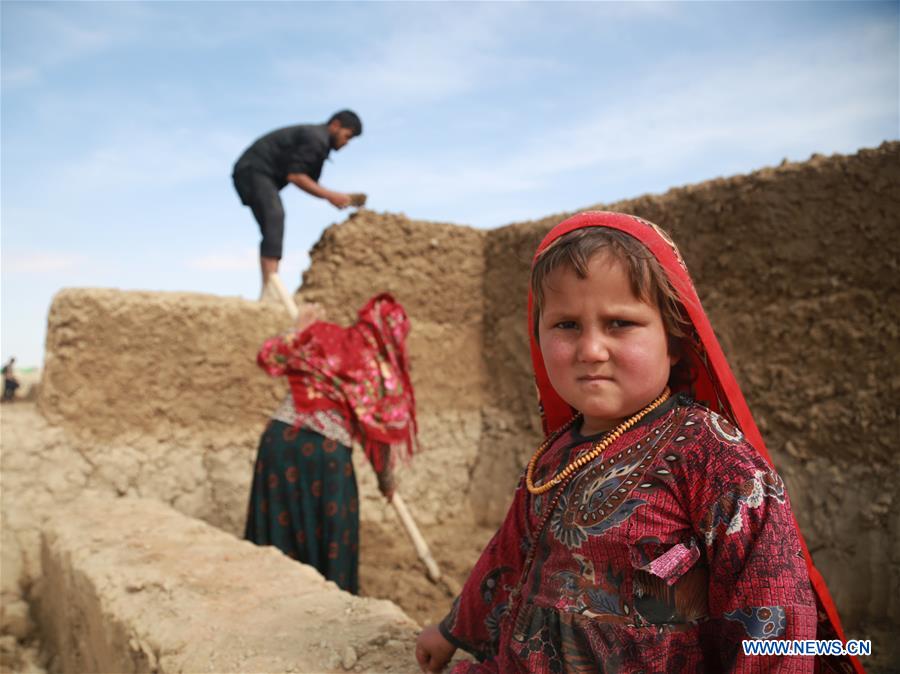 A displaced Afghan child poses for photos as her parent make a mud wall at a makeshift camp in Mazar-i-Sharif, capital of northern Balkh province, Afghanistan, April 20, 2018. The endemic conflicts in Afghanistan have left 83,345 people including women and children displaced since the beginning of 2018, according to a report from the United Nations Office for the Coordination of Humanitarian Affairs. (Xinhua/Rahmat Alizadah)
Prev 1 2 3 4 5 6 7 8 Next Prev 1 2 3 4 5 6 7 8 Next
Video PlayerClose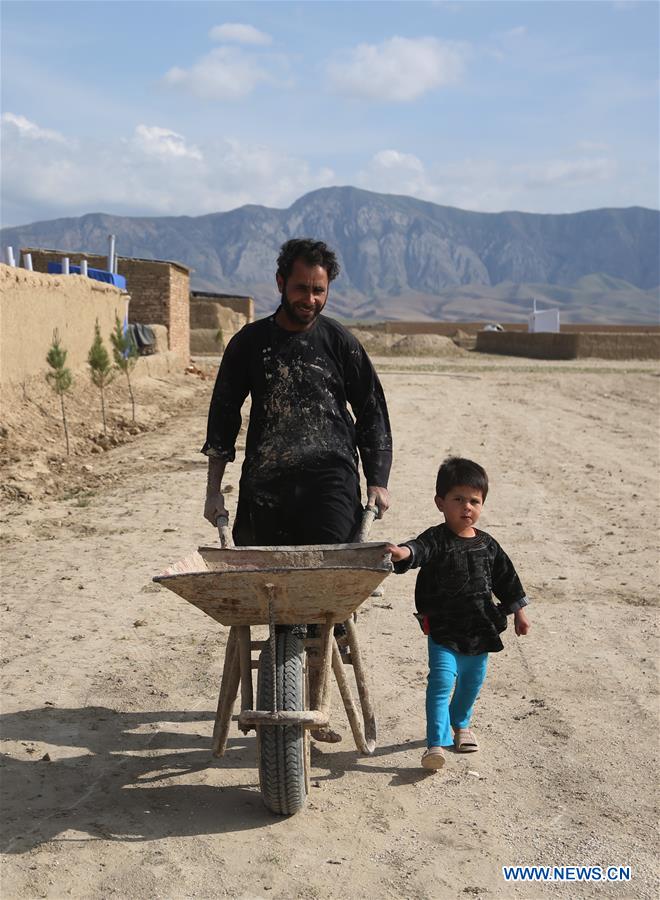 A displaced Afghan man pushes his hand cart at a makeshift camp in Mazar-i-Sharif, capital of northern Balkh province, Afghanistan, April 20, 2018. The endemic conflicts in Afghanistan have left 83,345 people including women and children displaced since the beginning of 2018, according to a report from the United Nations Office for the Coordination of Humanitarian Affairs. (Xinhua/Rahmat Alizadah)
Prev 1 2 3 4 5 6 7 8 Next Prev 1 2 3 4 5 6 7 8 Next
Video PlayerClose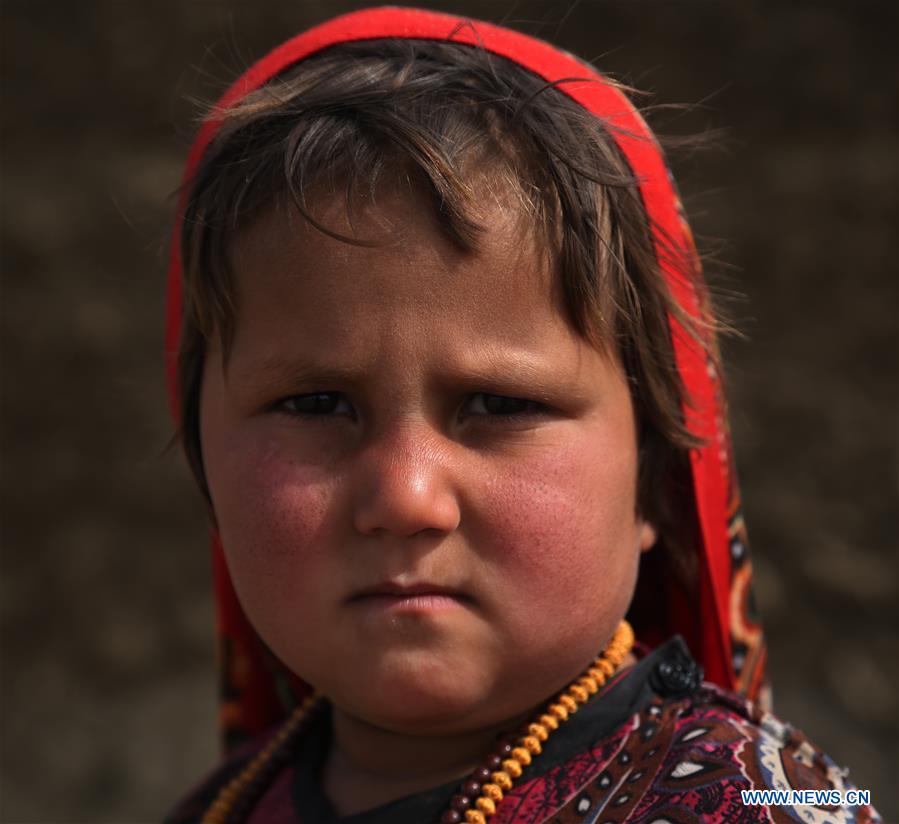 A displaced Afghan child poses for photos at a makeshift camp in Mazar-i-Sharif, capital of northern Balkh province, Afghanistan, April 20, 2018. The endemic conflicts in Afghanistan have left 83,345 people including women and children displaced since the beginning of 2018, according to a report from the United Nations Office for the Coordination of Humanitarian Affairs. (Xinhua/Rahmat Alizadah)
Prev 1 2 3 4 5 6 7 8 Next Prev 1 2 3 4 5 6 7 8 Next
Video PlayerClose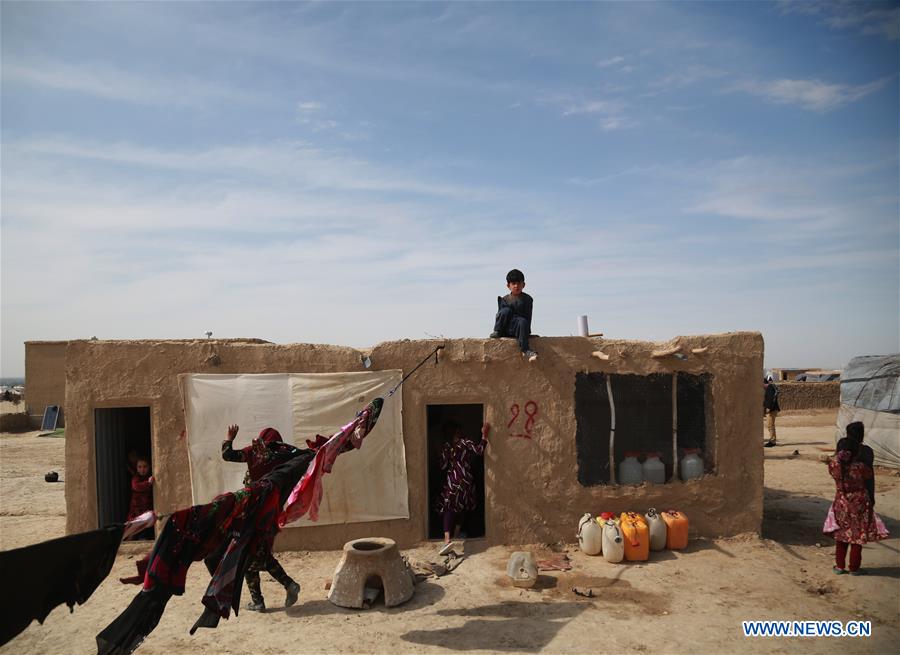 Photo taken on April 20, 2018 shows displaced children at a makeshift camp in Mazar-i-Sharif, capital of northern Balkh province, Afghanistan. The endemic conflicts in Afghanistan have left 83,345 people including women and children displaced since the beginning of 2018, according to a report from the United Nations Office for the Coordination of Humanitarian Affairs. (Xinhua/Rahmat Alizadah)
Prev 1 2 3 4 5 6 7 8 Next Prev 1 2 3 4 5 6 7 8 Next
Video PlayerClose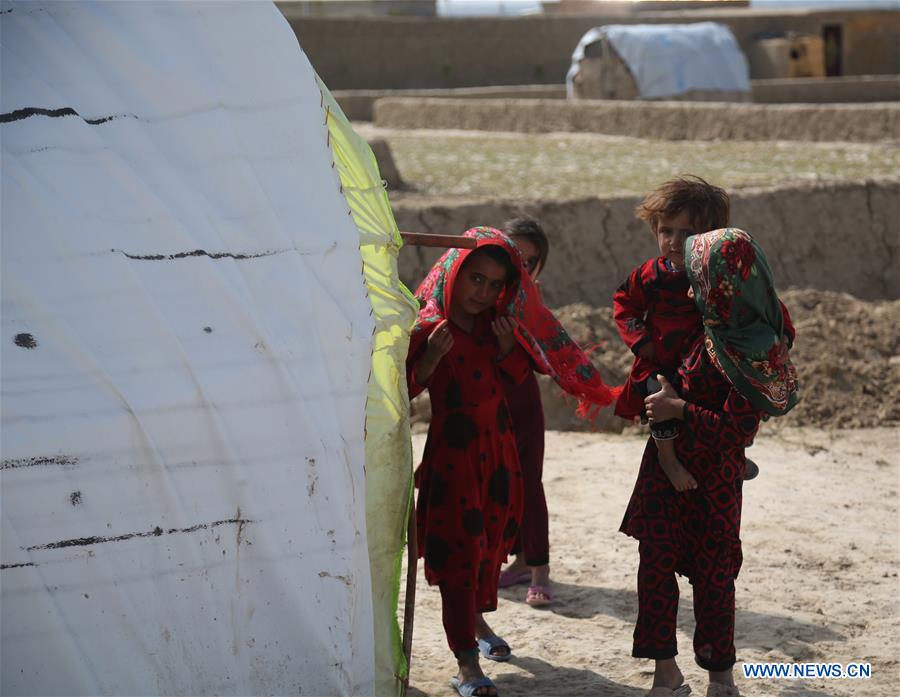 Displaced Afghan children stand at a makeshift camp in Mazar-i-Sharif, capital of northern Balkh province, Afghanistan, April 20, 2018. The endemic conflicts in Afghanistan have left 83,345 people including women and children displaced since the beginning of 2018, according to a report from the United Nations Office for the Coordination of Humanitarian Affairs. (Xinhua/Rahmat Alizadah)
Prev 1 2 3 4 5 6 7 8 Next Prev 1 2 3 4 5 6 7 8 Next
Video PlayerClose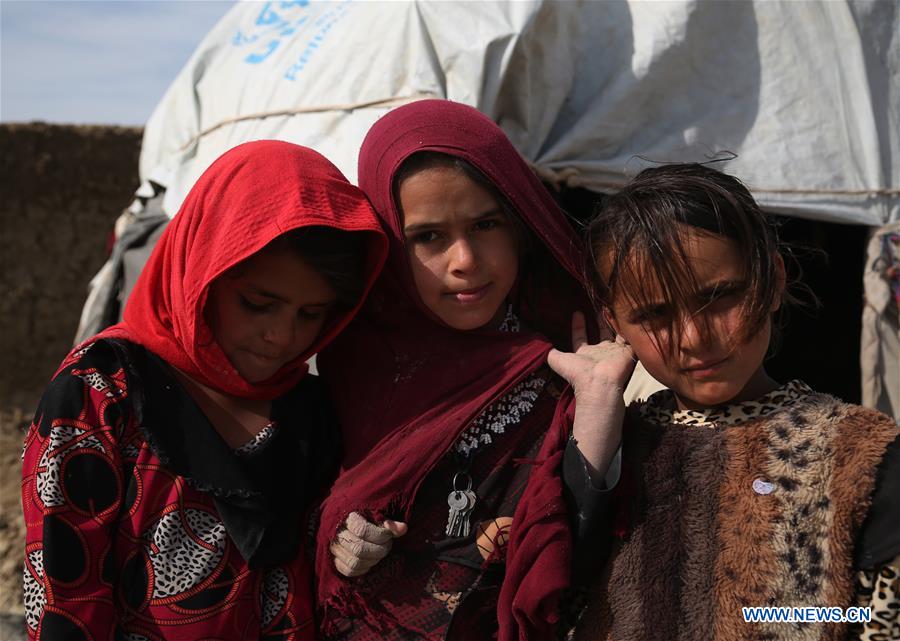 Displaced Afghan children pose for photos at a makeshift camp in Mazar-i-Sharif, capital of northern Balkh province, Afghanistan, April 20, 2018. The endemic conflicts in Afghanistan have left 83,345 people including women and children displaced since the beginning of 2018, according to a report from the United Nations Office for the Coordination of Humanitarian Affairs. (Xinhua/Rahmat Alizadah)
Prev 1 2 3 4 5 6 7 8 Next Prev 1 2 3 4 5 6 7 8 Next
Video PlayerClose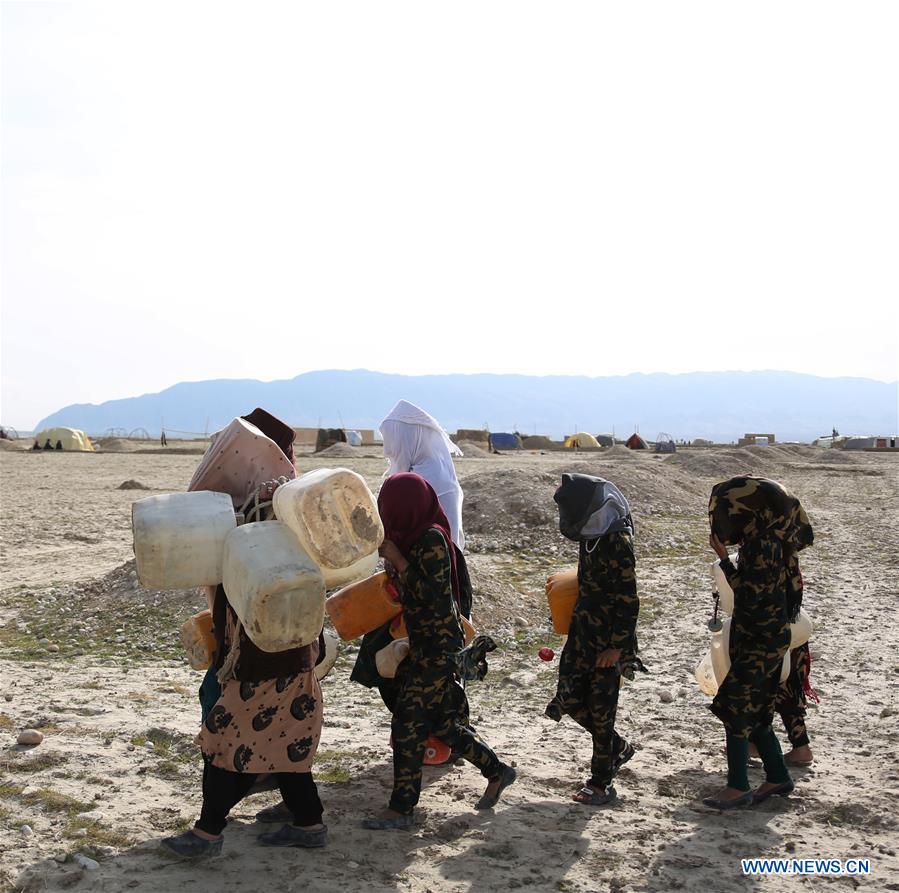 Displaced Afghan people carry barrels to get water in a makeshift camp in Mazar-i-Sharif, capital of northern Balkh province, Afghanistan, April 20, 2018. The endemic conflicts in Afghanistan have left 83,345 people including women and children displaced since the beginning of 2018, according to a report from the United Nations Office for the Coordination of Humanitarian Affairs. (Xinhua/Rahmat Alizadah)
Prev 1 2 3 4 5 6 7 8 Prev 1 2 3 4 5 6 7 8