Video PlayerClose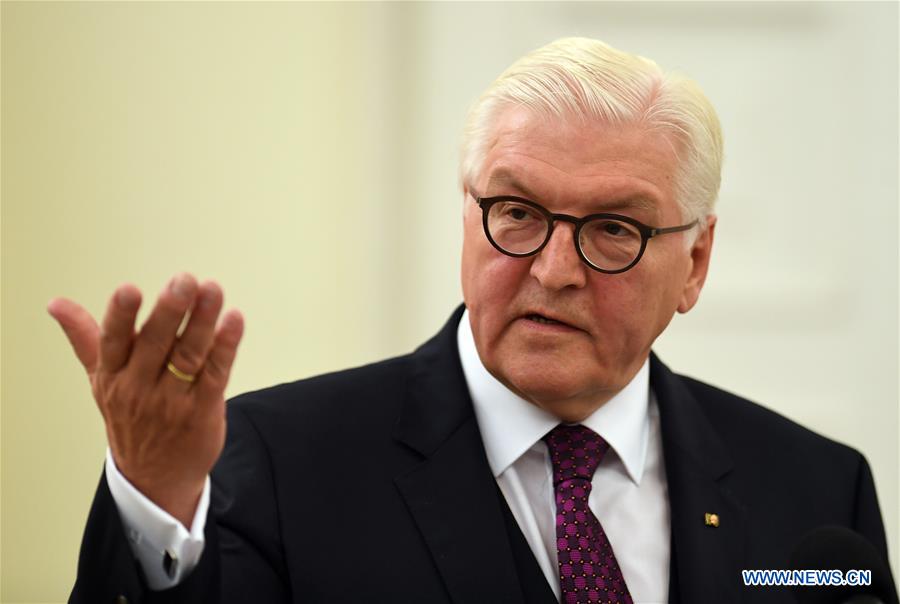 German President Frank-Walter Steinmeier speaks during a press conference in Warsaw, Poland, June 5, 2018. After a meeting with Polish President Andrzej Duda here on Tuesday, visiting German President Frank-Walter Steinmeier called for more mutual trust among EU members. (Xinhua/Maciej Gillert)
WARSAW, June 5 (Xinhua) -- After a meeting with Polish President Andrzej Duda here on Tuesday, visiting German President Frank-Walter Steinmeier called for more mutual trust among EU members.
During a joint press conference with Duda, Steinmeier said that what EU needed today was trust and a sense of unity between its members.
He added that the EU had to undertake constructive steps to overcome its crisis and remain an attractive option for future generations.
Duda said that he and Steinmeier expressed concerns that in some EU countries, the anti-European parties come to the fore.
He assured that public support for the EU was high in Poland. And Duda hoped that no centrifugal or anti-European movements in other countries will gain such advantages as to lead to disorganization of EU.
Steinmeier and his wife started a two-day visit in Poland on Tuesday in connection with this year's Polish independence centenary.
Duda thanked Steinmeier for coming to Warsaw as the first state leader who visits Poland in connection with the celebration of the century of regaining independence by Poland.
Expressing his satisfaction that he could celebrate Poland's independence centenary, Steinmeier said "For Germany, close and friendly relations with Poland, especially in the face of the dark chapter of our history, this is really invaluable."
Poland will celebrate the 100th anniversary of independence on Nov. 11 this year to commemorate the anniversary of the restoration of Poland's sovereignty in 1918.
1 2 3 4 Next 1 2 3 4 Next
Video PlayerClose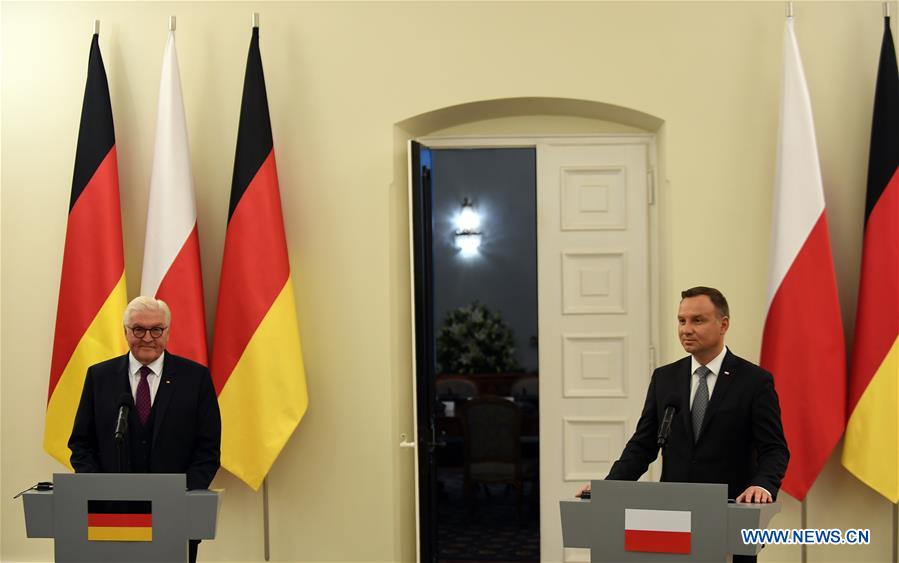 Polish President Andrzej Duda (R) and German President Frank-Walter Steinmeier attend a press conference in Warsaw, Poland, June 5, 2018. After a meeting with Polish President Andrzej Duda here on Tuesday, visiting German President Frank-Walter Steinmeier called for more mutual trust among EU members. (Xinhua/Maciej Gillert)
Prev 1 2 3 4 Next Prev 1 2 3 4 Next
Video PlayerClose
German President Frank-Walter Steinmeier speaks during a press conference in Warsaw, Poland, June 5, 2018. After a meeting with Polish President Andrzej Duda here on Tuesday, visiting German President Frank-Walter Steinmeier called for more mutual trust among EU members. (Xinhua/Maciej Gillert)
Prev 1 2 3 4 Next Prev 1 2 3 4 Next
Video PlayerClose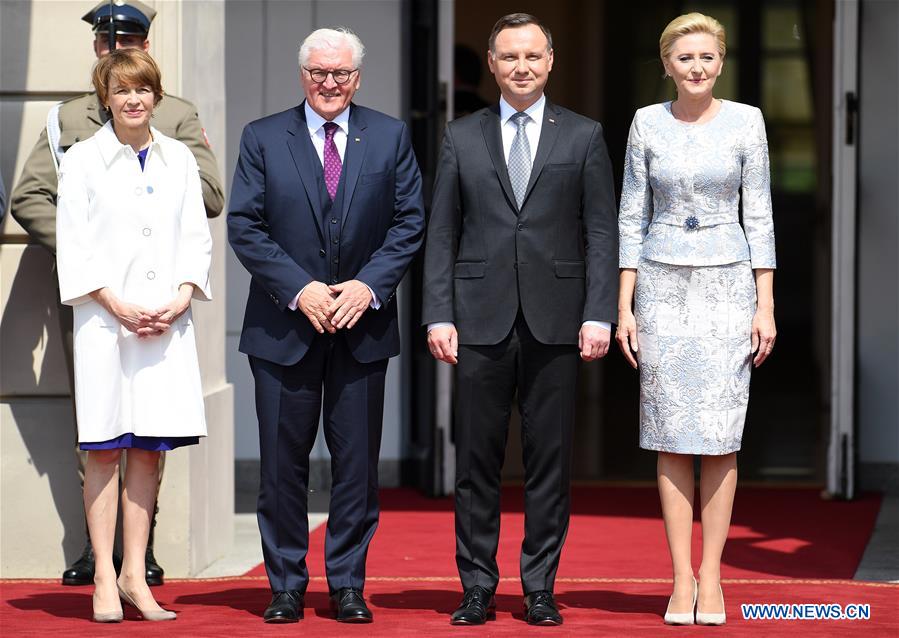 Polish President Andrzej Duda (2nd R) and German President Frank-Walter Steinmeier (2nd L) pose for photos at Presidential Palace in Warsaw, Poland, June 5, 2018. After a meeting with Polish President Andrzej Duda here on Tuesday, visiting German President Frank-Walter Steinmeier called for more mutual trust among EU members. (Xinhua/Maciej Gillert)
Prev 1 2 3 4 Prev 1 2 3 4