Video PlayerClose
Rescuers work at the site of a train derailment in Tekirdag, Turkey, July 9, 2018. The death toll from a train derailment that occurred Sunday in northwestern Turkey has risen to 24, the state-run news agency Anadolu quoted Deputy Prime Minister Recep Akdag as saying. (Xinhua)
ISTANBUL, July 9 (Xinhua) -- The death toll from a train derailment that occurred Sunday in northwestern Turkey has risen to 24, the state-run news agency Anadolu quoted Deputy Prime Minister Recep Akdag as saying.
Earlier reports said that at least 10 people were killed and 73 others injured when a commuter train derailed on Sunday in Turkey's northwestern Tekirdag province.
Five of the train's six carriages derailed in the late afternoon on Sunday, CNNTurk said, noting that the train was carrying a total of 360 passengers.
Tekirdag Governor Mehmet Ceylan has said the derailment happened due to the heavy rainfall which caused a landslide.
According to the Demiroren news agency, the train headed to Istanbul from Edirne province near the border of Turkey and Bulgaria.
1 2 3 4 5 6 7 8 9 10 Next >>| | 11 Next 1 2 3 4 5 6 7 8 9 10 Next >>|
Video PlayerClose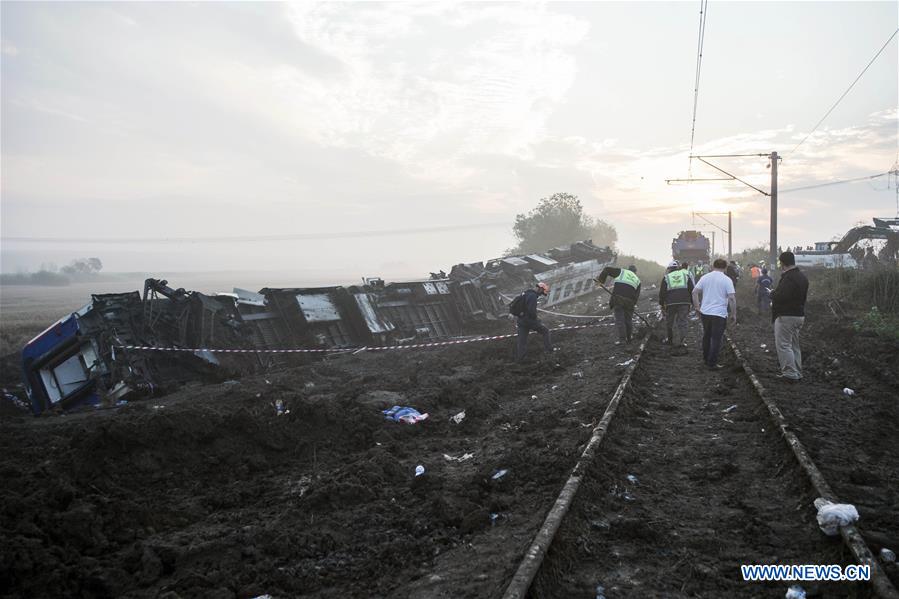 Rescuers work at the site of a train derailment in Tekirdag, Turkey, July 9, 2018. The death toll from a train derailment that occurred Sunday in northwestern Turkey has risen to 24, the state-run news agency Anadolu quoted Deputy Prime Minister Recep Akdag as saying. (Xinhua)
Prev 1 2 3 4 5 6 7 8 9 10 Next >>| | Prev 11 Next Prev 1 2 3 4 5 6 7 8 9 10 Next >>|
Video PlayerClose
Rescuers work at the site of a train derailment in Tekirdag, Turkey, July 9, 2018. The death toll from a train derailment that occurred Sunday in northwestern Turkey has risen to 24, the state-run news agency Anadolu quoted Deputy Prime Minister Recep Akdag as saying. (Xinhua)
Prev 1 2 3 4 5 6 7 8 9 10 Next >>| | Prev 11 Next Prev 1 2 3 4 5 6 7 8 9 10 Next >>|
Video PlayerClose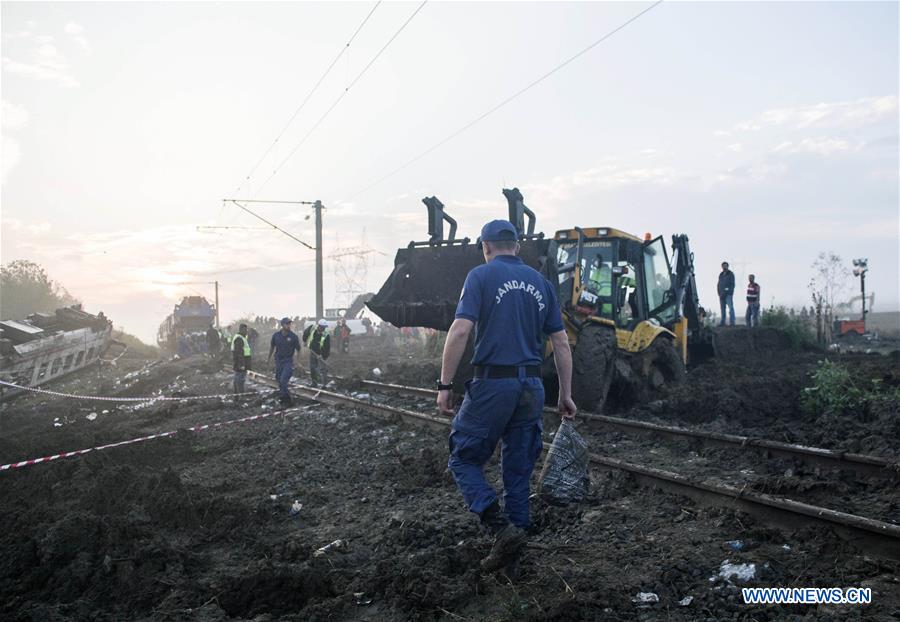 Rescuers work at the site of a train derailment in Tekirdag, Turkey, July 9, 2018. The death toll from a train derailment that occurred Sunday in northwestern Turkey has risen to 24, the state-run news agency Anadolu quoted Deputy Prime Minister Recep Akdag as saying. (Xinhua)
Prev 1 2 3 4 5 6 7 8 9 10 Next >>| | Prev 11 Next Prev 1 2 3 4 5 6 7 8 9 10 Next >>|
Video PlayerClose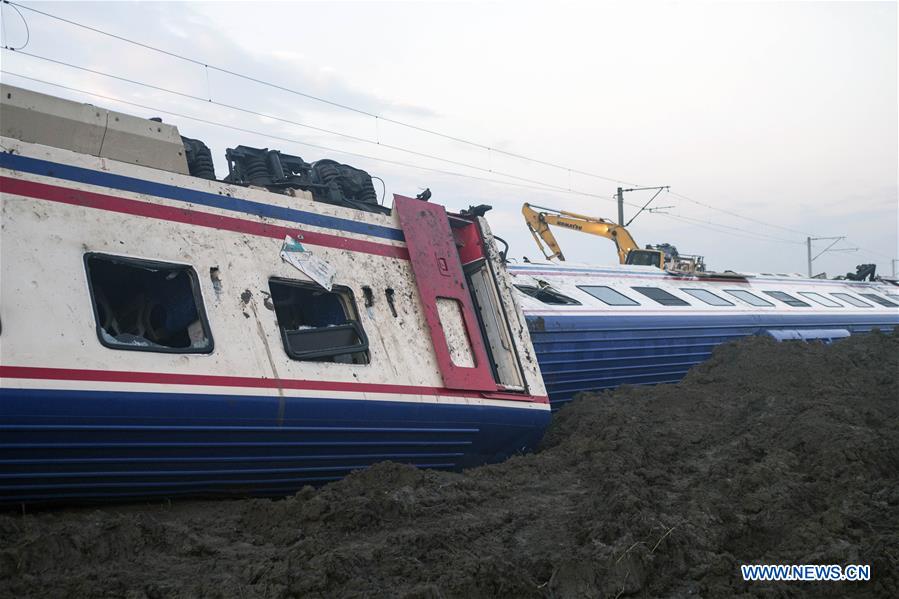 The derailed train is seen in Tekirdag, Turkey, July 9, 2018. The death toll from a train derailment that occurred Sunday in northwestern Turkey has risen to 24, the state-run news agency Anadolu quoted Deputy Prime Minister Recep Akdag as saying. (Xinhua)
Prev 1 2 3 4 5 6 7 8 9 10 Next >>| | Prev 11 Next Prev 1 2 3 4 5 6 7 8 9 10 Next >>|
Video PlayerClose
Rescuers work at the site of a train derailment in Tekirdag, Turkey, July 9, 2018. The death toll from a train derailment that occurred Sunday in northwestern Turkey has risen to 24, the state-run news agency Anadolu quoted Deputy Prime Minister Recep Akdag as saying. (Xinhua)
Prev 1 2 3 4 5 6 7 8 9 10 Next >>| | Prev 11 Next Prev 1 2 3 4 5 6 7 8 9 10 Next >>|
Video PlayerClose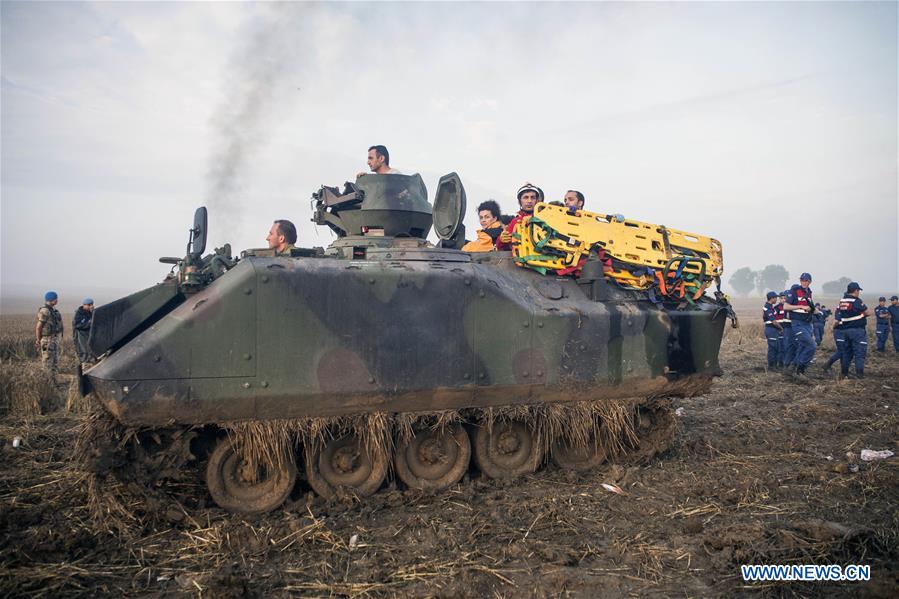 Rescuers work at the site of a train derailment in Tekirdag, Turkey, July 9, 2018. The death toll from a train derailment that occurred Sunday in northwestern Turkey has risen to 24, the state-run news agency Anadolu quoted Deputy Prime Minister Recep Akdag as saying. (Xinhua)
Prev 1 2 3 4 5 6 7 8 9 10 Next >>| | Prev 11 Next Prev 1 2 3 4 5 6 7 8 9 10 Next >>|
Video PlayerClose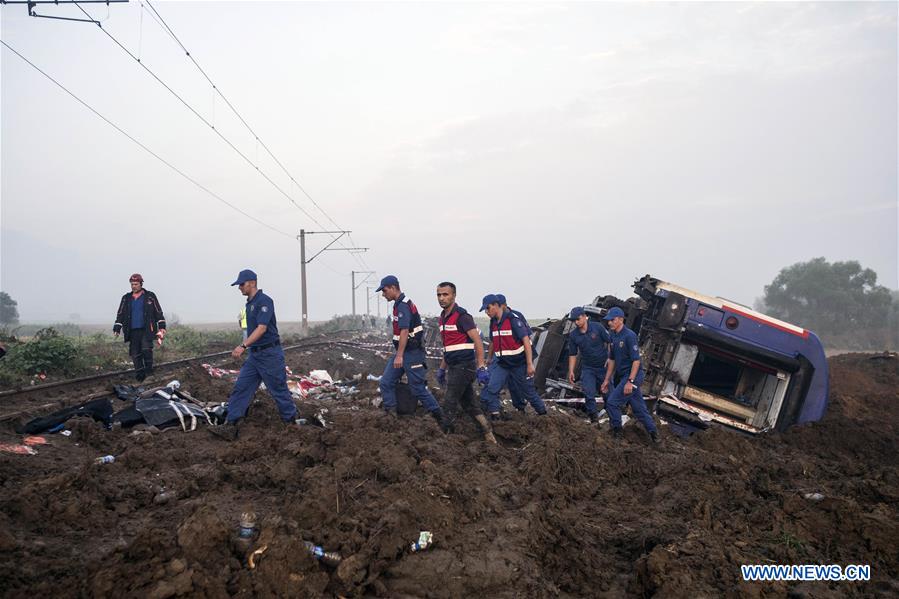 Rescuers work at the site of a train derailment in Tekirdag, Turkey, July 9, 2018. The death toll from a train derailment that occurred Sunday in northwestern Turkey has risen to 24, the state-run news agency Anadolu quoted Deputy Prime Minister Recep Akdag as saying. (Xinhua)
Prev 1 2 3 4 5 6 7 8 9 10 Next >>| | Prev 11 Next Prev 1 2 3 4 5 6 7 8 9 10 Next >>|
Video PlayerClose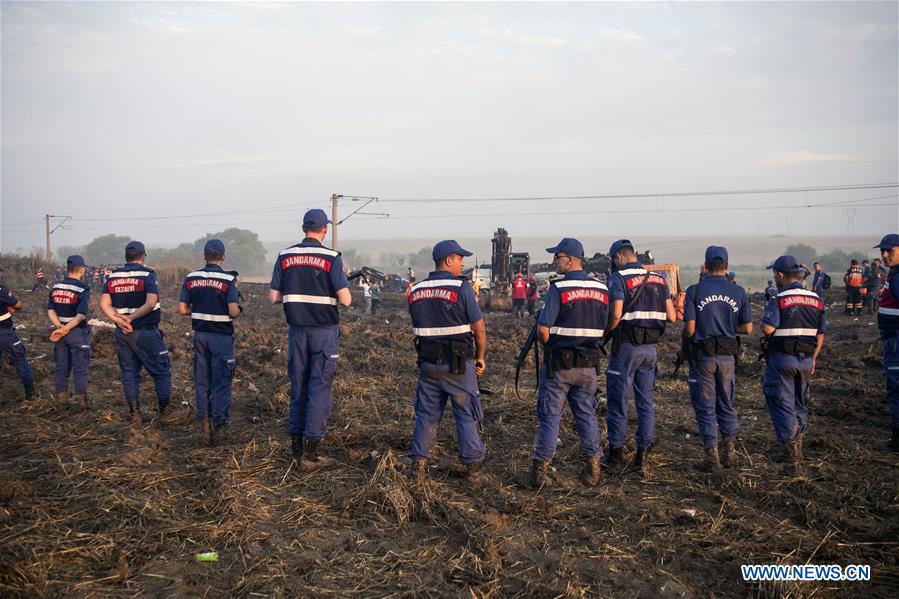 Gendarmerie are seen on guard at the site of a train derailment in Tekirdag, Turkey, July 9, 2018. The death toll from a train derailment that occurred Sunday in northwestern Turkey has risen to 24, the state-run news agency Anadolu quoted Deputy Prime Minister Recep Akdag as saying. (Xinhua)
Prev 1 2 3 4 5 6 7 8 9 10 Next >>| | Prev 11 Next Prev 1 2 3 4 5 6 7 8 9 10 Next >>|
Video PlayerClose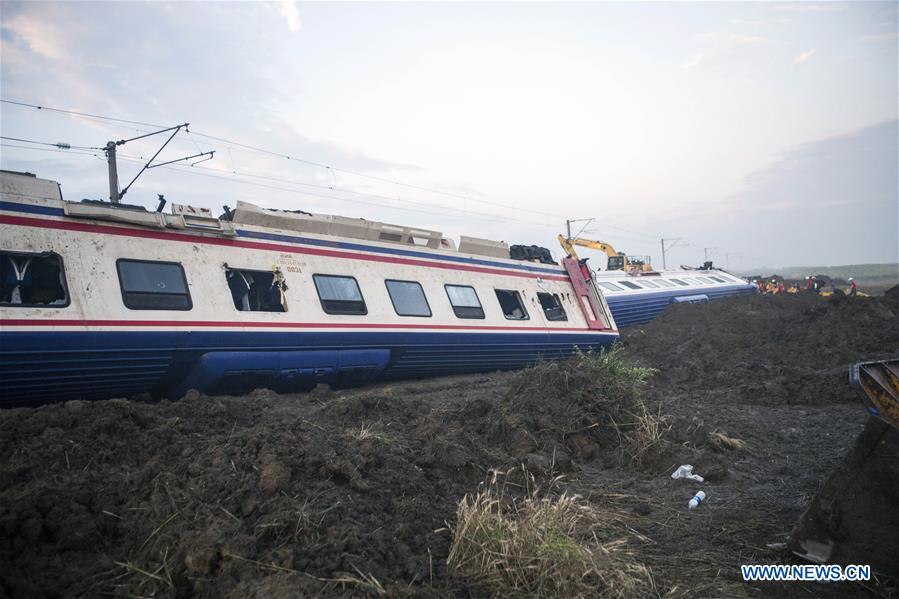 The derailed train is seen in Tekirdag, Turkey, July 9, 2018. The death toll from a train derailment that occurred Sunday in northwestern Turkey has risen to 24, the state-run news agency Anadolu quoted Deputy Prime Minister Recep Akdag as saying. (Xinhua)
Prev 1 2 3 4 5 6 7 8 9 10 Next >>| | Prev 11 Next Prev 1 2 3 4 5 6 7 8 9 10 Next >>|
Video PlayerClose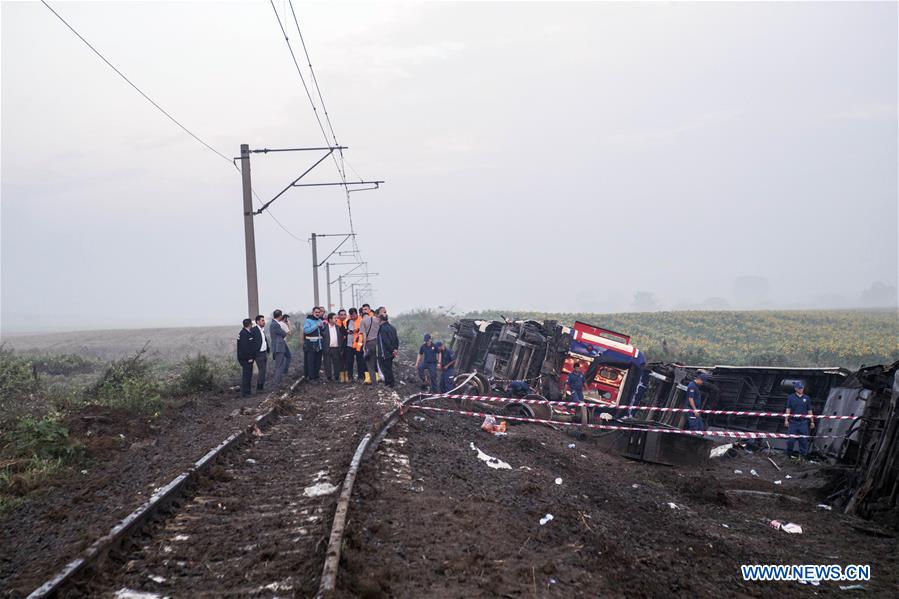 Rescuers work at the site of a train derailment in Tekirdag, Turkey, July 9, 2018. The death toll from a train derailment that occurred Sunday in northwestern Turkey has risen to 24, the state-run news agency Anadolu quoted Deputy Prime Minister Recep Akdag as saying. (Xinhua)
Prev 1 2 3 4 5 6 7 8 9 10 >>| | Prev 11 | Prev 11