Video PlayerClose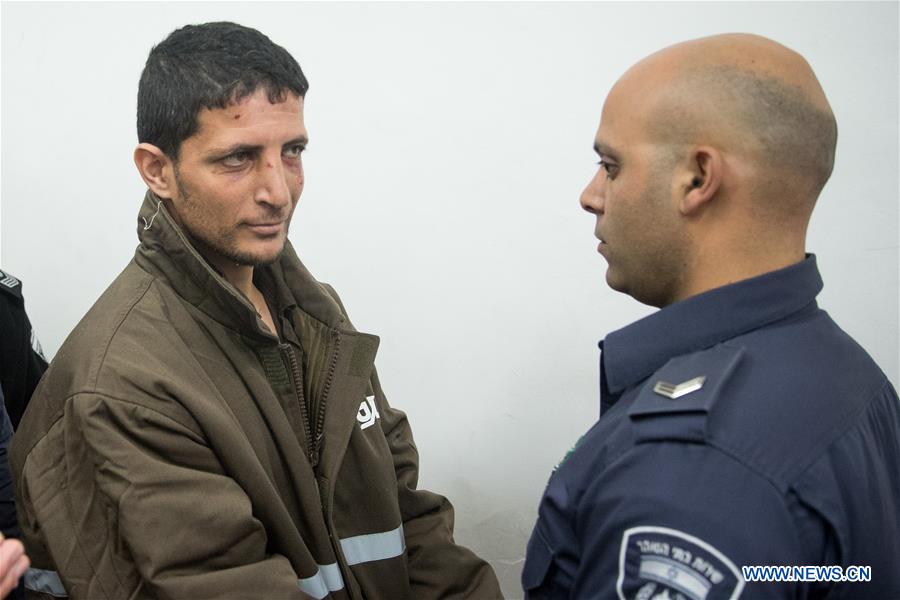 聽
Arafat Irfayia (L) appears at a courtroom in Jerusalem, on Feb. 11, 2019. Israel's Shin Bet security service said on Sunday that the killing of a young Israeli woman last week was a "terrorist attack" carried out by Arafat Irfayia. The Shin Bet said that the interrogation of Arafat Irfayia, arrested on Friday in the West Bank city of Ramallah, showed the killing was nationalistically-motivated. (Xinhua/JINI)
JERUSALEM, Feb. 10 (Xinhua) -- Israel's Shin Bet security service said on Sunday that the killing of a young Israeli woman last week was a "terrorist attack" carried out by a Palestinian man.
The Shin Bet said that the interrogation of Arafat Irfayia, arrested on Friday in the West Bank city of Ramallah, showed the killing was nationalistically-motivated.
The Shin Bet also said Irfayia, a 29-year-old resident of the flashpoint city of Hebron, south of Jerusalem, clearly implicated himself in the killing.
Irfayia allegedly stabbed to death Ori Ansbaher, a 19-year-old resident of the settlement of Tekoa, in a Jerusalem forest on Thursday.
Israel's Prime Minister Benjamin Netanyahu and his wife Sara arrived on Sunday evening to condole Ansbaher's family. He updated the family on the results of the Shin Bet investigation, telling them that the murder was a nationalistic terror attack.
The investigation is still ongoing and the rest of the details of the attacks are under gag order.
Earlier on Sunday, the army said it had started preparations to demolish Irfayia's family home in Hebron. "Troops surveyed the suspect's house in order to examine the possibility of its demolition," the army said in a statement.
Israel frequently demolishes homes of Palestinian assailants, charging the move aims to deter more attacks. However, Palestinians and human rights groups denounce the demolition as collective punishment.
Ansbaher's killing shocked Israelis and triggered calls by right-wing political leaders to enact the death penalty for Palestinian killers of Israelis.
1 2 3 4 Next 1 2 3 4 Next
Video PlayerClose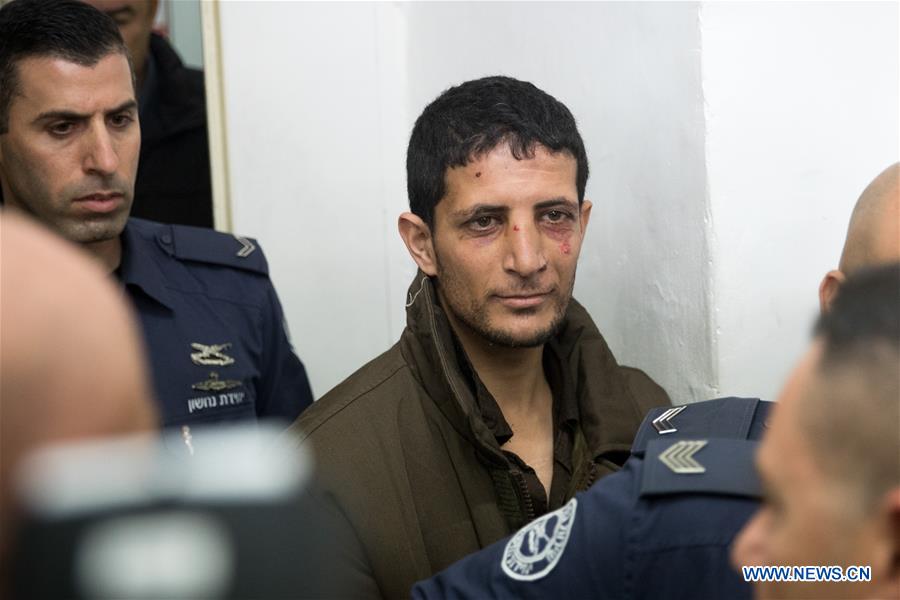 Arafat Irfayia (C) appears at a courtroom in Jerusalem, on Feb. 11, 2019. Israel's Shin Bet security service said on Sunday that the killing of a young Israeli woman last week was a "terrorist attack" carried out by Arafat Irfayia. The Shin Bet said that the interrogation of Arafat Irfayia, arrested on Friday in the West Bank city of Ramallah, showed the killing was nationalistically-motivated. (Xinhua/JINI)
Prev 1 2 3 4 Next Prev 1 2 3 4 Next
Video PlayerClose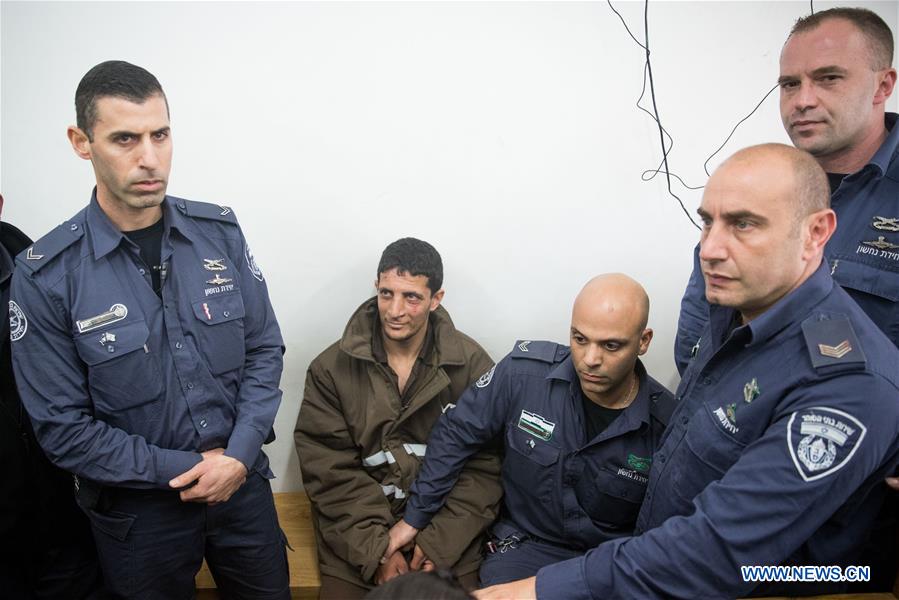 Arafat Irfayia (2nd L) appears at a courtroom in Jerusalem, on Feb. 11, 2019. Israel's Shin Bet security service said on Sunday that the killing of a young Israeli woman last week was a "terrorist attack" carried out by Arafat Irfayia. The Shin Bet said that the interrogation of Arafat Irfayia, arrested on Friday in the West Bank city of Ramallah, showed the killing was nationalistically-motivated. (Xinhua/JINI)
Prev 1 2 3 4 Next Prev 1 2 3 4 Next
Video PlayerClose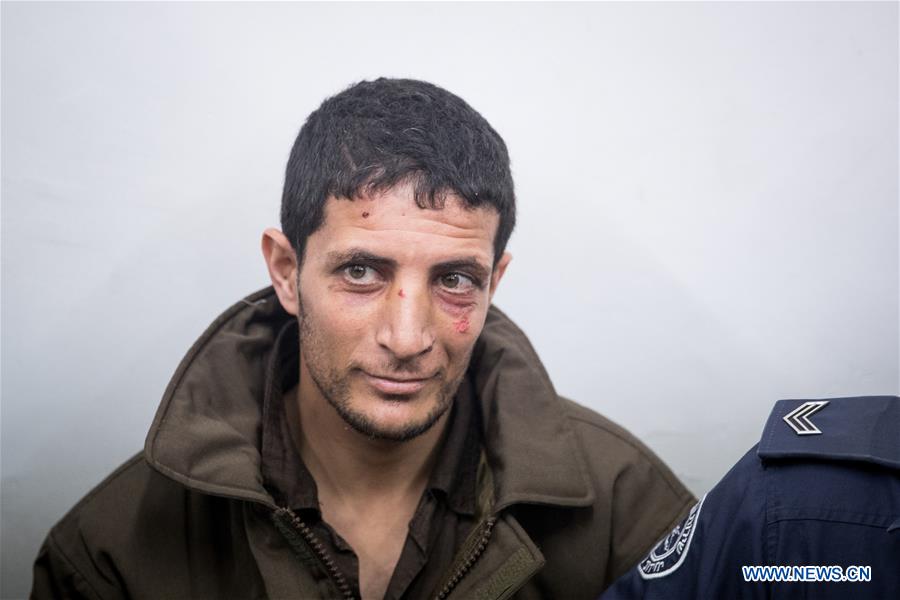 (190211) -- JERUSALEM, Feb. 11, 2019 (Xinhua) -- Arafat Irfayia appears at a courtroom in Jerusalem, on Feb. 11, 2019. Israel's Shin Bet security service said on Sunday that the killing of a young Israeli woman last week was a "terrorist attack" carried out by Arafat Irfayia. The Shin Bet said that the interrogation of Arafat Irfayia, arrested on Friday in the West Bank city of Ramallah, showed the killing was nationalistically-motivated. (Xinhua/JINI)
Prev 1 2 3 4 Prev 1 2 3 4